Wednesday 29 January 2020
A group of 18 ITC staff visited the new Geo-sciences building of the University of Utrecht on 22 January. The visit was organized by the working group for the ITC housing. The purpose was to gain insight and experience in the concept of shared and flexible workspaces they use in this building.
The group made, together with representatives of the design team, a tour through the building and afterwards a question hour was arranged with staff from the Department of Physical Geography.
The Geo-sciences building is not directly comparable to the intended new building of ITC. In its design there is a separation of functions. The upper six floors of the eight-floor building, are exclusive for office work. Lab and education spaces are housed in other buildings. Although some departments offer workspaces to MSc students there is no free access intended to these upper floors of the building for students. The building does offer Educafe meeting spaces in its restaurant, which is shared with other surrounding buildings.  These spaces are used to meet with students and some educational spaces are also available on the ground floor. These are however only limited available. Staff work mostly in shared rooms (two persons).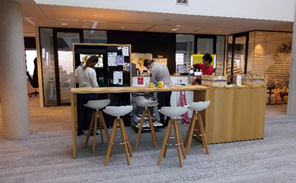 Pantry, centrally located in the atrium of each floor  
Elements from the question hour
In the Geo-sciences building, departments (varying between 110 to 250 staff) decided themselves on the amount of shared workspaces and flex spaces. PhD students and MSc students use these flex spaces, and if available, PhDs can use surplus offices. Staff share with 2 people and PhDs with 4.  Staff are satisfied with the office spaces. The offices are very quiet with doors closed, which are frequently closed if noise becomes too loud from the open spaces on the office floors.
An issue was the separation between lab and teaching staff because no labs in staff building. Fortunately this is not a debate for ITC, as all functions remain combined.
As there are no meeting spaces in the offices, meetings have to be held elsewhere. There is a variety of meeting spaces available for this on each floor, both open and closed. All closed meeting rooms can be booked via outlook. What they lack are meeting rooms for more than 8 persons.  Where possible, in case a meeting is not confidential, meetings happen in the open spaces.
To make the shared room planning , staff made an initial plan themselves, based on personal preferences. What was needed for their transition was a Culture change. Although there was no change in sharing (most people already did), it was needed to attune all staff being together in the same spaces, as previously they were all scattered. There was, nevertheless, lots of resistance to change. This was countered by a positive forward discussion, focusing on how to deal with new situation, rather than trying to prevent it from happening. It however took a year to settle in, before all initial issues were resolved.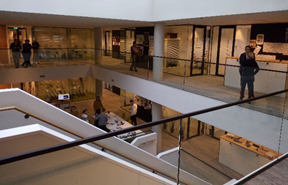 Open Atrium between floors                       
Text: drs. Jeroen Verplanke, Programme Manager at the Faculty of Geo-Information Science and Earth Observation