As an employee of the UT you will receive an employee card
 You can use this card to identify yourself and use a number of facilities at the UT, which are explained below. The employee card is a strictly personal card, showing your employee number (m number) and your photo that you submitted when arranging your contract.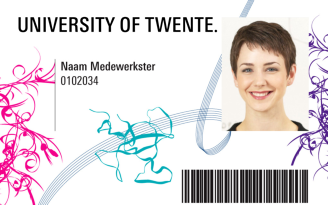 Pick up employee card
When arranging your appointment at the UT, you should have uploaded your passport photo in AFAS (myhr.utwente.nl). This photo will be put on your card. New employees can collect their UT card at the Campus Security Desk. This also applies to employees who have applied for a new card, e.g. because of damage. 
If you have any questions regarding this announcement, please contact the Central Service Desk of CFM at servicedesk-cfm@utwente.nl.
Replacement if lost or stolen
If your card is broken or if you have lost it, you can have a new employee card made via the Campus Security Desk. They are located in building Spiegel. Your old card needs to be blocked in the event of loss or theft. Campus Security can also arrange this for you (campussecurity@utwente.nl or +31534892134). 
Facilities linked to your card
With your employee card, you can use the following facilities:
For ideas, comments or changes to this page, please email webteam-hr@utwente.nl