On this page, you can find all the information for you as a current student at UT.
My well-being
For you as a student, well-being can be about physical, emotional, and mental health, as well as academic and social success. Maybe you feel down, stressed, lonely, or maybe you struggle with mental or physical issues. To provide help and support, an overview of different situations that may apply to you is listed below.
You can find more information about mental health services, tips, and courses below. 

Are you ill or do you have an injury? Check out the links below.

When you (expect to) experience problems or impediments in your study environment due to a disability or illness, UT can support you with additional facilities and guidance.

Special family circumstances

When something happens that radically affects your immediate environment, this might lead to study delay.

Have you just started your studies at the University of Twente? And are you adjusting to a life away from home? Don't worry – you are not alone! We are here to guide and support you.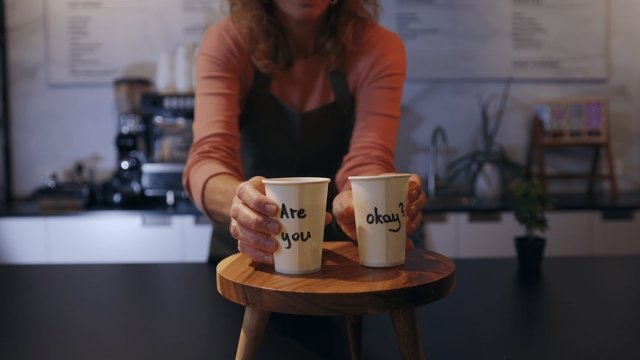 Help with my studies
If you need any information on your study progress or delay, you can find it here. Maybe you want to switch studies, or you are transferring from a bachelor's to a master's. Or maybe doing an internship, choosing a minor or writing your thesis. You can find all the information below.
Study delay/study progress

You can register for modules (bachelor's students) and courses (master's students) in OSIRIS. You can register for a course and/or module via OSIRIS up to one day before the module starts. You can also check your grade averages in OSIRIS.

It is common to face various challenges that can impact your academic progress. One of the most common issues that students may encounter is a study delay, which can be caused by a range of factors such as personal or family issues, financial problems, health concerns, academic struggles, or other unexpected life events.

Notify your study advisor when your personal circumstances have led to study delay and make an appointment to discuss the consequences. Notification is mandatory concerning the Binding Recommendation (BSA).

FOBOS AT UT

If you face unexpected situations that cause study delays, we are here to help you. In circumstances like illness, pregnancy, or family issues that affect your studies, you can apply for financial help. We also have activism grants, as well as top-level sports and arts grants.

Are you a bachelor's student and are you unsure if you have chosen the right course? Or do you expect a negative binding recommendation (BSA) and would you like to orient yourself to another course? Get in touch with Career Services.

How do I choose the right study?

If you decide, in the course of the academic year, to transfer to another programme within the University of Twente or want to add a second programme, Student Services can help you.

You choose a changed re-enrolment if you start with a new study programme, or if you go from a bachelor's/pre-master's to a master's programme.

Study skills and workshops

The UT Language Centre offers individual counselling and workshops on adapting to online studying. They also offer a few practical tips on how to stay focused on your study/work.

SACC has collated and developed resources to help you cope with university study, including advice on: how to stay focused on your work, deal with procrastination and consider your digital well-being. You can find them in the Canvas course Student Wellbeing.

The Student Union listed the best ways to perform your work in an optimal way. On their website, 10 tips for studying at home are shown.

You can find your own timetable with MyTimetable. This is the application in use at UT for creating personal timetables.

Online educational systems

UT uses various educational systems to show study progress, register for courses, enable course materials, and more. For example, OSIRIS is the university's primary system for managing student records, including course registration and grades. Canvas, on the other hand, is the university's learning management system, which provides students with access to course materials, online assignments, and communication tools.
Next to my studies
What are your opportunities next to your studies? You can impact the student community or broader societal issues. Do you want to join a student team, a board, a committee or an association, or maybe you want to pursue a career in top sports or arts next to your study programme at UT? Below you can find all the information concerning those topics.
My future career
The world is constantly changing and evolving, and with it, so are the career opportunities available to you. Below, we will give an overview of career opportunities, preparation, starting your own company and having a side job next to your studies. So, if you're ready to make your mark on the future of work, read on!
Career Services supports students in their career orientation and offers possibilities for companies to contact students.

The Create your Future website provides information and inspiration for your own professional and career development. Here, you can familiarise yourself with where you are now, and how you can develop further, or think about what the next step might be.

Maybe you even want to start your career at UT?

Starting your own company

As the most entrepreneurial university in the Netherlands, UT has gained a good reputation for facilitating start-ups.

Do you want to start a business in the Netherlands? Find out what you need to know and what you have to arrange in order to start your business on the Dutch government website.

NovelT.com supports students in setting up their own companies/start-ups but also supports UT-related companies to renew their business.

On the Career Services Canvas page, you get informed about upcoming events, workshops and more.

UT-Flex / UT Student Jobs provides UT students with the opportunity to work at the university. The activities can be related to education and/or research (like a teaching assistant) but also can have a general nature.

There are strict rules for students from non-EU/EEA countries for working in the Netherlands during your studies.

Working at the University of Twente: the right choice. The University of Twente offers opportunities for your ambitions, talent, ideas and initiatives. Your entrepreneurial attitude is valued and encouraged.

Are you studying and looking for a student job? Studentinenschede.com gives you some tips and tricks.

On the Internship website, you will discover valuable details about internships and assignments offered by the University of Twente's various programmes. Remember, each programme might have specific details or changes, so it is important to verify with your own programme. When you are ready to apply, simply initiate the application process by registering in Mobility Online.
My personal development
Improving yourself in various aspects of life is what personal development is all about. Below, you can explore the various aspects of personal development, including courses. So, if you're ready to take charge of your life and achieve your full potential, read on.
Academic skills and development

UT offers workshops, training and events in both English and Dutch on presentation skills, language courses, academic writing, brain training, entrepreneurial skills, business-model thinking, visual thinking or project management. And what about cross-cultural competencies in a global environment? Start working on your skills now! Have a look at our Course Finder.

Language skills and development

The UT Language Centre (UTLC) offers language courses in English, Dutch, German and Spanish, amongst others. UTLC helps people identify their language needs, offers a skills programme for students, gives advice on language and assesses and validates language proficiency.

Leadership & project management skills

UT offers workshops, training and events in both English and Dutch on presentation skills, language courses, academic writing, brain training, entrepreneurial skills, business-model thinking, visual thinking or project management. And what about cross-cultural competencies in a global environment? Start working on your skills now! Have a look at our Course Finder.

Get to know your strengths and weaknesses

Are you in doubt about your study choice? Or do you want to discover your talents, or strengths and weaknesses? Then you can make an appointment with one of our career counsellors for a study choice / interest test. 

The Honours programmes of UT offer outstanding and motivated vwo, bachelor's, and master's students an opportunity to challenge themselves both academically and socially.

Do you want to start or run an association or committee?
The international student association handbook is a joint effort by the Student Union and International Office and is intended as a guide for students who are willing to become board or committee members of an association at the University of Twente. In this document, you will find information that will help you when you are trying to start an (international) association or running an association or committee.

You can find all the associations here.
Tou can fin all the Student Union committees here.
Balancing my study life
Balancing your student life can be challenging as you are juggling multiple responsibilities such as attending classes, studying, participating in extracurricular activities, and maintaining a social life. For more information on how to balance all aspects of your student life, check out the topics below.
As a new UT student, you will experience Dutch traditions and culture. Get a head start in Dutch culture by learning about various typical characteristics, cultural rituals, and common social habits that are unique to the Netherlands.

Leaving your home (country) to study in a foreign land can be both exciting and scary. Coping with being away from home can be a significant challenge for many students. However, with the right mindset, preparation, and support, being away from home can also be an enriching and transformative experience.

As a student, you will have various costs to cover, such as tuition fees, visa payments, housing, insurance, and day-to-day expenses. On the Money matters page, you will find all the information you need concerning financial matters.

If you have any questions or concerns about financial matters, please contact your study advisor.  You can also contact the student counsellor for questions and concerns regarding financial matters.

You could also benefit from financial support for special circumstances, the so-called FOBOS rule.

Facilities to focus on your studies

At the University Library (in Vrijhof) lots of materials are available to help UT students and staff study or work (together) more comfortably. 

Other various buildings on the campus also offer study spaces. There are spaces where you can simply sit down and study, as well as project rooms which you can book.

You can also apply for facilities and regulations if you experience personal circumstances that affect your study.

A few practical tips on how to stay focused on your study/work can be found on the Study Skills webpage.

Balance between studies and student life

Achieving a balance between your studies and student life can be a challenging and often overwhelming task. On the one hand, your studies are a top priority, with grades and academic performance directly impacting future career prospects. On the other hand, you also need to take care of your health, social relationships, and personal development.

On the campus of the University of Twente, you will find everything you need to get the most out of your student life.

Besides the campus, the city of Enschede also has a lot to offer to students at UT.