As a newly arrived university student, not only will you experience our global ambitions, but also our Dutch traditions.
Get a head start in Dutch culture by learning about various typical characteristics, cultural rituals, and common social habits that are unique to the Netherlands.
Festival time!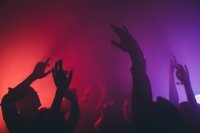 Nowadays, the Dutch don't ask you if you are planning to go to a festival, but to which one! A festival is a great way to do something fun with a group of friends. As opposed to a concert, where you come for the music, at a festival you can simply hang out and join different music stages, food styles and cultural happenings. A festival can also last more than one day. The Dutch festival season runs from May to September, there are over 100 festivals per month, such as Pinkpop, Zwarte Cross and Lowlands.
Typical Dutch Festivities
Dutch food
Have you ever tasted salted herring (raw fish), a stroopwafel (waffles with syrup in between) or erwtensoep (pea soup)? Traditionally, Dutch cuisine is simple. Breakfast usually consists of coffee or tea and sliced bread with cheese or chocolate sprinkles on it. Sandwiches are also eaten during the lunch break. Often alternated with salads or soup. In the evening the Dutch eat warm; traditional meals consist of potatoes, vegetables and meat or fish.
Nowadays, mainly thanks to the different nationalities in the Netherlands, the Dutch eat more exotic dishes. Italian and Asian food is very popular and the cuisine is also influenced by Indonesia. The Dutch even eat their fries with peanut sauce or in a combination of mayonnaise and peanut sauce, the so-called 'fries war'. Some Indonesian dishes are so integrated that many people see nasi, noodles and peanut sauce as typical Dutch food.
Top English-speaking country
Although Dutch is the national language, most people also speak English. In fact, the Dutch are the most proficient English speakers in the world, according to the EF English Proficiency Index of 2022. In the Netherlands, you will find the largest selection of English language programmes in continental Europe.
Learn Dutch
Although you can speak English with practically anyone in Holland, learning Dutch helps you to get to know the country and its culture. Understanding and speaking the local language makes everyday activities, such as grocery shopping, going to a bar or following the news a little easier and more fun. It will also help you to connect with Dutch students and make new Dutch friends! In addition, when looking for an internship, volunteer work or a (part-time) job, knowing Dutch will prove very useful. In some cases, it is even a requirement.