Wednesday 23 May 2018
It is unique in that it allows you to link different video conferencing solutions. Regardless of whether you use Polycom, Lifesize, Cisco or software solutions like Microsoft Lync and Google Hangouts, BlueJeans brings them all together. You can also participate using a notebook, tablet or smartphone. If you cannot participate in the video call, you can still call in via a mobile or fixed line.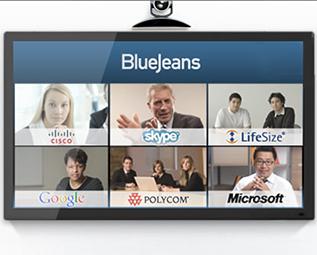 Advantages BlueJeans Meetings
Up to 100 participants
Dolby Voice Audio
Share screen on every device
Security and encryption
Record, share and download videos
Works with Skype for Business accounts
Chat before and during your video call
Plan in your Google and Outlook calendar with a single click
Request
You can request a video conference via the Selfservice Portal: https://selfservice.utwente.nl.
Use of video camera/webcam
If you want to participate in a video conference, we recommend you use a camera. Video conferencing systems (Polycom, Lifesize or Cisco) have a good-quality camera. On a notebook/tablet/mobile device, you can use the built-in webcam/camera.
For optimum quality we recommend you use an external webcam/microphone (for tablets/notebooks with USB connection or desktops).
You can book them via the Selfservice Portal. LISA depends on the actual stock.
Needless to say, you can also get this hardware via the Selfservice Portal.
For more information, please check the Product and Manuals from LISA or the FAQ.