Thursday 24 November 2022
With five Top-rated programmes and a great third place in the ranking of universities, the University of Twente maintains its strong position in the latest edition of the Keuzegids Universiteiten. The guide, which helps prospective students choose their studies, scrutinises the bachelor's programmes of all 14 Dutch universities.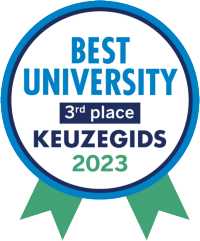 Last year, too, five studies were awarded the predicate Top-rated Programme, which is awarded to programmes that score 75 points or more. These were Applied Mathematics (86 points), Technology, Liberal Arts and Sciences (ATLAS) (80), Communication Science, Industrial Engineering and Management and Applied Physics (all 77 points). Compared to last year, Chemical Science & Engineering and Technical Medicine drop out of the list of Top-rated programmes, falling just one point short. New to the list is ATLAS, which scored no less than 20 points higher than last year. This brings the programme back to the top after a year's absence. Applied Mathematics (AM) is the other newcomer and made a giant leap, too: 12 points more. AM has also been Top-rated Programme before.
Overall ranking
In the ranking of universities, based on the average scores of the programmes, the University of Twente climbs one spot. UT comes in third, taking over that position from Maastricht University. At the top of the list, Wageningen University & Research (WUR) has for years been the undisputed number one with 71.5 points, followed by the Open University (66.5) and UT (64.5). Compared to the other two technical universities, UT performs well: the universities in Eindhoven and Delft score 58.5 and 58 points respectively, ranking in places ten and eleven.
Twelve programmes best within their domain
The scores of UT's 21 undergraduate programmes range from 49 points to 86 points. 16 of them score above the national average, and three scored at or around the average. 12 programmes are the best within their scientific discipline.
The fine scores are in recognition of the work of the education teams of the various study programmes. They work daily to improve their educational offering. To this end, they work closely with students and study associations, which contribute ideas on how and where the programmes can improve. The results of the National Student Survey (NSE), which also form the basis of the results in the Keuzegids, are an important input for that discussion.
This year, the Keuzegids zoomed in extra on job opportunities. In particular, those chances are very good for the Electrical Engineering and Mechanical Engineering programmes.
About the Keuzegids
The Keuzegids uses the answers given by almost 300,000 students at universities of applied sciences in the National Student Survey. They tell what they think about education, teachers, facilities and much more. They also look at how many students quit their studies early and how many students graduate within four years. To do so, they use data from the Universities of the Netherlands and the Association of Universities of Applied Sciences on study success.