Meet Wei lIU and Jing xu, TWO cHINESE STUDENTS AT THE uNIVERSITY OF tWENTE. Wei Liu and jing xu ARE PART OF OUR INTERNATIONAL STUDENT AMBASSADORS TEAM, AND THEY ARE HERE TO HELP YOU. Read about their stories below.
Wei Liu
Country of origin: China
Programme: Construction Management and Engineering (MSc)
Till this moment it is the third year of my study life here in the Netherlands ever, since my arrival in the year of 2016. It was also the first time that I came to another country for study other than China. Everything is new here, everything I need to learn and get used to. Fortunately I made it successfully and I'm doing quite okay now! Thanks for the past two years, which literally made me a different and even better person, at least from the bottom of my heart I felt this way myself. I enjoyed all the days I had and looking forward to the days in the bright future, the people, opportunities, all kinds of staff, the world is wild open for me! 
Why the Netherlands?
There is no surprise for my decision choosing the Netherlands as the abroad study destination. The Bachelor's programme I did in China was a cooperation programme between Saxion and my previous university. I was doing quite ok on my Bachelor's and I have the ability to speak English, and the following was just meant to be. I did have opportunity to finish my study in China, so I gave it a lot of thoughts. The facts of this country that attracted me are firstly: the acceptable tuition costs, secondly: the high level of English usage and lastly: the higher safety level than other countries. I've always wanted to go abroad for new knowledge and skills in order to improve myself and widen my future career direction. The advantage of the Netherlands eventually convinced me and brought me here.
Why Twente?
In my personal perspective, the campus of University of Twente is the most attracting point for Chinese students, since this is what we were used to back in China, let alone that UT is one of the 3 best Dutch technical university. As for myself, I finished my Bachelor's in Saxion and then turned to UT for my Master's. This was easy because of the location and I've been to UT's Master's Open Day, which I found really useful for potential students. Overall I saw the ambitions of the university and it really becomes more open to the world and tries to gather all talented young people to give them better education and make a better world through their hands! So here I am to be one of them! 
Student life in Twente
The study part is interesting and challenging since UT really applies the educational idea "High Tech, Human Touch" into its education system. This means that all research, projects are solution-based. You have to work with your team to find solutions and alternatives for problems. Usually the problem is extracted from real cases (provided by companies or other organizations). Personally, in my own study field, I gained knowledge about new technologies, applications, design and management concepts on civil engineering and construction management, which will be supportive for my future work. 
Apart from study, as a student in UT, your life can be a lot easier due to the campus (your daily life needs can be easily fulfilled). The ACSSNL (Chinese Students & Scholars Union in the Netherlands) always organizes events for traditional Chinese festivals to enrich students' spare time. You can also develop your other talents using the facilities provided by UT, sports, musical, dancing, art et cetera a lot can be found here, through which you can make new friends from all over the world.
jing xu
Country of origin: China
Programme: Educational Science and Technology (pre)MSc
Nihao! I'm Jing from China, currently a student of the Master's programme of Educational Science and Technology at the University of Twente. Before starting my new journey at University of Twente, I've worked in the educational field for more than seven years and lived in the Netherlands for two and half years. The sense of autonomy and cosmopolitan environment has broadened my horizons and changed the way that I look at Education. Therefore I decided to pursue another diploma in the Netherlands. 
Why Twente?
Before I choose the school, I already made up my mind that I will keep pursuing my academic life in the Educational field. I've compared the similar programs in different universities in the Netherlands, and finally, I chose University of Twente because of the well-designed program and promising career future. Aligned with the new trends of technology with Education, this new perspective of Education has always been one aspect I am interested in. Besides, the entire Master's course description in University of Twente fits into all the experiences and challenges that I've encountered over the past seven years. The campus located in a peaceful and beautiful town in the east of the Netherlands boarded with Germany. Another huge plus, University of Twente is the only university which has an American style campus. All entertainments and life facilities provided on the campus, it makes the students' life more diverse. 
Student life in Twente
As the only Universtiy in the Netherlands which has an American style campus, the University itself performed as a small city. The UT campus is perpetually in motion. As a fantastic result, the University of Twente currently has almost 40 different sports clubs. No matter you want to swim, wall climbing or even survival game, there is a place in the campus for it. 
In my spare time, I enjoy sitting on the grass while reading books or walking around the campus and enjoying the lovely views. The beauty of the UT campus changes with seasons, Flowers can be seen everywhere in Spring, Summer is full of sunshine and yet not very hot. All forests turn golden in the Fall, you can pick up different nuts in the wild and enjoy a relaxing bike ride through the stunning nature. When winter comes, the temperature under zero, you can even skate through the canal in the city nearby. No matter which season, the campus always full of beauty, every day feels like a vacation here. 
Get in touch with Wei Liu and jing xu
Do you have a question for our students? Contact them via our dedicated Chinese WeChat (utwente), Weibo or Facebook page. For more information about the University of Twente you can also visit our Chinese web page.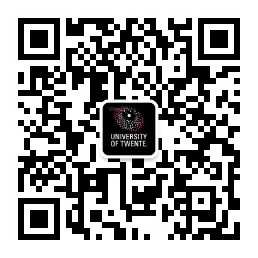 QR code for WeChat