Friday 3 February 2023
A significant milestone at the University of Twente: the Robotics Centre officially started operating in January. The Robotics Centre is the number one place where students are taught and where partners such as government and semi-government bodies, companies, NGOs and knowledge institutions can work together on robotics solutions that improve our everyday life.
Steven van Roon, manager business & operations of the UT Robotics Centre, outlines the vision and ambition of the new centre. 'Robotics has been a fast-growing sector for many years and the developments have gathered pace in recent times,' says Van Roon. 'There is a lot of demand from government and the business community for experts who develop robot innovations. That's what we're working on. So we bundle our expertise in this area and bring education, research and innovation together. The result is a unique multidisciplinary centre in which we are developing, among others, robots for medical care – including surgery – robots for industrial applications and robots that we can use in our everyday life. At UT we have everything necessary to prepare students and society as a whole for a future in this field and to develop the solutions that are desperately needed.'
Reality versus science fiction
According to Van Roon, the centre is the number one place where the future of robotics is being designed and where at the same time there is a focus on people. 'In particular, we bear in mind the combination of technology on the one hand and people and society on the other. In addition to developing new innovations and solutions for healthcare, industry and society, we are also a place for inspiration, discussion and dialogue. Not a self-contained bastion, but a place that is open to everyone, including non-academics. We want to demonstrate what our robot-filled future will actually look like. What can we expect and what will still be science fiction? This covers topics such as social and ethical issues, as well as questions of an organisational nature such as 'if my employees are unwilling to work with the new robotics, do I have anything to gain by investing in it?'. The University of Twente is eminently suited to putting issues of that type at the forefront. That is because we make the link between hard technology and business, psychological, philosophical and ethical issues. The new Master's programme in Robotics is also an essential element in that.'
Beyond the boundaries of fields of expertise
The UT Robotics Centre is a joint initiative of the Faculties of Engineering Technology (ET) and Electrical Engineering, Mathematics and Computer Science (EEMCS). The deans of both impart their enthusiasm.
'The Robotics Centre is an equal partnership and embodies "high tech and human touch"', says Joost Kok, dean of EEMCS. 'In all respects the Robotics Centre is a unique centre of knowledge where robot technology is developed to improve your life and mine. We look forward to getting started.'
Bart Koopman, dean of ET adds, 'One of the objectives of the centre is to enable our stakeholders to connect with each other. It's a place where a variety of initiatives of the University of Twente coincide. With the Robotics Centre we look beyond the boundaries of our own fields of expertise.'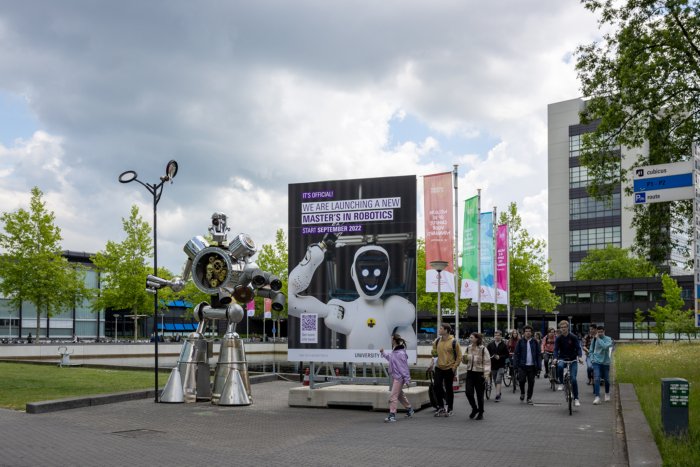 About the Robotics Centre
The UT Robotics Centre is led by the EEMCS and ET Faculties and cooperates actively with the other faculties and UT research institutes. The management team comprises Van Roon, Professors Stefano Stramigioli, Herman van der Kooij, Dirk Heylen and Dannis Brouwer, and Jan Broenink as director of education for the Master's programme in Robotics.
The various robotics labs on the campus are being used as the infrastructure. The plans for a dedicated location for the centre in the Westhorst and Carré buildings are being developed.
The official opening of the Robotics Centre will take place on 28 March during the annual UT Robotics Day. More information can be found on the Robotics Centre website.