Friday 29 October 2021
Challenge the impossible
Dutch Innovation Academy presents: Technology on Stage with Jamie Hyneman
On 23 November 2021, Jamie Hyneman will give a unique masterclass on the magic of creativity in the Wilmink Theater in Enschede. Jamie Hyneman, one of the makers of the popular television program MythBusters, received an honorary doctorate from the University of Twente in 2011. In this program, he and colleague Adam Savage test stories and myths for their credibility. Often with sensational explosions or crashes.
Well before Jamie provided explosive scenes in MythBusters, he was already known as the special effects man of films such as Top Gun, Star Wars and The Matrix. Now he is on stage in Enschede with a story that is at least as creative, about his journey to solve remarkable challenges. During the masterclass, you will get a look inside his brain and you can also ask him how he devises, makes and introduces his innovations.
Dutch Innovation Academy is organizing this unique masterclass in collaboration with the University of Twente and Demcon. With his impressive resume and signature mustache and beret, Jamie is an icon of this century and has increased the popularity of science and technology.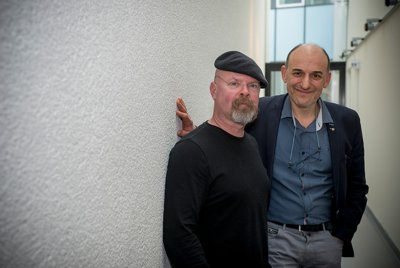 At the end of the masterclass, Jamie Hyneman will have an interesting conversation with Stefano Stramigioli, professor of Advanced Robotics, University of Twente. These two brilliant minds regularly work together on projects where robots make the world safer, smarter and funnier in new and unseen ways. And you can join them, on November 23!The language of instruction in the masterclass is English.
Entrance ticket with free consumption for 5.00 euros
Wilminktheater, Enschede, 23 November 2021,  from 20:00 - 21:30h
Tickets available from 3 November at the Wilmink Theater.
About Jamie Hyneman
Jamie Hyneman and Adam Savage shot roughly 248 episodes of the popular TV show MythBusters together. Over 1,000 myths turned out to be true or were busted. With spectacular experiments, they investigated tall tales that sometimes surprised them by being true. It turns out elephants really are scared of mice and you can really test positive for drugs after eating poppy seed bread. Thanks to their humorous approach to myth busting, they managed to captivate millions of people around the world and interest them in science, technology and conducting experiments. Hyneman taught at the Academy of Art University in San Francisco and is an honorary lifetime member of the California Science Teachers Association. He has held jobs as a diver, captain and concrete inspector, and now gives lectures at universities around the world in addition to his duties as the owner of M5 Industries, a company specialized in creating special and visual effects for films.