Monday 26 September 2022
The University of Twente's Honours programme has an enormous added value for the professional development of the participating students. That is the picture that emerges from the recent peer review of this UT excellence programme. A committee made up of students, honours deans and education staff from various universities recently took a close look at the UT programme, and presented its results this week.
Nationwide comparison
The national peer review is an initiative of the joint honours programmes of the Dutch universities, united in the national coordination point. All Dutch universities have such an excellence programme, each with its own approach, specialism and characteristics. Because there is no formal accreditation programme for the honours programmes, peer review is an ideal opportunity to exchange experiences and share knowledge.
Marie-Laure Snijders, master student in Biomedical Engineering and Interaction Technology, is involved in the peer review in her role at the Honours Office: "There is quite some difference in how universities approach the honours programme. That's why it's so valuable to get a look behind the scenes and to receive feedback from various angles. The committees that do the reviews consist of a mixed group of students, deans and education staff who are involved in the honours programme of their university. It is a 'friendly peer review', the intention is to give constructive feedback with an external view."
Added value
The review at UT revealed that students and alumni greatly appreciate the programme and recognise its added value for their own professional and personal development. They develop themselves in teamwork and multidisciplinary cooperation, for example, and also put this into practice during their studies or in their work. Moreover, students feel very recognised and appreciated by the involved lecturers; there is a lot of room for personal guidance and their own interests. There is also an appreciation for the close and active community. Marie-Laure: "Students and alumni find it very inspiring to be part of the Honours community. They are active in all kinds of places in and around the university, have good ideas and want to make them happen."
One of the major points that the UT Honours programme should work on, according to the committee, is the familiarity and visibility of the programme within the university. Improve the visibility, promotion and recruitment activities of the Honours programmes, especially for the Master Honours tracks, the report recommends. Try to involve a wider range of students (in terms of faculty background) and lecturers (in terms of diversity) in the programme, according to the committee.
"As UT, we can be extremely proud to have such a fantastic Honours programme in place. I would say to all ambitious and interested students looking for an extra challenge alongside their studies: take advantage of it!", says Nelleke van Adrichem, Honours programme director. "This programme is for you and we have something for everyone! We have already started the application procedure for this year's Master's, and the Bachelor's will follow soon. Be there on time!"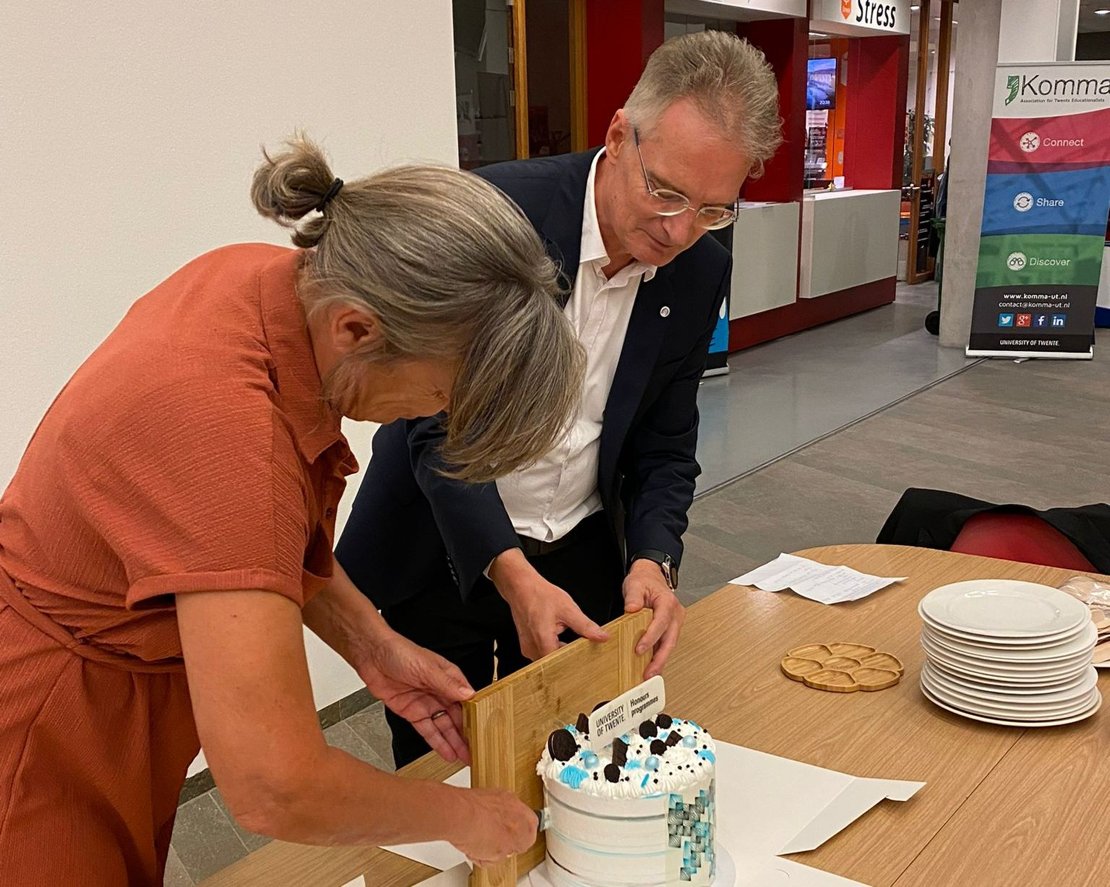 About the Honours programme
The Honours programme is an extracurricular programme for both bachelor and master students who are looking for depth and breadth outside their own studies. Every year, some 100 new bachelor students and 70 new master students enrol.
There are various tracks and specialisations that are constantly being updated, and a special new master track will be added in the coming academic year: The 4TU. Responsible Sustainability Challenge, which is organised together with the universities of Delft and Eindhoven.
The knowledge gained by students will be put into practice immediately, for example by helping to find new solutions in numerous places within the UT organisation.  "For students in the bachelor phase, it really helps to orientate themselves broadly and to delve into new subjects," says Marie-Laure. "In the master, the emphasis is a bit more on personal and professional development: from leadership training to learning to negotiate and academic skills."
In order to participate in the programme, study results must be of a good level: students are not allowed to have a study backlog and they must belong to the top ten per cent within the university. Usually, this means an average grade of 7.5 or higher. Marie-Laure: "The Honours programme is really challenging and you have to be willing and able to invest time in it. If you have a passion for learning, meeting new people and taking on interesting challenges, then it really is a very cool programme."