Tuesday 15 November 2022
It is one of the University of Twente's longest-running international collaborations, the one with Tecnológico de Monterrey (Tec) in Mexico. At the end of October, the universities celebrated the 25th anniversary of their cooperation together. A delegation of directors, researchers and support staff, led by Executive Board president Vinod Subramaniam, was a guest on the Monterrey campus. To celebrate this significant milestone, but mostly to look ahead to how the collaboration can become even more fruitful.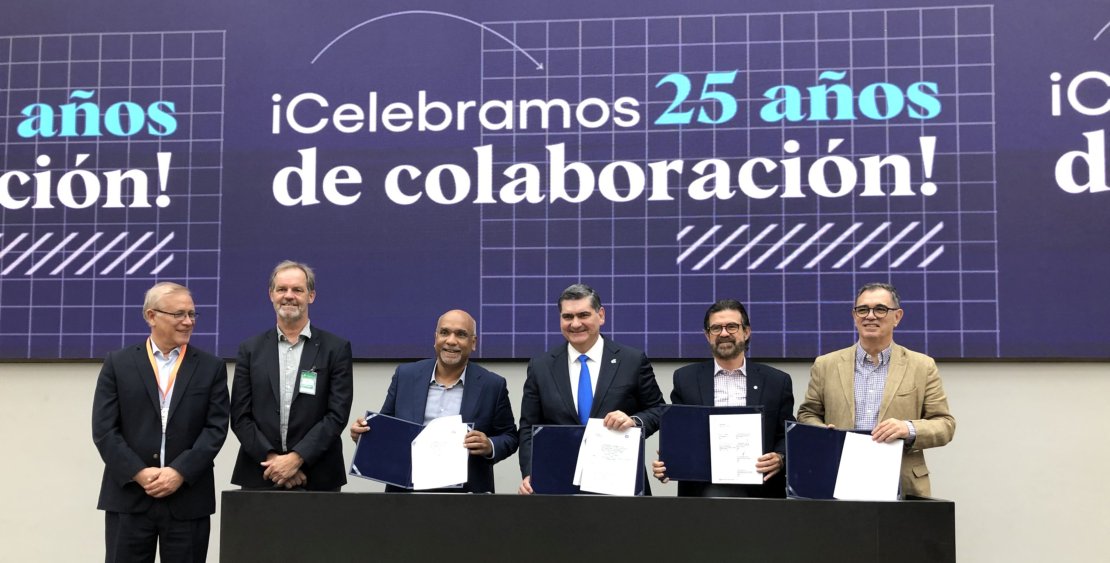 Tec de Monterrey is one of the major universities in Mexico and is highly regarded. The university has more than 90,000 enrolled students, studying at one of its 26 campuses across the country.
Innovation and entrepreneurship
"It really is a unique collaboration, especially on this scale," observes Karin Paardenkooper, UT country coordinator for Mexico. "We complement each other very nicely and have similar ambitions regarding innovation and entrepreneurship. In terms of education, research and valorisation, we learn a lot from each other. There are many different projects that we undertake together, including cooperation within ECIU. And we are working together in further developing challenge-based learning."
The milestone was celebrated festively during the delegation's working visit, which was also attended by Wilfred Mohr, the Dutch ambassador to Mexico and Belize. A formal signature was made on the PhD Double Degree agreement that all UT departments can use immediately.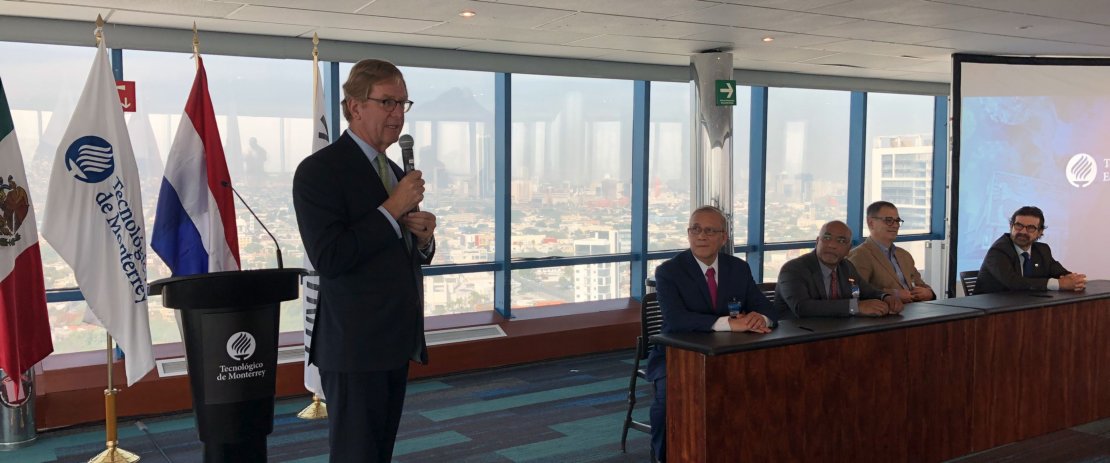 Exchange
The working visit also marked an important milestone in the Erasmus+ programme (KA107 Mexico), initiated by Dr Arturo Susarrey of the TNW Faculty's Mesoscale Chemical Systems department. Due to COVID-19, exchanges were on the back burner.
Within this programme, exchanges take place between academics and support staff, for both training and teaching. Participants had the opportunity to look into each other's kitchen: to learn from each other's facilities and approach, present their research, and give students lectures and seminars.
Ambitions for the future
During the visit, ambitions for the coming years were discussed in detail. Anne Olde Loohuis, strategic advisor on internationalisation: "There are great opportunities to scale up the level of cooperation further. The ecosystems of Tec and UT can strengthen each other even more than they do now. We see great opportunities for strengthening exchange, educational innovation (such as challenge-based learning), joint research and cooperation with companies."
The institutions will jointly work on a multi-year strategic cooperation plan in the coming months. Anyone who sees opportunities to realise their ambitions in the cooperation between Tec and UT is invited to think along.