Friday 15 September 2023 09:30 - 17:00
Cycling4Climate, Scientists4Future Twente and University of Twente organise a sporting challenge with sustainable impact. On Friday 15 September, Overijssel will be the setting for the Cycling4Climate province tour. There are two routes: one for recreational cyclists of about 50 kilometres and one for roadbikes of about 90 kilometres. Everyone is welcome to cycle along; there is room for 50 participants per tour.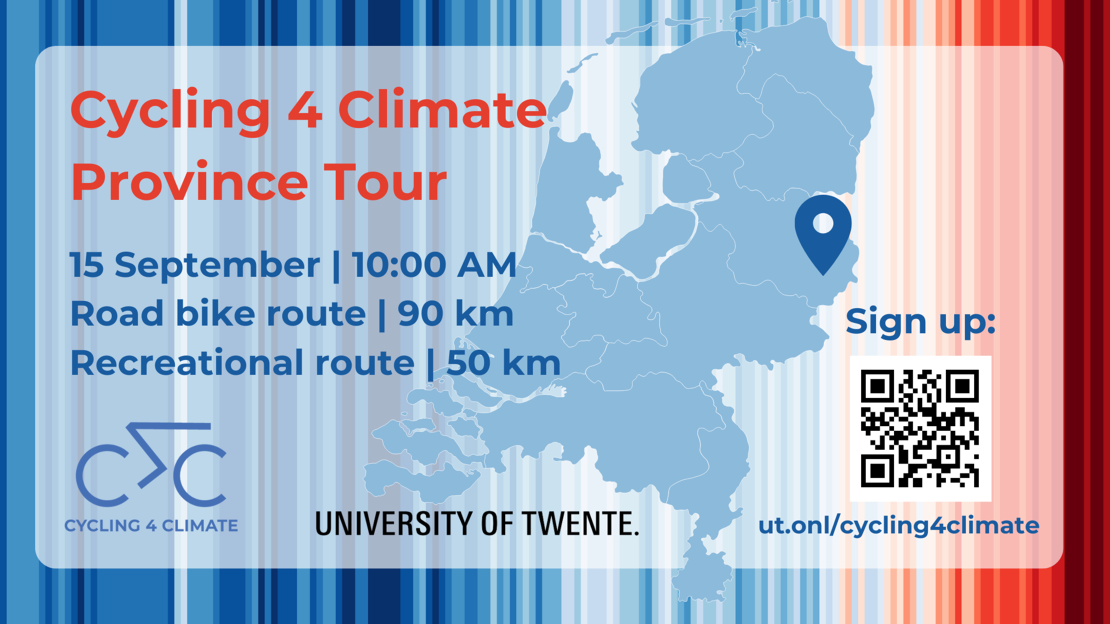 INSPIRING TOUR
The province tour is an inspiring ride in Twente, where you visit locations where sustainability is brought into practice. Both tours will bring you to a location where Enschede Energie, a local energy cooperative, has constructed a solar roof and solar field in cooperation with landscape organisations. In addition, the long tour for roadbikes start with a visit to ReintenInfra in Borne, a progressive company working on sustainable infrastructure and smart solutions to reduce environmental impact. The recreational cyclists will cycle to the los hoes 'De Bommelas' in nature reserve Buursezand where Natuurmonumenten will give a presentation. They then continue their way back to the University via the natural water purification, water storage and ecological connection Het Kristalbad.
Lunch is included, with all cyclists together at a social company. Along the way, you can exchange sustainable (work) experiences with your fellow cyclists and thus expand your network. Afterwards, we can have a chat in the University of Twente's sports canteen. The contribution to participate is 5 euros. You can sign up via the Cycling4Climate website.
ATTENTION AND IMPACT
We cycle to draw attention to the consequences of climate change. But attention is not enough. We want to make impact. Via the Cycling4Climate website, you can calculate your footprint and indicate how you want to reduce your footprint or increase your 'handprint' (impact).
SCHEDULE FOR THE DAY
Starting location: the  square in front of building Box (nr. 53), next to the sports centre. See the campus map.
9:30 – Welcome with coffee/tea
10:00 - Departure
13:00 - Lunch
17:00 - arrival at the University at departure location and chat in Sports Canteen