Thursday 7 October 2021 08:30 - 17:30
What: University Sustainability Transformation Symposium
When: 7 October 2021
Where: Agora, Vrijhof, University of Twente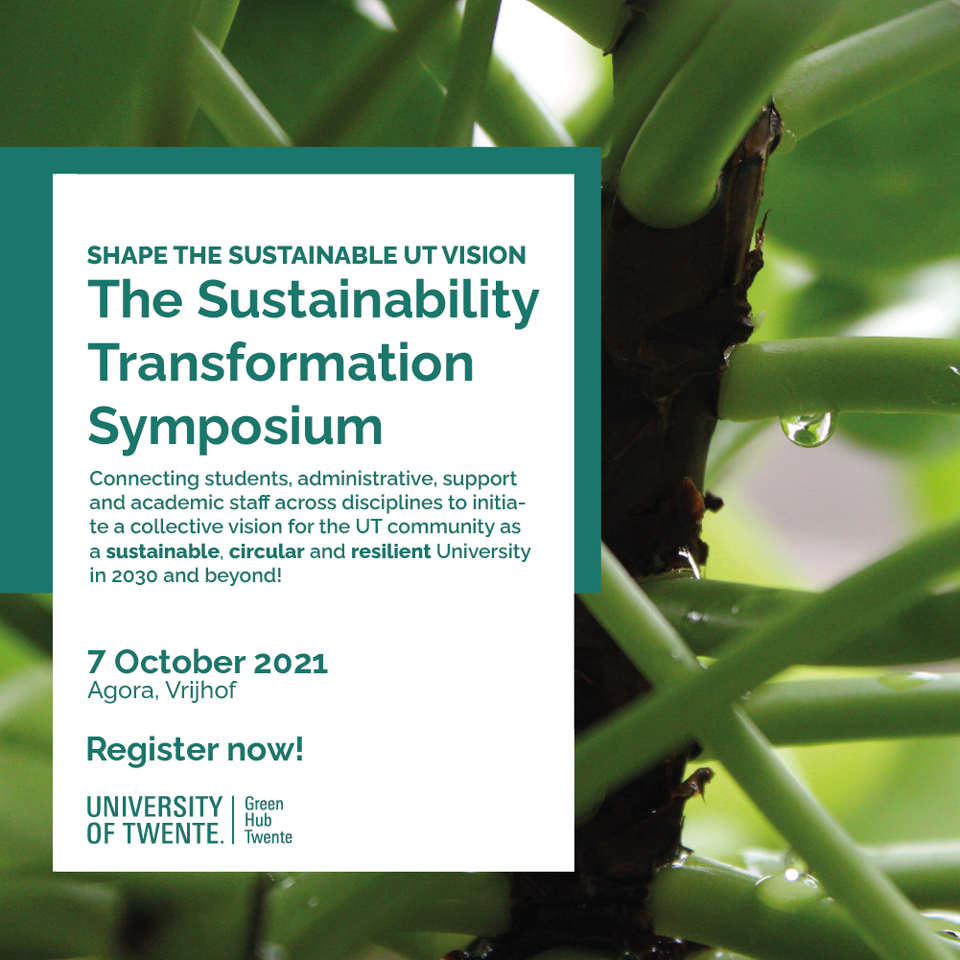 A vision of the future
What is our collective vision of the University of Twente as a sustainable, circular and resilient university in 2030 and beyond? How can our community of researchers, teachers, support staff and students transform our organisation so that our university can maximise its positive social and environmental impact? These are questions we hope to answer in our ambitious symposium on the how of University Sustainability Transformation (UST) on 7 October 2021.
Breaking down walls
UST requires all faculties working together in inter- and transdisciplinary teams of researchers and students that leverage the science, tech and engineering we teach and investigate as a community. Our aim with this symposium therefore is to provide a platform for existing inspirational faculty teams to showcase their research and teaching initiatives. The purpose? To break down disciplinary walls for innovation to sustainability solutions to take place across faculties borders.
Initiatives and innovations
Organised by the Green Hub Twente, Shaping Expert Group for Sustainability, Student union and other colleagues, this symposium will not just be any regular sustainability conference, but one driven intrinsically by the culture of our own university. The event will consist of keynotes from relevant specialists in applying sustainability and transformation management to the university, as well as lectures and workshops given by experts, student teams and management across disciplines. We want to create a platform for the whole spectrum of initiatives and innovations on sustainability to be showcased so we can begin to weave together a whole-UT signature approach to Sustainability Transformation.
Overall, we encourage participants to be bold, audacious and open, and seek to think and act in an interconnected manner; then we can unite our multiple identities into a united whole that is greater than the sum of its parts.
Preliminary programme
Moderator: Thyne Scholte