Wednesday 10 October 2018 20:00 - 22:00
Activities Sustainability Day
Wednesday 10 October is Sustainability Day. You are most welcome to join us for one of the activities at our campus. No need to register.
9.30 hrs Display of the Energy Dashboard (Ravelijn)
At 9.30 hrs we will proudly present a new energy dashboard on the big screens in the building Ravelijn. The new dashboard shows the energy consumption of that building. In order to clarify the consumption, you do not only see the data, but it is visualized through comparisons with more everyday things (for example how many electric bikes you can charge for the amount of electricity that has been consumed so far today).
12.30 hrs Tree planting by student association SUSTAIN
During the lunch break, starting at 12.30, we will celebrate the founding of student association SUSTAIN by inviting the board of SUSTAIN to plant a tree. SUSTAIN aims to improve the sustainability at the UT and its surroundings. We would love to see you at the vegetable gardens on our campus grounds (this is the location where several trees came down during the July storm), near the beehives alongside the footpath. 
20.00 hrs Film "Tomorrow"/"Demain" in Amphitheater, Vrijhof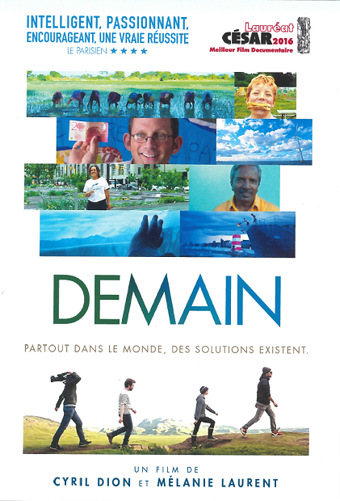 Award winning documentary "Tomorrow" (Demain) will be shown at the Amphitheater, Vrijhof. This documentary identifies initiatives around the world that have pioneered solutions to the environmental and social challenges of this century, in agriculture, energy, economy, education and governance. Language: French and English (English subtitles). Free entrance (NB: Theatercafé is also open for a chat and a drink afterwards). This film is offered to you by the Student Union, SUSTAIN and Campus & Facility Management.
 
More information
Would you like to know more about sustainability initiatives or do you have suggestions regarding sustainability at the UT? Please contact Brechje Maréchal: b.marechal@utwente.nl or sustainability@utwente.nl