Thursday 24 January 2019 13:15 - 18:00
The Privacy Paradox is the realization that online privacy is important, but no actions are taken to secure it. Have you ever only wondered, for example, what the risks of public Wi-Fi are? What happens to the information stored on your smart home devices or how to support your (grand-)children when they start using the internet? Or are you starting to wonder about these questions now?
Students of Communication Science from the University of Twente have taken on these and other online privacy related questions and you are invited to watch the fruits of their labour during the 2nd Twente Privacy Film Festival.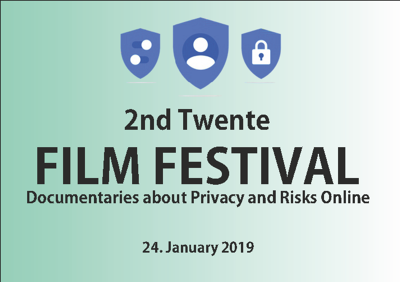 SCHEDULE
13:30 hours - Walk-in
13:45 hours - Introduction by dr. A. Beldad
13:50 hours - Screening
14:45 hours - Musical interlude
15:00 hours - Screening
15:45 hours - Musical interlude
16:00 hours - Screening
17:00 hours - Film Festival Award Ceremony
17:15 hours - Drinks and Snacks
Attendance is free. Register below to inform us on your attendance.