Friday 15 - Saturday 16 September 2017
Think Big. Start Small. Act Fast. – Global Goals Jam!
The Global Goals Jam is a two-day hands-on event where you will meet like-minded students to ideate, brainstorm and prototype ideas based on the United Nation's Sustainable Development Goals. The Global Goals Jam is happening world-wide in 23 cities on September 15 and 16. This year we will host this event for the very first time in the DesignLab, opening up to students from Enschede.
We will focus on five of in total 17 ambitious goals:

Bright young minds from various fields will work in groups on the goal of their choosing. Each goal will be connected to a challenge, designed in close cooperation with Lemonaid, O&H Concepts, UNICEF and Province of Overijssel.
This is your chance to step up and make an impact to make our world more sustainable. Think big and start small. Join the Global Goals Jam and add your solution to the growing idea cloud of the United Nations.
Cases
1.     No Poverty, Lemonaid
Design a community that actively supports the Lemonaid mission, for example, by connecting Lemonaid to the right remote projects and businesses during their backpacking holidays in Mexico, Argentina, Sri Lanka, South Africa, Rwanda or Paraguay and much more.  
2.     Zero Hunger, O&H Concepts
Design a biogas system for houses and communities as cheap as possible with materials available worldwide.
3.     Good Health and Well-Being
Surprise challenge which is going to be announced soon.
4.     Quality Education, UNICEF
Design a system for children in third world or conflict countries to adopt to the future labour skills of the 21st century. How can refugee children can follow education on the way.  
5.     Sustainable Cities and Communities, Province of Overijssel
Design working spaces in Enschede that at the same time lower the CO2 emission.  
Sign up!
Sign up before 11 September to reserve your limited seat right here and add this event to your calendar.  
-        Date:                        Friday & Saturday, 15-16 September 2017
-        Time:                        8.30-22.00 on Friday, 11.00-17.30 on Saturday
-        Location:               DesignLab, Gallery building, University of Twente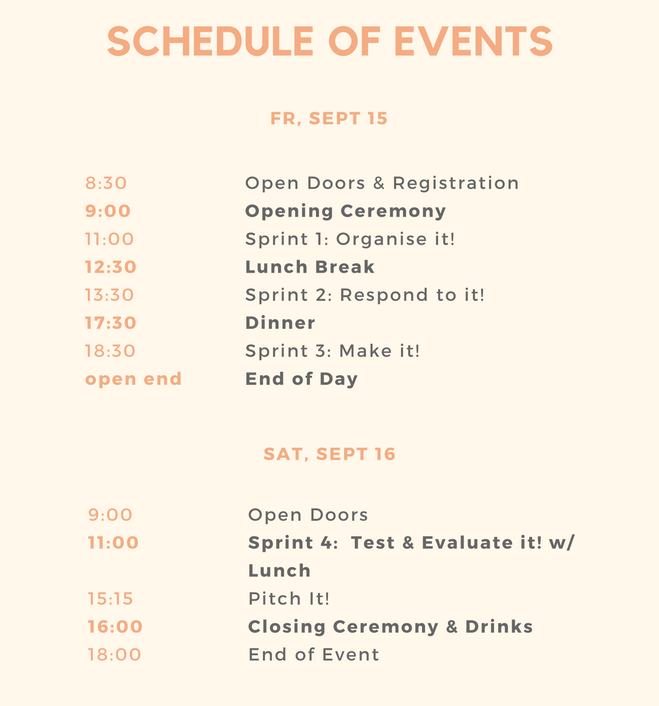 For more information on the Global Goals Jam around the world, click here !
For more information on the Sustainable Development Goals, click here!