Friday 12 May 2023
Making an impact and bringing about positive change; in today's university, the question of how education and research contribute to solutions for pressing societal issues is increasingly central. The question also formed the core of the University of Twente's 61st Dies Natalis. An inspiring keynote by Frans Timmermans, the insight that rector Tom Veldkamp gave into the University of Twente's plans and the passionate contributions by scientists and students into how they want to bring about a better world together provided a multifaceted and diverse answer.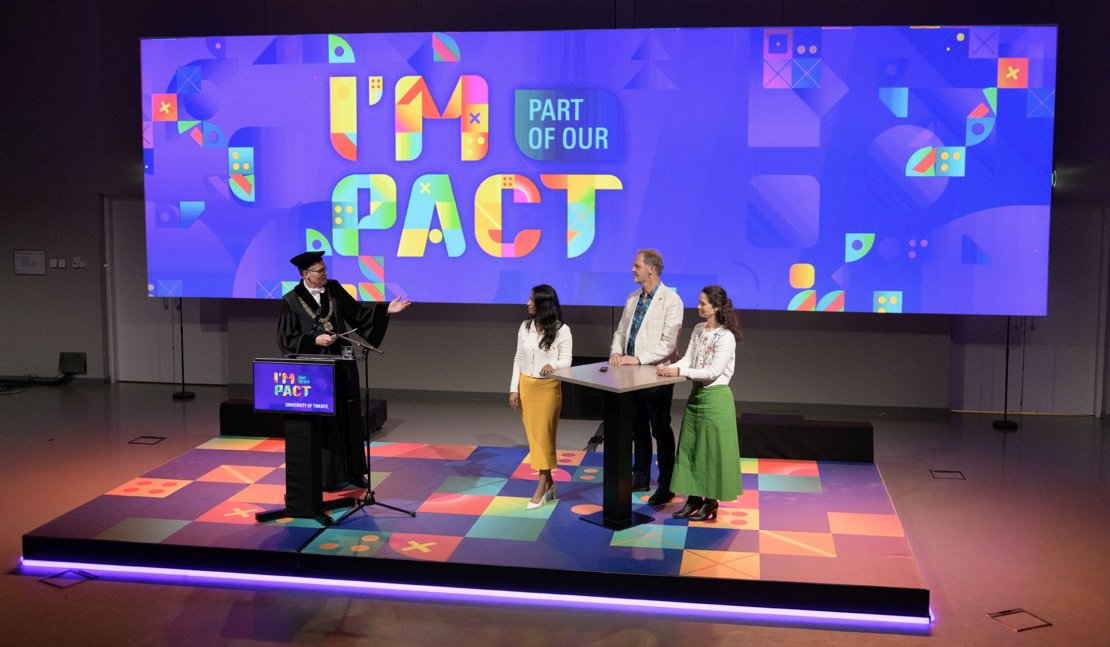 The hall in the Waaier building was filled with staff, students and other guests who came to celebrate its 61st anniversary with the university. They were treated to a festive, packed but above all inspiring programme.
Not getting stuck in the here and now
Frans Timmermans, Vice-President of the European Commission, delivered his keynote speech with his characteristic passion. We have faced climate change with significant consequences before in the long history of our planet, Timmermans said, but this is the first time we are convinced that it is caused by human behaviour. "But we also have to realise that this is not so much about saving the planet; it is about saving humanity."
Our biggest challenge is not to get stuck in the here and now, Timmermans argued. "But do we really dare to look into the future? I sometimes feel we are quite comfortable in the here and now."
Looking ahead means not only determining an ultimate goal, but also how to get there. "When we were talking about the 2050 targets when the Green Deal was created, then it was not very difficult to agree on that. But it did get complicated when we talked about what that means for seven years from now. If we are serious about our role as ancestors for future generations, then it is not just enough to set targets for 2050; we have to draw the steps towards that, which together form the path. We have to start changing now."
With confidence, Timmermans dares to look ahead. "Our greatest asset is our capacity to innovate. We should not just fear the future, or be dissatisfied but be curious about what the future brings us." In the current generation of students, he detects such a drive. "They are ambitious and have the drive to bring about positive change."
In his contribution, Frans Timmermans also devoted a few words to the current debate on internationalisation and the Dutch language within higher education. He stressed that internationalisation is highly relevant, and that the costs of it are only a fraction of what it brings our society. As far as Timmermans is concerned, strengthening the Dutch language is important, but this should mainly be achieved by letting children grow up with language from an early age. "By reading together with them, having conversations at the kitchen table. That is where Dutch benefits." In a university environment, on the other hand, it makes perfect sense to use English, Timmermans pointed out.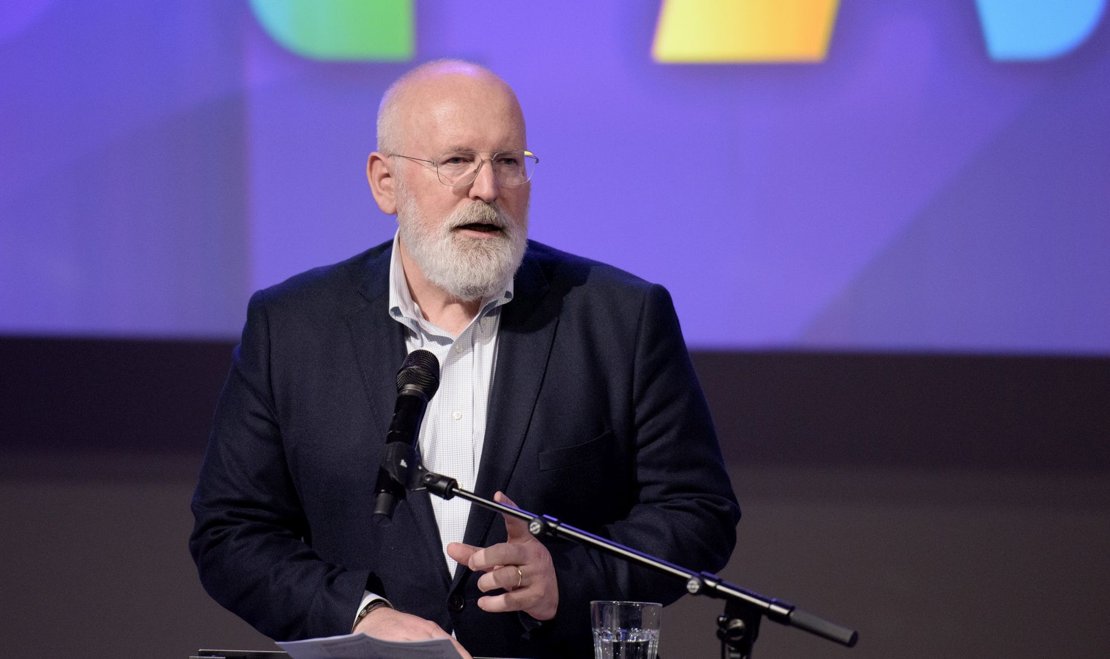 Societal contribution of UT
Rector Magnificus Tom Veldkamp concurred with Timmermans' words on how to approach climate change. "We have to embrace the future. And indeed, take action now." In his contribution, Veldkamp gave insight into how UT envisions its future as a fourth-generation university - a university that acts as a hub in a network of stakeholders to get innovation for societal challenges off the ground in co-creation. For example, through an even stronger focus on themes in which UT's background in both engineering and social sciences can make a difference, such as climate adaptation, health, safety and security and chip technology. This should lead to greater deployment of (financial) resources specifically on these themes.
Veldkamp also underlined the importance of lifelong learning as a new but highly relevant task for UT. "In fact, it is our fourth pillar, alongside education, research and valorisation. Knowledge development goes so fast that sometimes it is outdated just after you graduate." That is why in the coming years, UT is putting a lot of effort into providing educational opportunities for people already active in the labour market.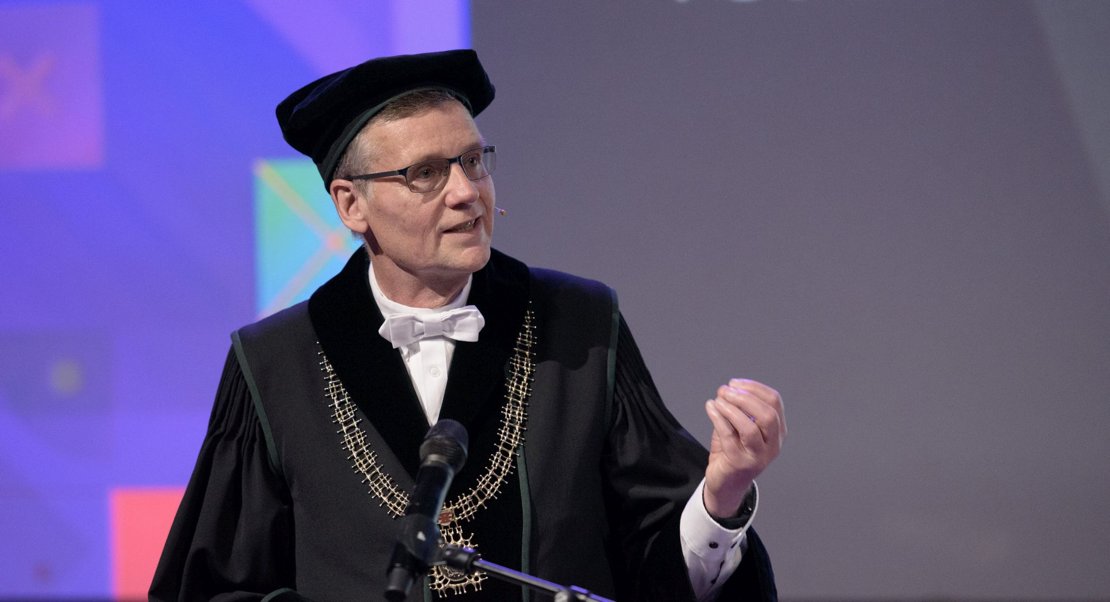 Packed working visit
The Dies celebration may also have been a time for Timmermans to sit back more quietly to process the day's many impressions. That day started early in the morning at the Dutch Innovation Days in the centre of Enschede, where he had been invited as a guest speaker. In between, he took ample time to spar with various scientists and students about realising societal impact in climate and sustainability. He was also a guest of the UT student teams, who gave an insight into how they try to take smart technological innovations a step further.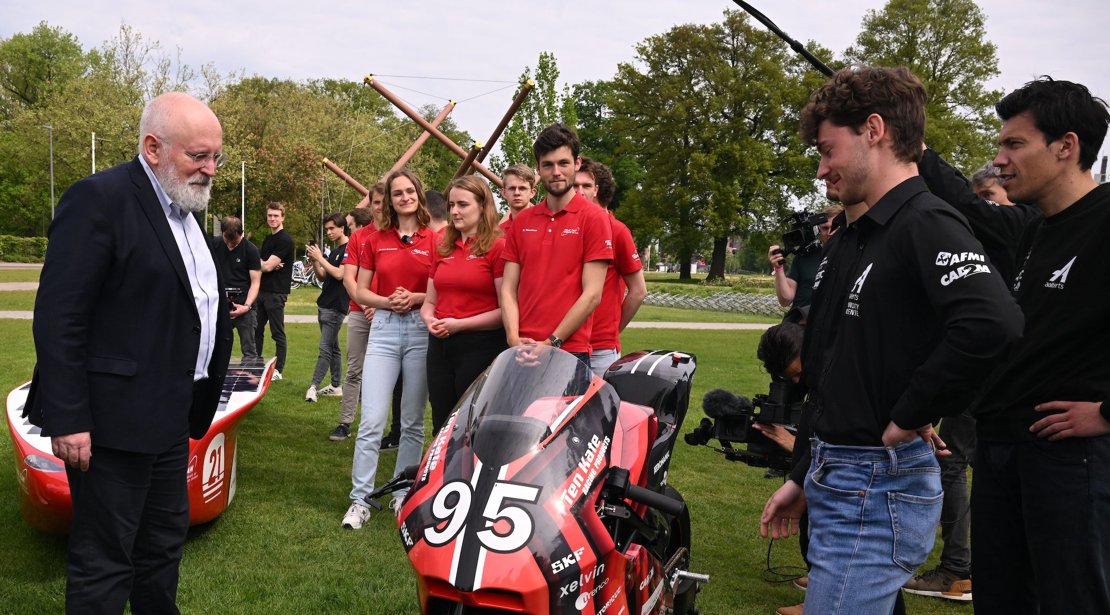 Timmermans also took a look at the UT Climate Centre, which was launched today. The centre will play an important role in the university's ambitions in education, research and valorisation for climate issues. To achieve this, UT will invest 10 million euros in climate-related research and education over the next five years.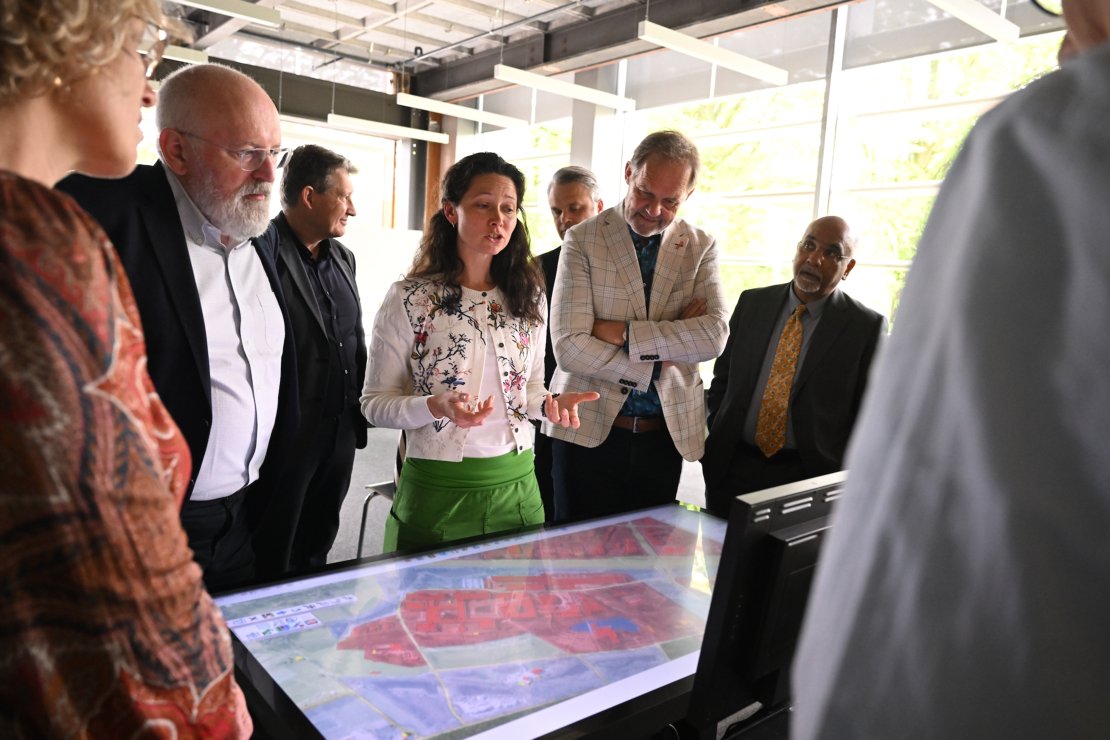 Prizes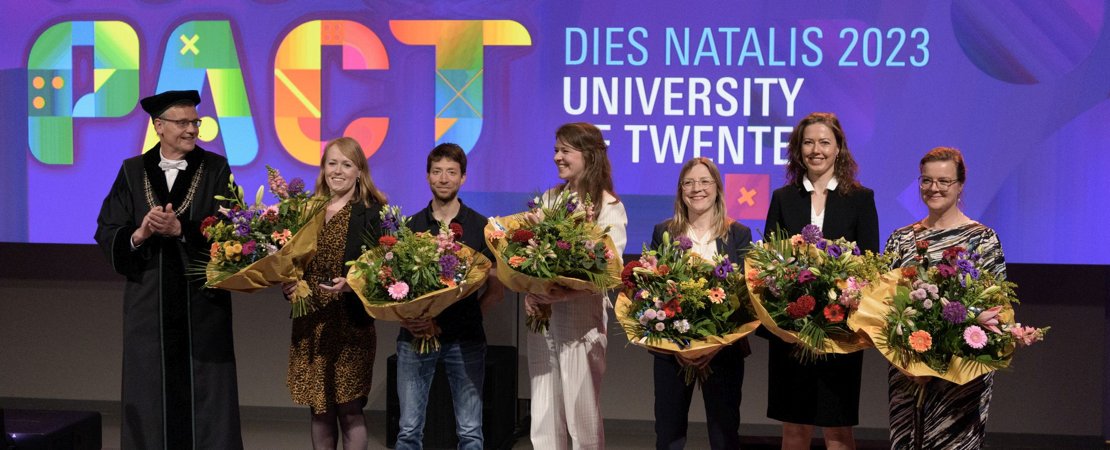 The Dies Natalis is traditionally the venue for several academic awards. Various talents were spotlighted during the celebration for their remarkable achievement, or rewarded with a prize to help them take the following steps in their careers.
Professor De Winter Award
Florence Metz is the winner of the Professor de Winter Award for her top publication in the American Journal of Political Science, entitled: Policy Networks Across Political Systems. The article focuses on better understanding technological transitions in water quality and the removal of micropollutants from wastewater. Florence Metz is an assistant professor of Governance Resilience within the Faculty of BMS.
Marina van Damme Scholarship
Nicole Vermeulen, an alumna of International Business Administration (2005), received the Marina van Damme scholarship, awarded for the 20th time this year. Nicole is Chief Commercial Officer (CCO) at Swiss-based Green Energy Venture. Mariëlle Feenstra (alumna of Public Administration, Faculty of BMS) is the Runner Up for the Marina van Damme Scholarship.
Overijssel PhD Award
With her thesis, Hanneke Kip won the Overijssel PhD Award, awarded by the Province of Overijssel, for an excellent dissertation completing doctoral research. Hanneke's research focuses on gaining more insight into how eHealth interventions can be used to treat people with aggressive and sexually transgressive behaviour.
Brinksma Innovation Grant
Michelle Kip (Faculty BMS) and Xavier Pouwels are the BIG (Brinksma Innovation Grant) winners, an award intended for UT employees who want to get an interesting educational innovation off the ground. "We want to let students experience how you can use ChatGPT to learn programming, but in a responsible way," says Pouwels. The researchers show students how to use ChatGPT to detect code errors and make your code run faster." We focus on programming health economic models. These are analyses in which we identify the effects of innovations in healthcare, both in terms of costs and health outcomes."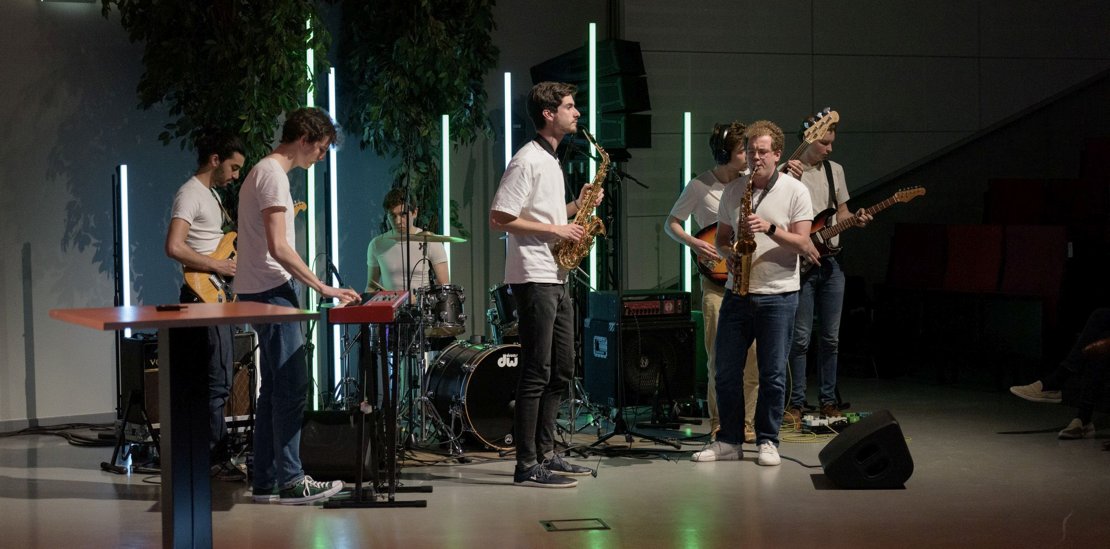 The Hacket in the Pocket student band.