Thursday 17 December 2020
Lieke Schreel has been appointed by the Executive Board as new Director of the Centre for Educational Support (CES) as of 15 February 2021. She will succeed Hans Oeloff.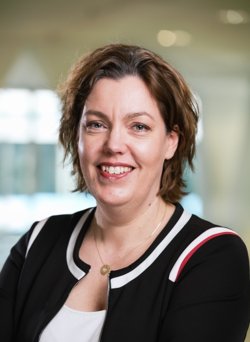 Lieke Schreel is currently Director of Education at Leiden University College The Hague. She was closely involved in the setting up of the University College in The Hague, carrying out various activities, such as designing the curriculum, and playing an important role in building the organisation. Furthermore, she has contributed to the establishment of Leiden University's new Faculty of Governance and Global Affairs, which is also located in The Hague. Prior to this, from 2000, she worked at the University College Utrecht, first as tutor and later as lecturer and curriculum manager and, from 2005 up to and including 2008, as registrar too.
In addition to her current position, Lieke Schreel carries out various ancillary activities as board member for United World College Netherlands and as association member of the British School in the Netherlands.
The appointment advisory committee was unanimous of the opinion that Lieke Schreel is a first-rate candidate for the position of Director of CES at the University of Twente. Professor Tom Veldkamp is delighted with her appointment: "Lieke is a strong and empathic candidate. She clearly has affinity with CES's key areas. We have every confidence that under her capable management the service department will continue to fulfil its leading role in the further development of our educational offer and in supporting our students' learning process. In Lieke, we see a director who primarily seeks to connect with others, who listens well and who is very pleasant to deal with."
Lieke Schreel herself had this to say about her appointment: "The University of Twente is an inspiring and entrepreneurial university with an ambitious vision. CES plays a key role in the further development of the education offered and in helping lecturers and students to achieve this. I am looking forward to joining forces with my future CES colleagues to tackle this challenge."
The Executive Board is looking forward to working with Lieke and wishes her every success in her new position.