Tuesday 9 May 2017
Edmonton International Airport in Canada will become the first airport in the world to use the Robird on a daily basis.
The Robird is produced by Clear Flight Solutions, a University of Twente spinoff company. It's a lifelike robotic bird that will scare real birds away from the airport, starting at the end of May.
'This is a historic step for the Robird and our company,' says Nico Nijenhuis, the CEO of Clear Flight Solutions. "We currently operate our Robirds in a variety of places, but taking the step towards full integration within daily operations at an airport is huge. For years, there has been a lot of interest from airports. To now officially start integrating our operations at a major Canadian airport is absolutely fantastic."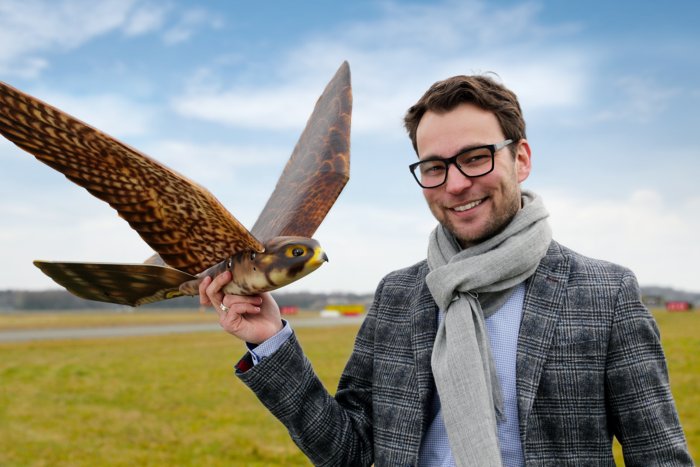 Drone project
The Robird is part of a large-scale drone project at Edmonton Airport, which includes using drones to observe wildlife, inspect buildings and take 3D measurements. For the first three months, the effectiveness of the Robird at keeping birds away will be carefully monitored, and the project will be further optimized. There will also be intensive consultations with pilots and airline companies, who need to become familiar with the relevant procedures. Currently, Edmonton Airport uses sound effects and lasers to keep birds away. Clear Flight Solutions has recently been looking at how use of the Robird can be combined with these different techniques so that they can reinforce one another.

Clear Flight Solutions has been granted a special permit by Transport Canada, the Canadian government agency that is responsible for legislation, policies and services for airport aviation, in relation to the use of the Robird.
Proud
Clear Flight Solutions is collaborating in this project with Aerium - a Canadian company that focuses on services for unmanned aircraft systems (UAS).
"We went to Japan to explore the market and source technology and ended up going home with business cards from the Netherlands", says Jordan Cicoria from Aerium. "The applications to an ecologically friendly and impactful technology such as the Robird are huge. Airports, tailings ponds, wind farms, agriculture to name a few. The results are real in terms of safety, environment, and economics. Our partnership with Clear Flight Solutions pairs industry experience with leading-edge technology to address real-world challenges. In a world so focused on innovation, we are proud to have a partnership with CFS that allows us to actually translate innovation into value."
For more information about Aerium, see: http://www.aeriumanalytics.com
About Edmonton
Edmonton International Airport is Canada's largest airport in terms of surface area. The airport handles around 8 million passengers and 168,000 flights annually, which makes it one of Canada's top five airports.
For more information, see: www.flyeia.com
The official contract signing took place during the 'AUVSI Xponential' in Dallas, Texas, US.

Clear Flight Solutions
The Robird is the flagship product of Clear Flight Solutions - a spin-off company of the University of Twente that specializes in robotics and drones. The company was recently the beneficiary of an investment worth €1.6 million from Cottonwood Euro Technology Fund. This investment has enabled Clear Flight Solutions to become a global leader in the field of bird management.

The company's links with research and teaching at the University of Twente are still strong, and Twente students are regularly involved with the company. Nico Nijenhuis: 'Many students are very interested in completing their graduation project with us. That's wonderful - we need more of that. There has also been a lot of interest from Saxion University of Applied Sciences. Our work goes further than just electrical engineering and mechanical engineering, for example. We are working on multidisciplinary solutions for social issues - that's what makes our projects so exciting.'
Clear Flight Solutions has recently won many awards for its new technologies.
About the Robird
The damage caused by birds at airports around the world is estimated to run into billions of euros, but it goes beyond just material damage. Birds can sometimes lead to fatal accidents. Birds are also a problem for the agricultural sector, waste disposal companies, ports and the oil and gas sector, and in these sectors, too, the damage amounts to billions of euro every year. The main problem with existing bird control solutions is that the birds get used to them, and quickly learn to fly around them. The high-tech Robird mimics the flight of a falcon and is very lifelike. The Robird looks so realistic in the air that birds are convinced that it is a natural predator. This approach exploits the natural instinct of the birds to avoid the predator – meaning that they will never get used to it.