Monday 15 August 2016
From Malaysia to Los Angeles and from New Zealand to Sweden: about 75 researchers and students from all over the world made the University of Twente's DesignLab their home for the last month, as they put their minds to some promising projects in the field of human media interaction. The University of Twente hosted this year's edition of eNTERFACE, an international network project in which researchers lock themselves up for a month to work on innovative breakthroughs.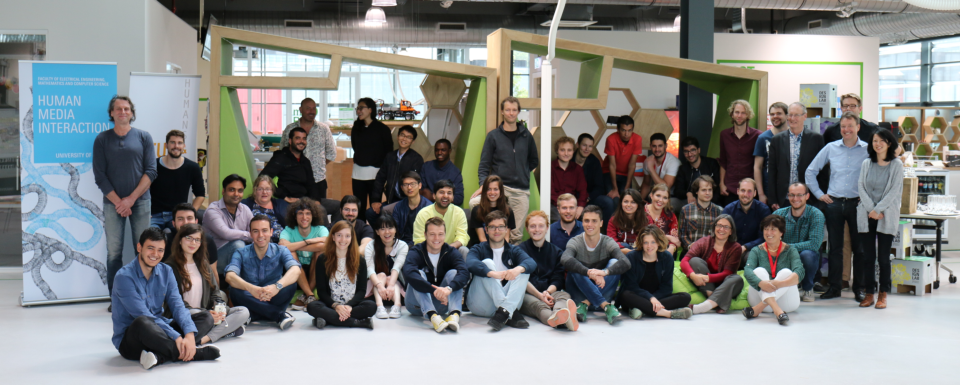 Exchange and inspiration
The department Human Media Interaction (HMI) of the CTIT institute had the joy of a winning bid for the event that is held every year on a different location. "It is a great way of knowledge exchange. And at this senior level, there are hardly any events like this", Dirk Heylen, professor in Socially Intelligent Computing at the UT, states. "Our guests are extremely motivated to learn from each other's expertise, exchange knowledge and get inspired. At the same time, the projects involved make significant progress, as they are being peer reviewed by fellow experts and given new and creative input."
Nine project teams, consisting of MSc students, PhD students, researchers and professors in a variety of disciplines, were formed to work on proposals submitted by different universities and research institutes. Some of the projects concerned  ideas in its very early stages, others focussed more on the challenges in the further elaboration of new ideas.
UT projects
Researchers of the University of Twente submitted their Heterogeneous Multi-Modal Mixing project, in which Dennis Reidsma, Daniel Davison and Edwin Dertien work on creating a fluent conversation between a robot and more than one person at a time. At eNTERFACE, an experiment setting for testing a new robot was designed.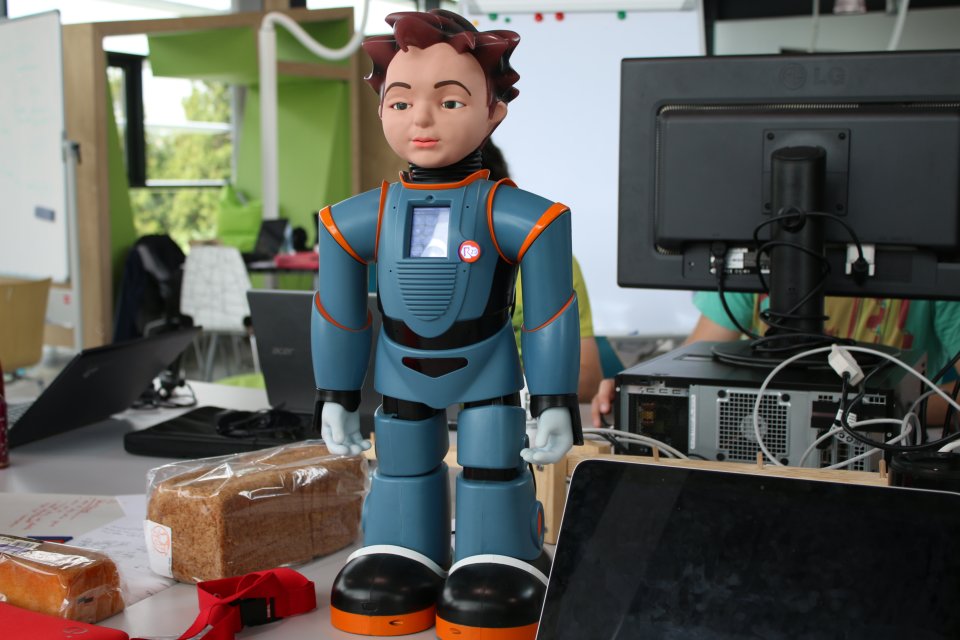 Also the ARIA-VALUSPA project, which receives a H2020 grant and in which the UT participates, was present. ARIA-VALUSPA should lead to a 'virtual journalist' that, based on human interaction, will be able to process the conversation to structured and usable data.
Organization
CTIT, the University of Twente's institute for top technological research field of ICT, and the 4TU.Federation (Humans & Technology research centre) provided the financial resources to host the 12th edition of eNTERFACE at the DesignLab. "The facilities at the DesignLab have proved to be excellent for this kind of knowledge exchange platforms. And the support we received from Miriam Iliohan and her staff at the lab was great", says Khiet Truong professor at HMI and Creative Technology. "As groups worked together in a large common space, a lot of spontaneous interaction between them arose. Participants were curious to find out more on other projects, they were eager to support each other and helped in finding solutions for new dilemma's."
eNTERFACE
The eNTERFACE initiative is the result of an European collaboration within the framework of FP6, one of the previous European research programmes. Within the financial instrument of Network of Excellence, a group of universities across Europe started with the summer workshop sessions. These sessions provide researchers, PhD's and students the opportunity to work on promising projects and, at the same time, get connected to their peers within other research institutes and universities. In 2005, the Université de Mons from Belgium was the first to host an eNTERFACE summer programme, since the event has been held on a different location each year.