Friday 27 14:00 - Saturday 28 May 2022 18:00
Technological innovations in food and a healthy lifestyle: explore and experience it at Foodfestival Stoer Voer
Stoer Voer Food Festival is around the corner on 26, 27, 28 and 29 May 2022. Explore the world flavors at the foodrucks, go to the open air cinema and experience the surprising program for young and old about technological innovations in food, healthy lifestyle and sustainability. in and around the innovation tent hosted by the University of Twente. Passionate scientists from TechMed Centre - Personalized eHealth Technology give inspiring mini-lectures in understandable human language, Science on Tour (Pre-U) provides cool experiments and BMS lab will be present with a pavilion full of cool demos.
The programme
Below is the substantive program, which will take place on 27 and 28 May, in random order:
Led table: know what you eat | Demo & Talk
It's a well-known credo: know what you eat. Researchers at the UT developed the Interactive Dining Table: the table helps you and your table companions to gain better insight into your eating behaviour. With colored LEDs and various sensors, the table knows exactly what the eaters are eating. And can therefore provide feedback on your behavior in a light-hearted and accessible way.
Improving health with eHealth | Talk
It becomes more and more evident that the current approach to healthcare is not sustainable, especially when considering the increasing volume and demands of chronic diseases, requiring a rethinking of strategies towards innovative solutions. The use of Information and Communication Technologies in healthcare – eHealth – is a promising strategy to improve healthcare worldwide.
Learning about the impact of food in a playful way | Demo & Talk
The diet of the Dutch consumer is often not healthy. What we eat in the Netherlands also often has a major impact on the environment. Researchers and students from the University of Twente are therefore going to work on the ACHIEVE project: an interactive play environment to allow children to discover in a playful way the impact of food on their health and natural environment. During the event you visit a shopping cart, which one do you choose?
Science on Tour - Experimenta - Pre-U | Experiments
During the "Flavors Distinguishing-experiment" participants can try to taste the difference between 2 lemonades and apple juice with their nose closed and blindfolded. In addition, during the "Getting used to the tongue-experiment" you will experience that taste is relative, by tasting a little salty and very salty water. You can also follow the "Vitamins-experiment". The test is combining starch and Betadine and then mixing it with fruit juice. You can see from the results of this what the effect of antioxidants is. And of course the "Nitrogen ice cream making and tasting" test cannot be missed. During this test we show how the substance reacts.
BMS-Lab Pavilion | Demos & Experiments
Not only the experivan (a converted bus) will be present, no, a real pavilion of over 60 m2 will be built. The researchers tell you everything about serious gaming about nonalcoholic fatty liver disease, Eye-tracking, Virtual Reality, Augmented Reality and more..
CO2 Blues by Bob Hoomans | Talk
The carbon dioxide (CO2) concentration in the atmosphere has risen sharply after the industrial revolution. This is the major driver of global warming and all the negative effects associated with it. Efficient technologies are being developed within the NET program to remove the surplus of CO2 from the atmosphere. This also includes social and geo-political aspects. This is not without a struggle and regularly gives the researchers the CO2 blues. Bob will perform these blues accompanied by himself on guitar.
Doing Normal for Academics by Dr. Joanne van der Nagel | Talk
Those academics, they are a special people. They use complicated words and are sometimes seen as chamberlains with no sense of the 'real' world. Unjustified? Perhaps. But at the same time, there is often a gap between university and society. How did that happen? Why don't those college guys act normal? What exactly is 'acting normally'? And why is that so difficult? That is what this contribution by Joanne van der Nagel is about. Joanneke researches how to make technological innovations in healthcare accessible to the most vulnerable groups. She works at the UT and at Tactus addiction care.
Randy Klaassen | Talk
During his lecture, Randy will present his research on the use of gamification and virtual reality in healthcare, medical problems and mentoring.
Hosted by
TechMed Centre - Personalized eHealth Technology
It is our mission to use the advances in technology to create innovative personalized eHealth services that substantially contribute to a sustainable, efficient and effective healthcare for all citizens, especially for those with chronic conditions. The University of Twente is especially suited to realise this mission, due to its unique ecosystem. Read more.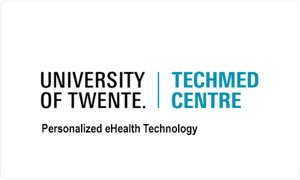 STOER VOER FOODFESTIVAL
Read more aboute the event, news and organisation here.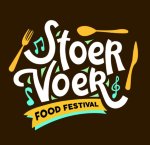 in association with