Thursday 19 October 2017 19:15 - 21:30
Nieuwe bedrijvigheid in Twente. Hoe Space53 het innovatiecluster voor drones wordt
De wereld zoals we die kennen staat op het punt om ingrijpend te veranderen. Letterlijk. Tankstations, wegrestaurants, havens, vliegvelden, parkeerplaatsen, ze domineren onze leefomgeving. Maar daar zou heel snel verandering in kunnen komen.
De drones komen de wereld veroveren!
Waar nu nog dagelijks zo'n 20 tot 30.000 vliegtuigen het luchtruim bezetten, zullen straks meer dan een miljoen drones tegelijk boven onze steden, dorpen, wegen, bossen en landbouwgebieden vliegen. Van kleiner en lichter dan een vogel tot misschien wel groter en zwaarder dan een Airbus vol vakantiegangers.

Deze toekomstvisie wordt wereldwijd breed gedeeld, maar voor het zover is zullen er nog belangrijke technische, commerciële en maatschappelijke hobbels genomen moeten worden. Hier komt het Twentse ecosysteem van high tech bedrijven, kennisinstellingen en overheden om de hoek kijken. Met elkaar, verwachten we een belangrijke rol te kunnen spelen in de ontwikkeling van deze bijzondere robots. Met dit doel is Space53 gestart, het innovatiecluster dat de 'unmanned ambition' van de sector gaat realiseren, dat nieuwe bedrijvigheid gaat creëren en nieuwe banen gaat scheppen.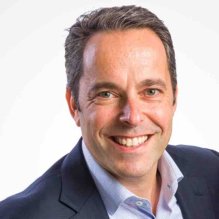 Marc Sandelowsky
Marc Sandelowsky geeft sinds eind 2016 namens de founding fathers leiding aan de ontwikkeling van Space53. Tijdens deze VentureClass zal hij natuurlijk vertellen over de ontwikkelingen die de dronewereld doormaakt, maar ook waar je tegenaan loopt als je daar in Nederland professioneel en commercieel mee aan de slag wil. Ook zal hij een inkijkje geven in wat er komt kijken bij het bouwen van een innovatiecluster in Twente.
Over de spreker
Marc Sandelowsky is een 'rebel with a cause' in adviserend Nederland. Onconventioneel en vanuit de diepere behoefte maatschappelijk relevante waarde te scheppen, adviseert en ondersteunt hij met name technologiebedrijven bij het creëren van nieuwe groei- en ontwikkelmogelijkheden. Marc is alumnus Technische Bedrijfskunde (UT '86) en heeft zich bij diverse adviesorganisaties en investeringsbedrijven ontwikkeld tot een zelfstandig adviseur die de executie niet schuwt. Met een aantal voormalig PwC adviseurs is hij in 2016 coöperatie nextco gestart dat zich richt op het creëren van nieuwe bedrijvigheid door innovatie en cross-sectorale samenwerkingen.
Deze Venture Class is in het Nederlands.
Locatie: The Gallery, zaal Erlenmeyer. 
This Venture Class is in Dutch. For further information please contact the NIKOS secretariat at esim-nikos-bms@utwente.nl