Monday 29 August 2022
University of Twente and the ING Group have put their signatures to a five-year collaboration agreement covering artificial intelligence and data science in the financial world. The partnership was celebrated at FinanceCom 2022, a leading-edge conference hosted by UT. It marks the first time that this international congress in finance and fintech has been held in the Netherlands.
Jos van Hillegersberg, Professor of Business Information Systems at UT, and recently appointed Academic Director of Jheronimus Academy of Data Science, is looking forward to the collaboration between UT and ING. "We in the Netherlands have been pioneering and innovating applications involving artificial intelligence for quite some time. There are lots of opportunities in the financial sector. But we also ran into a problem: there's an enormous demand for talent in the business community and academic world. Our partnership will help alleviate this shortage. The fact that ING will be actively investing in UT's academic knowledge already says a lot."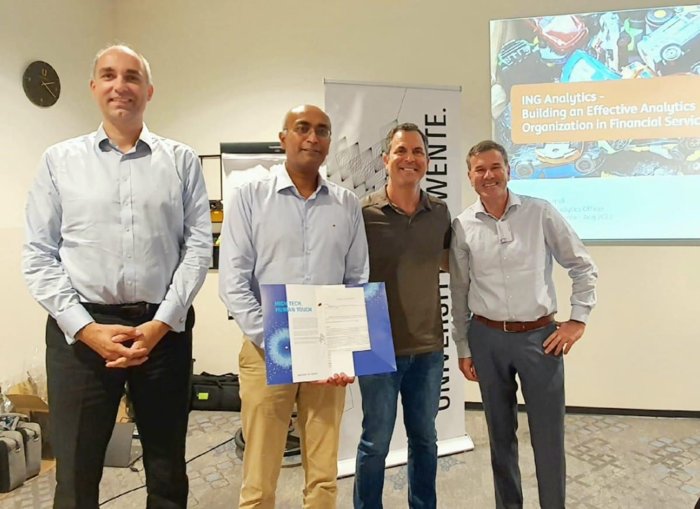 FinanceCom 2022. From left to right: Joerg Osterrieder (UT), Anand Autar (ING), Kerem Tomak (ING), Jos van Hillegersberg (UT).
Personalised service with AI
For this partnership, final-year undergraduates, researchers and doctoral candidates will be focusing on the application of complex datasets in the financial sector. Van Hillegersberg: "That might mean analysis of credit risks, detecting fraud, or advising the bank's customers about investing, but it might also deal with how to use AI for the bank's individual customers. Customers have to get back the feeling that they are accessing a personal service. The big banks are closing more and more of their offices and offering their customers services through a standard banking package. It's not personalised anymore. But with AI we can change that. Some of it is already happening, but the performance of algorithms is still in its infancy. And there are many ethical and law-related issues in the financial world. What are algorithms allowed to do, and what are they not allowed to do? And who is responsible if things go wrong? In short: there's still a lot to be done."
Jorg Osterrieder, data expert
One aspect of the partnership is the recent appointment of Joerg Osterrieder, who up to now has been working in Switzerland, to a position at UT. Osterrieder already has more than 15 years of experience in the field of digitising the financial sector. Over the past five years he has led more than 30 national and international research projects dedicated to quantitative, data-driven research and financial applications. He was formerly executive director of Goldman Sachs and Merrill Lynch, analyst at AHL and member of the senior management of Credit Suisse Group. The focus of Osterrieder's activities is the intersection between the business community and the academic world.
ING: stay in the lead
Anand Autar, Global Head Analytics Business Development at ING Group, and Kerem Tomak, Global Chief Analytics Officer, both underscore the importance of the agreement with UT on behalf of ING. They see many advantages in such a public-private partnership as this one: "ING Group has always been in the lead when it comes to financial and technological developments, and we want it to stay that way. That's the reason we think it's essential to create a thriving AI ecosystem in the Netherlands that will be meaningful to our final consumers.''
KickStart AI
The partnership falls under KickStart AI, an initiative backed by five leading Dutch companies for promoting the development of AI in the Netherlands. Ahold Delhaize, ING, KLM, NS and Philips are working together on initiatives geared towards AI education, talent and innovation. With KickStart AI they have committed to investing in public-private partnerships by jointly sponsoring academic positions, such as the one now filled by Joerg Osterrieder at UT.