Friday 5 March 2021
In the Netherlands we value green space, especially in large urban areas. Just think of the Vondelpark in Amsterdam, the Zuiderpark in The Hague or the (award winning) Ledeboerpark in our own Enschede. Not only does public green space provide relaxation throughout the year, it also provides a cool environment and biodiversity.
Interest in the various functions of green space for people in cities has been on the rise in recent years. But studies of it take place mainly in temperate climates. In a tropical country such as Suriname, the relationship between people and nature is different. Picnicking after a game of soccer in the park? Way too hot. Beech trees for shade? In the tropics there are palm trees. Wieteke Willemen, together with Nina Schwarz from the Faculty of Geo-Information Science and Earth Observation (ITC), is involved in a project that deals with research and education around green space in Paramaribo.
Research and education with impact
"We are engaged in innovative research, modern education and it is a project with real impact," says Professor Willemen with a smile. "ITC was approached by Tropenbos Suriname with a clear question: we want to get something done in Suriname, can we have a team-up together to work this out? From that defined role, we are complementary to a group that really wants to achieve something there." What is striking about this project is the role of digital tools in creating impact. "All the components have an innovative, digital angle," Willemen said. 
Citizen-based monitoring 
Lisa Best from Tropenbos Suriname explains
The research looks at the role of green space in the city on well-being. "At its core we work as follows: often collecting information, about many places, with various people. For example, together with government agencies, schools and neighbourhood organisations, we build a network of citizens. We call this citizen-based monitoring. The citizens help us collect all kinds of data using small weather sensors. These are Tamagotchi-like devices that measure temperature and humidity every hour", says Willemen. Residents of Paramaribo hang the sensors in their gardens and make sure the batteries are replaced in time and the data is read out in time. "We also use the open access app EpiCollect. Every month we ask users to visit the same green space. With a questionnaire they keep track of the status of the park. This shows trends from the actual users of the green space," says Willemen enthusiastically.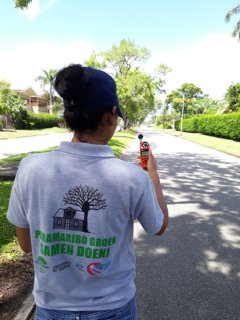 Digital offline education
Schwarz: "We want to transfer the knowledge we have gained to our master students in Enschede, but also to the students in Suriname. We are developing an e-learning for this purpose. Together with education experts from the UT we are choosing the best possible educational formats and designs." The electronic teaching materials that Schwarz and Willemen are developing with their colleagues can be used offline. In Paramaribo, students do not have access to the Internet everywhere. With the teaching materials for this course, students can install the material once and then study it anywhere, without an Internet connection. "So we use modern e-learning capabilities, but also take into account the digital infrastructure in Suriname, where not all students have access to affordable and stable internet." 
Creating impact 
Of course, the COVID-19 pandemic is causing some unplanned inconveniences. "The 'citizen science' approach requires a lot of input from citizens. People need to be instructed, and we want to create a community-feeling. Surely that's difficult to do only online. But we are mainly focusing on the opportunities that the current situation brings," Willemen says optimistically. "We are organising monthly webinars where we can reach a much larger audience than before in a single room in Paramaribo. In this way, we are also making the transition from analogue to digital here." Willemen and her colleagues want to share the findings and approach with governments and urban planners in the Caribbean and the Dutch islands there. That way, the research can make a real difference in how nature can be used in the city for well-being. "My ambition is that through digitization we can map our complex world more completely and therefore understand it better by sensing over time and in space. And in doing so, especially taking into account groups that are not adequately represented in the 'general statistics'. Therein lies also an important challenge. The digital divide that we encounter in so many places in the world is also reflected in this research."
About Wieteke Willemen and Nina Schwarz
Wieteke Willemen is a professor at the University of Twente and affiliated with the Faculty of Geo-Information Science and Earth Observation (ITC). Her research focuses on making quantitative spatial information on ecosystem services -the benefits of nature for humans- available to support multi-objective decision making. Nina Schwarz is an assistant professor at ITC. Her research focuses on computer modelling of urban development. Visit greenparamaribo.org for more information about the project in Paramaribo.
About the project
This project is funded by the Netherlands Ministry of Foreign Affairs through the Twinningfacility Suriname-Nederland, and will continue with support from NWO's National Dutch Research Agenda, Quality of the Environment route.