Thursday 2 December 2021
Start-up Hable has clinched victory at the national finals of the 4TU Impact Challenge. Twente start-ups Flawless Workflow and 2Scope both gave a convincing pitch, but just missed out on the prizes.
The final of the 4TU Impact Challenge was held on the eve of Slush 2021, the largest tech event in Europe. A professional jury declared Hable the winner of a hard-fought contest. The company is developing a device that enables blind and visually impaired people to use Braille to operate their smartphones. "This way, they can still stay connected to the people around them," Hable's co-founder Ayushman Talwar explains. The jury, which included Victor-Jan Leurs of Twente Board, singled out Hable's entrepreneurs for special praise because of their outstanding contact with users and customers. As a result, their product fits users' needs seamlessly.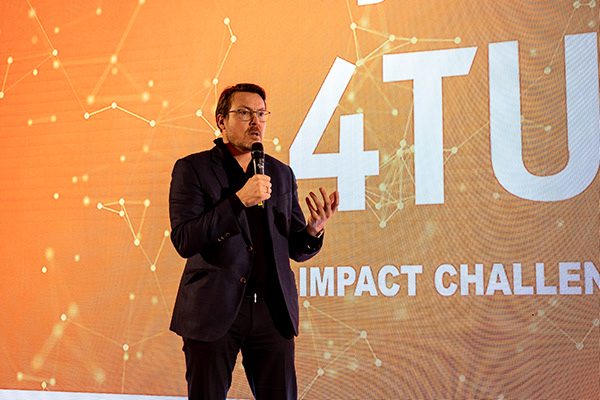 Enterprising tech
In the 4TU Impact Challenge, the best and most enterprising students from the Netherlands' four universities of technology compete against each other. Each university holds its own preliminary round in the spring. At the University of Twente this took the form of the UT Challenge. In this round, the two winning student teams from each university progress to the final and get to pitch their idea at the national event.
From 'needs-must' solution to start-up
Hable's founders are highly motivated to help blind and visually impaired people all over Europe through their device. Ayuahman Talwar developed the first prototype of Hable One, as the product is called, for his blind grandfather. The Hable One is a separate device that is paired with a smartphone. It enables blind and visually impaired users to type and navigate their phones. Hable One's six keys allow them to type every letter, number and punctuation mark based on Braille. The smartphone itself can remain tucked away in their bag or pocket while they send or receive calls or apps.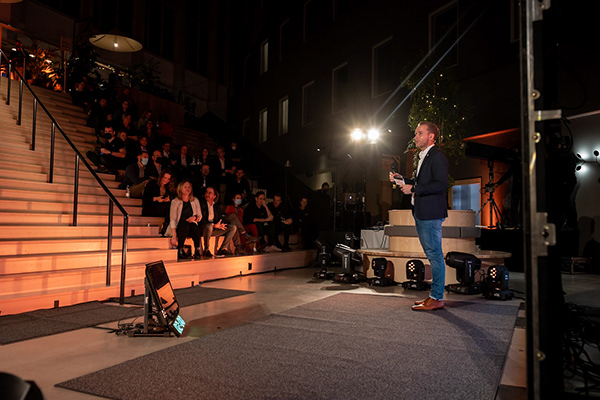 Slush
Over the next few days, all eight 4TU Impact Challenge finalists can be found in Finland. At European tech event Slush, they will get talking to fellow entrepreneurs and potential investors with a view to taking their fledgling businesses to the next level. The Dutch mission to Slush is being organised by 4TU in collaboration with the Netherlands Enterprise Agency (RVO).
This year's 4TU Impact Challenge finalists represent a wide range of very promising innovations, from deep tech to handy online tools. UT start-up Flawless Workflow has developed a business automation tool, while 2Scope is pursuing innovative solutions in the medical field.

The other Twente start-ups heading for Slush this year are: Moovd, Flux Robotics, ECsens (winners of the 2019 4TU Challenge), CodeSandbox, Pescheck, RBMedical and Scoutinscience.
aftermovie 4tU @ Slush 2021
4TU cooperation
The Netherlands' four universities of technology are united in the 4TU.Federation, of which the 4TU Impact Challenge is just one aspect. They have joined forces to make the best possible use of knowledge and creativity in the technology sector. These efforts span the fields of education, research and commercial knowledge transfer. The Impact Challenge is a prime example of commercial knowledge transfer. Our students channel the knowledge they gain back into society in the form of start-ups and innovative student teams. Their products and services make a valuable contribution to achieving a sustainable future.