Friday 14 February 2020
The University of Twente and its partners, the Municipality of Enschede and the East Netherlands Development Agency (Oost NL), participated in the very first Society Quest Event of ECIU University, held yesterday. The main idea is to bring the outside world into the curriculum. Linköping University hosted the event.
ECIU University places a challenge-based approach at the centre of its education, research and innovation. At the event, external partners presented suggestions for societal challenges for ECIU University to solve. Partners included delegates from local authorities, non-government organisations and regional development agencies. They provided a brief insight into the issues they face by means of pitches. That varied from environmental issues to tourism and from the provision of affordable housing to combating school dropout. Frequently used terms included: stimulating economic growth, energy transition, mobility and digitisation.
Challenges
The Municipality of Enschede presented two issues. The challenge of becoming a gasless region by 2050 and the MaaS project; Mobility as a Service. This means all forms of transport will be available in one app with the option of calling. The challenge is to encourage and increase participation by the target group (people with physical and/or mental limitations) in normal daily life. The East Netherlands Development Agency's pitch revolved around the challenge of developing resilient communities for healthy living. The challenge is to improve patients' quality of life with two years by means of a personalised healthcare system.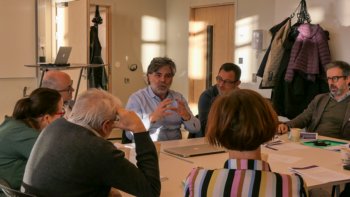 Shape education
The idea is for joint input to produce manageable and feasible challenges that ECIU University can use to shape its challenge-based education (CBE). Andrea Brose, Head of the Centre for Teaching and Learning at Hamburg University of Technology and ECIU member: 'CBE creates opportunities for finding new solutions to real-life problems. It motivates students by allowing them work on a relevant topic in teams. They are in charge of their learning process and it allows teachers and other stakeholders to contribute to lifelong learning. Students, teachers and the whole community can benefit from the work of the university and new collaborations can be developed. The learning process is now seen from both the students' and the facilitators' point of view. That can be a motivating factor for both sides.'
During the SQE, pitches were followed by workshops based on thematic discussions to put the challenges into context and find common ground for development and potential actions within the ECIU University framework.
Looking back, Wilbert Pontenagel of the University of Twente says that most of the challenges have the same starting point. 'But that the results will be different everywhere.'
ECIU University is an EU-funded collaboration between 13 universities in the ECIU network. Its aim is to pilot an innovative, challenge-based university model.