Tuesday 22 December 2020
For the first time in The Netherlands, two patients suffering from epilepsy received an implant at the Medisch Spectrum Twente hospital in Enschede, for 24/7 measurement of brain signals. The analysis of these data, using artificial intelligence developed by the University of Twente, helps in improving treatment. In particular, the research is about the effect of 'vagus nerve stimulation': which patients can benefit from it, and how can data help adjusting the stimulator more precisely?
Every year, about 14,000 people in The Netherlands are diagnosed with epilepsy. Treatment options include medication, brain surgery and deep brain stimulation. A promising treatment is 'vagus nerve stimulation': the patient gets an implant that resembles a pacemaker, its electrode gives stimuli to a nerve in the neck. Although it shows a positive effect among 70 percent of the patients, there is also a group that doesn't respond to this treatment well.
To find out why, 24/7 measurement of the EEG may help, says Prof Michel van Putten. He is a neurologist at the Medisch Spectrum Twente hospital, as well as a Professor of Clinical Neurofysiology at the University of Twente: "We expect to be able to predict how well someone will respond to nervus vagus stimulation."
Measurements and stimulation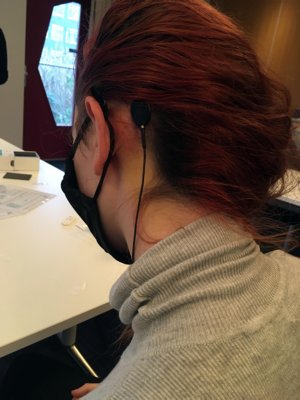 The first two patients had minor surgery for the electrode implant. It was placed under their skin, behind the ear. That is near the temporal lobe, which is part of the brain that is a known source of signals related to epilepsy. The patient will hardly notice that it is there. After two months of data collection, the patient will also get the stimulator implant. Prof Van Putten: "For analysing the EEG-signals before and after implant, we make use of artifical intelligence algorithms we developed at the University of Twente. We hope that this will help us find predictors for the effectiveness of vagus nerve stimulation." In total, he's aiming at a group of 40 patients receiving the combination of the electrode and the stimulator.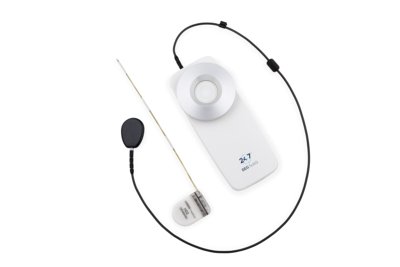 Pioneers
It is for the first time in The Netherlands that this electrode, developed by UNEEG in Denmark, is implanted. The combination with stimulation is also new. Except for possible progress in treatment, the research is also providing more insight into the mechanisms behind epilepsy in general: there is still a lot to be learnt about what is going on in the brain.
Van Putten (MST and UT TechMed Centre) is doing this research together with his colleagues Marleen Tjepkema (technical physician, MST), Anne Marthe Meppelink and Jacqueline Ardesch (neurologists, Stichting Epilepsie Instellingen Nederland) and Kuan Kho (neurosurgeon, MST). The start of this programme was made possible through a 'Pioneers in Healthcare grant', in which the University of Twente collaborates with the Medisch Spectrum Twente and Ziekenhuisgroep Twente hospitals in the region, Saxion University of Applied Sciences and the Deventer hospital.