Friday 30 October 2020
The University of Twente has launched two podcasts: Shaping2030 (in Dutch) and I AM A PRO.
SHAPING 2030 - THE PODCAST (Dutch)
In this podcast host Robin Rotman talks to leading scientists of the University of Twente about the way they are working now on our world of tomorrow.
What will our health care look like? And our energy landscape? What disasters and risks do we face? Can we finally deal with cyber attacks? 2030, it still seems a long way off, but ten years will fly by. You'll hear all about it in the Shaping2030 podcast.
Episode 1 - prof. Aiko Pras
Blockchain, DDoS attacks, privacy, big data... Terms we hear almost daily and that we'll be hearing much more about in 2030. Will everything be interconnected in ten years' time? And will privacy still exist? Perhaps by then whole sections of society will have united in a grassroots movement demanding the right to live and work offline. And perhaps Professor Aiko Pras will be Minister of Internet Security... Because it's already clear that the government needs to act to secure our online future.
Episode 2 - prof. Jos Keurentjes 
Will oil still be essential to our energy supplies in 2030? Or will we finally have made the leap towards a sustainable energy mix? Is nuclear energy on the verge of a comeback? We talk to Jos Keurentjes about energy-guzzling data centres, local energy storage and our seeming inability to cap our CO2 emissions. But first and foremost, we will discuss the choices we need to make if the Netherlands is to become truly sustainable.
Episode 3 - prof. Nico Verdonschot
In 2030, our smartphones will be integral to our hospital experience. We may even be scanned for all kinds of ailments at the supermarket. And if you end up in hospital in ten years' time, don't be surprised to find a doctor and a tech specialist at your bedside. Nico Verdonschot shines a light on our medical future. Join him as he explores issues such as how we can keep healthcare humane and affordable... Will cancer still be a deadly disease in 2030? Will we have algorithms that can recognise the signs of dementia? You can hear all about it in this instalment.
I AM A PRO (English)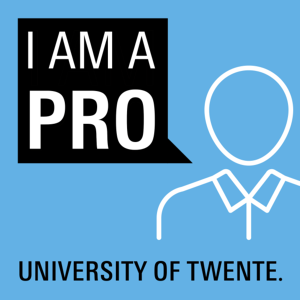 I AM A PRO was created mainly for international students. In this podcast international alumni of the UT talk about their study time in Twente.
more info: www.utwente.nl/podcast