Friday 12 July 2019
A coating made of nano size hairs, a polymer brush, has many more potential applications than the current ones, according to Sissi de Beer of the University of Twente. Until now, the brushes are mainly used when immersed in liquids. Using them in air  instead is promising, but there are some fundamental questions that have to be answered first. For this curiosity-driven research, De Beer receives a grant of the Netherlands Organisation for Scientific Research (NWO). At the same time, together with two students who are finalists of the Holland Chemistry Student Competition, she works on a first application: detecting food freshness, for avoiding waste.
Polymer brushes are formed by polymers that are fixed to a surface on one side. Depending on the type of polymer, a coating formed by these nano hairs can get specific functionality. For example in attracting or repelling other substances. Until now, the brushes are used in solution: they completely fill themselves with water then. Why not use them in air, is Sissi de Beer's question: many more applications would become available. From gas sensors to coatings that keep a surface clean.
Although a good idea, this is not trivial. How vulnerable will the nanohairs be in air, will they be deformed easily or even break? And: in what way does gas that is collected, liquify at the hairs? How do the hairs collect liquid from air? These are fundamental questions giving rise to creative and high-risk research, for which Sissi de Beer received a so-called KLEIN grant of NWO. She is also one of the scientists in the national programme Soft Advanced Materials, led by Prof Katja Loos of the University of Groningen. Thanks to these two 'routes', she can now speed up the further development of her ideas.
Electronic nose
Next to this fundamental work, a first 'proof of principle' will be developed by two students under supervision of De Beer: UT student Rens Horst and Saxion student Rick Cohen. They are finalists in the Holland Chemistry Student Competition and started developing a sensor based on polymer brushes, that will serve as an electronic nose detecting if food is still fresh. They will collaborate with UT spinoff company LioniX International for this: the idea is that the actual detection will take place using light and a photonic chip. LioniX is a leading company in this. The competition's finals are during CHAINS, the annual chemistry competition in December.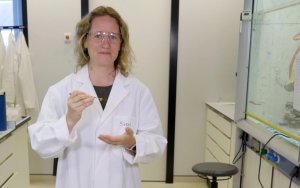 Sissi de Beer (1979) is an assistant professor in the Materials Science and Technology of Polymers group of Professor Julius Vancso. The group is part of UT's MESA+ Institute. In 2011, Sissi de Beer, did her PhD at the University, the title of her thesis was 'Probing the properties of confined liquids'.