Friday 22 February 2019
The University of Twente and the FootballEquals Foundation are joining forces to collect and process football data in order to promote social interaction in the sport. On 26 February both parties signed a partnership agreement; at the same time an under-17s team played a demo match on campus, with sensors providing live measurements of the footballers' performances.
The University of Twente and the FootballEquals Foundation are bringing other parties, including SciSports, into their collaboration. SciSports, a UT spin-off, uses data to generate new insights into football; it developed BallJames, for instance, a sort of MRI scan that converts a football game into three-dimensional pixels and accurate statistical data in real time. The campus football field has been equipped with 14 cameras to collect data on the young footballers, focusing on social and collaborative aspects. On 26 February the campus system will be presented to the outside world for the first time, with the data being made available to researchers and students.
Social interaction
The data collected will be used to examine social interaction, educational aspects, and safety. Several top clubs already use these methods to follow players, explains Joost Kok, dean of the University of Twente's Faculty of EEMCS. "Those clubs do so for commercial purposes, but generating data for research and for social projects, as the FootballEquals Foundation is doing, is unique. We will be analysing the data together with psychologists. Besides the social aspects, we'll naturally also be using the system to analyse football data. It will make it possible to give players data-generated information during the game itself. And this collaboration also means the UT can play a part in society, by promoting social interaction and talent development."
Perfect opportunity
"Our researchers are eager to work with big data," says Joost Kok, dean of the UT's Faculty of EEMCS. "But there are certain obstacles, because big data touches on issues of privacy. So we have been looking for areas in which people often provide this data voluntarily, and sport is one of those areas. In collaborating with the FootballEquals Foundation we can really get moving with data science; this is the perfect opportunity for us, and it's wonderful to now have this system installed on campus." Kok is an experienced researcher in the field of data science and the development of data analysis software, and also has a special interest in sport. As the founder of the Sport Data Centre (SDC) he worked with the Dutch national women's football team, and also with the skating coach Jac Orie, to collect and process sports-related data.
Kok feels that the UT has everything it needs to make this collaboration a success: from the sensors and chips to the data processing and mathematics needed to draw conclusions. With its electrotechnical, computing and mathematical expertise, the UT has the entire sensing and data spectrum covered.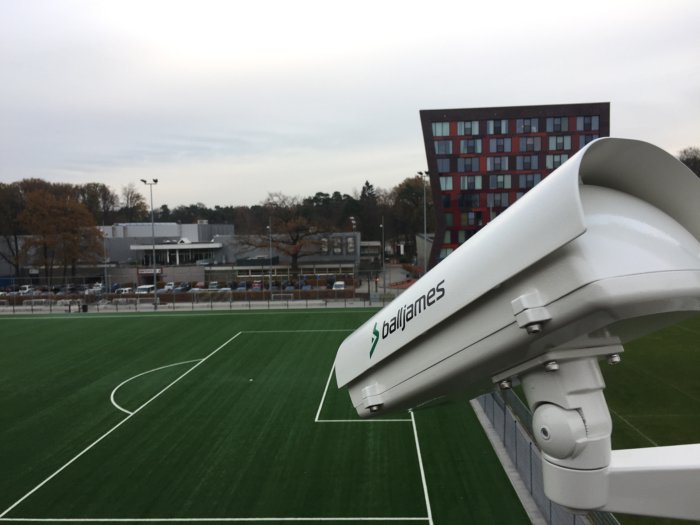 Photo: BallJames system at the University of Twente.
Football Equals Foundation
FEF was set up by Mary Kok-Willemsen, former head trainer of the FC Twente Vrouwen women's football team. During the training sessions that take place at the UT, children between the ages of seven and seventeen train in mixed teams of boys and girls. This mix is intended to make them aware of equality between males and females, with a focus on talent rather than on sex or background.
SciSports
SciSports, which was set up in 2013 by three UT students, specializes in the analysis of football data. Its Insight platform allows clubs, agencies and leagues to peruse the statistics of 90,000 professional players worldwide, and the Belgian national football team has also made use of SciSports' services. In the Netherlands SciSports works with a number of professional clubs, and also advised the Memphis Depay company to opt for Olympique Lyon on the basis of its data. SciSports is seen as a so-called 'next unicorn': a company that may be worth more than a billion dollars in the future.