Monday 23 December 2019
In late 2014, Strukton Rail announced their ambition to move away from reactive maintenance to (pro-active) predictive maintenance of the national railway infrastructure. The traditional approach, where maintenance was based on experience and scheduled inspections, did not allow the organisation to adequately prevent unexpected malfunctions. In order to increase overall rail network availability and reduce maintenance costs, Strukton launched a research project together with the University of Twente. The parties successfully concluded this project this week. 
The project comprised the following research lines: a) monitoring and data collection; b) data analytics for diagnostics and forecasting; and c) maintenance planning and optimisation. Over a period of five years, four UT researchers (1 PhD, 1 postdoc, 2 PDEngs) and several prospective graduates delved into these topics, under the supervision of UT professors Tiedo Tinga, Leo van Dongen and Paul Havinga. 
Grind or replace
The UT for instance developed models that can be used to predict track damage caused by wear and fatigue for specific track uses (train type, number of trains, tonnage). Over time, these models will help Strukton determine which maintenance activities (grinding or replacement) are required where and when.
Quality, defects, innovations and contracts
Further research delved into how mobile phones (e.g. driver or passenger devices) might be used to collect data on the quality of the track, which would serve in addition to the traditional rail inspection train. Subsequently, the scientists developed a methodology for automatically identifying defects in the collected data using artificial intelligence. They mapped out Strukton's asset management process. And finally, they investigated how innovations should be managed to allow these to contribute optimally to existing and future contracts. 
The PhD defence of Annemieke Meghoe (on 19 December 2019) and the upcoming conclusion of the other subprojects form the symbolic conclusion of this five-year project between the UT and Strukton. Parties are currently investigating how their collaboration might be continued in the coming years.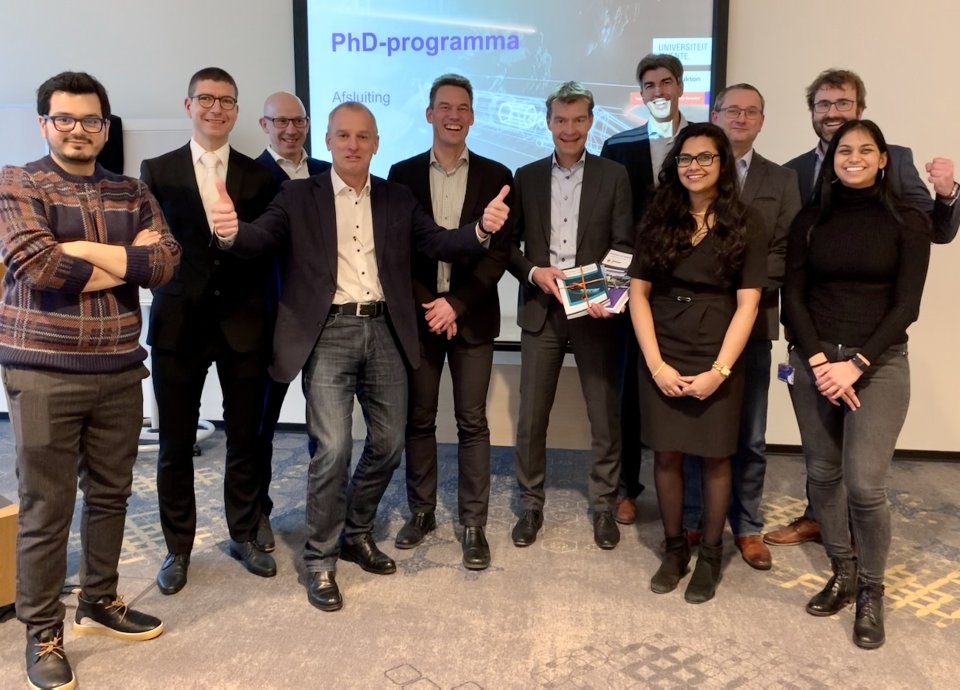 Picture in header: Prof. Leo van Dongen, Prof. Tiedo Tinga, Jacob Zeeman (CEO Strukton) en David Vermeij (Strukton).
Picture below: Ali Jamshidi, Richard Loendersloot, Arjen van Leuven, Leo van Dongen, Tiedo Tinga, Jacob Zeeman, David Vermeij, Annemieke Meghoe, Marc de Wolf, Jan Braaksma, Merishna Ramtahalsing.