Monday 21 October 2019
The Dutch universities share the ambition of the European Union to reach 100% open access to scientific publications* in 2020. The University of Twente met the sub-goal of 60% open access in 2018: Of all UT-authored, peer-reviewed journal articles that were published in 2018, 60% is permanently openly accessible to the public. That is an increase of 12% compared to 2017.
* Primarily research articles published in academic journals (EU, 2016).
Each year, all Dutch universities calculate their open-access percentage: How many of their university-authored articles that were published in the previous year are openly accessible? The Association of Universities in the Netherlands (VSNU) collects these percentages and informs the Ministry of Education, Science, and Culture about the universities' progress towards 100% Open Access. The percentages are broken down into categories: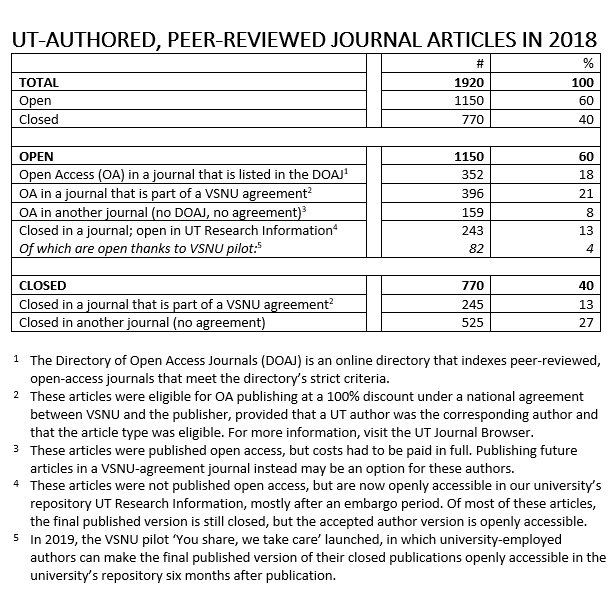 We can keep progressing towards 100% Open Access in two ways: publishing open access, and opening up closed publications.
Publishing open access at no cost
As a corresponding UT author, you can publish open access at a 100% discount in almost 9000 peer-reviewed journals, thanks to national agreements between the VSNU and publishers.
When you are about to submit your article to a journal, check the UT Journal Browser to see if you can publish open access in that journal at a 100% discount.
When you're looking for a journal to publish in, also check the UT Journal Browser: It lets you search for (terms in) journal title and scope, and select journals based on discounts for corresponding UT authors.
To find out how to make use of an agreement for 100% discount, click on the journal's title and select 'more information about this deal'. In any case, use your utwente email address when you submit your article, make sure that your affiliation on the article contains 'University of Twente', and when asked, indicate that you do want to publish open access.
Opening up publications: Closed in a journal, open in UT Research Information
As a UT-employed author, you can participate in the VSNU pilot 'You share, we take care' to make the final published version of your closed publications openly available after six months, in UT Research Information. This is possible thanks to Section 25fa of the Dutch Copyright Act, also known as the Taverne amendment.
Another option is opening up the accepted author version of your closed publications, usually after an embargo period. The author version has the same content as the published version (i.e., after changes based on peer review and editorial comments), but not the layout of the publisher.
Do you have any questions about publishing open access, or would you like to open up your closed publications in UT Research Information? Please contact the information specialist of your faculty or send your question to the Research Support Desk. They will gladly help you.
For more information: www.utwente.nl/openaccess.