Friday 13 July 2018
In the coming years, the University of Twente will be looking to appoint at least ten female professors. Beside extra efforts in the search for female talent for 'regular' vacancies for professors, the University of Twente announces five unique Hypatia chairs. The first positions are now open to candidates.
Hypatia chairs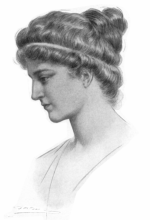 The Hypatia chairs have been introduced to increase the number of female talent in academic top positions. The name Hypatia is inspired by the fourt/fifth century Greek scientist Hypatia, who was a teacher in the field of mathematics and philosophy, and is the earliest female mathematician of whose life and work reasonably detailed knowledge exists. In her days, she was very influential as she had the ability to transfer her phenomenal knowledge in an inspiring way.
Unique opportunity
An Hypatia chair is an unique opportunity for female professors, as they will have the chance to shape the way in which their specific research can be facilitated within the University of Twente, in close collaboration with fellow researchers within the faculties.
For the University of Twente, the Hypatia chairs are an unique opportunity to increase diversity within our organization, leading to better results, more innovation, equal opportunities and an attractive proposition to the labour market.
More information
More information can be found via www.utwente.nl/go/fullprofessor-hypatia.