Monday 19 February 2018
On 19 February, minister Ingrid van Engelshoven (Education, Culture, and Science) paid a working visit to University of Twente. Her field trip was part of a 'Twente Tour', in which she let herself be informed on educational and cultural developments in this region. University of Twente focussed on student initiative, entrepreneurship, and social commitment.
In line with the student-driven character of University of Twente, and DesignLab in particular: after a short introduction by the Executive Board, DreamTeam member and student Sevim Aktas showed the minister around in a DesignLab Tour. The DreamTeam is made up of a group of students who lead DesignLab's daily dealings, and contribute to its further development.
Dressed in a bright-green DreamTeam T-shirt, Aktas led the minister around. With an eager critic's ear, Van Engelshoven listened to Aktas' intro of DesignLab's design thinking method. This philosophy centres around (scientific) developments within society, Aktas explained.


DreamTeam leader (and fellow student) Greta Seuling built upon this notion in her pitch. "It isn't just petty work here. We believe students – together with companies and other cooperating partners – can make a valuable difference to society."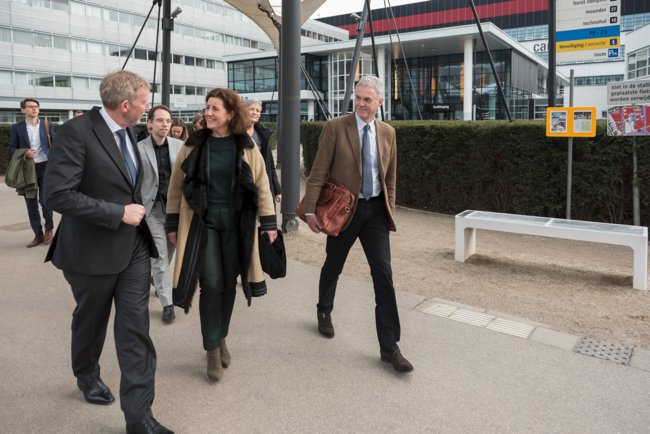 Foto: Arjan Reef, UToday
Header image: Gerieke ter Denge-Pluimers, DesignLab University of Twente
Continue reading in the Dutch news article on the minister's visit.