Sunday 27 March 2016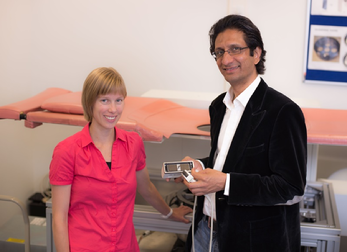 Michelle Heijblom and colleagues describe the results of photoacoustic imaging on thirty-one patients using the Photoacoustic Mammoscope (PAM) developed at the University of Twente. The work was a collaboration between the University of Twente and Medisch Spectrum Twente Hospital.
Michelle used the PAM to measure 33 malignancies of which 32 were visualized with high contrast and good co-localization with conventional imaging. The results confirm the high potential of photoacoustic mammography in future breast care.
Key Points
Photoacoustic breast imaging visualizes malignancies with high imaging contrast.
Photoacoustic lesion contrast is independent of the mammographically estimated breast density.
No clear relationship exists between photoacoustic characteristics and lesion type, grade, etc.
Photoacoustic specificity to breast cancer from some cases is not yet optimal.
The state of the art in breast imaging using the Twente Photoacoustic Mammoscope: results from 31 measurements on malignancies Michelle Heijblom, Daniele Piras, Frank M. van den Engh, Margreet van der Schaaf, Joost M. Klaase, Wiendelt Steenbergen & Srirang Manohar European Radiology (2016): 1-14. (10.1007/s00330-016-4240-7)
For more information about the paper and the work on breast imaging, contact Srirang Manohar (s.manohar@utwente.nl).