Thursday 2 August 2018
In 2016, Project Hoboken was born as part of the partnership with the Stevens Institute of Technology. Sonja Möbius, Justus Baumann en Niek ten Brinke, third year bachelor students in European Public Administration (Sonja and Justus) and Civil Engineering (Niek), are the third group of students who spend their summer across the ocean for the project on urban resilience. They have written their experiences in a blog.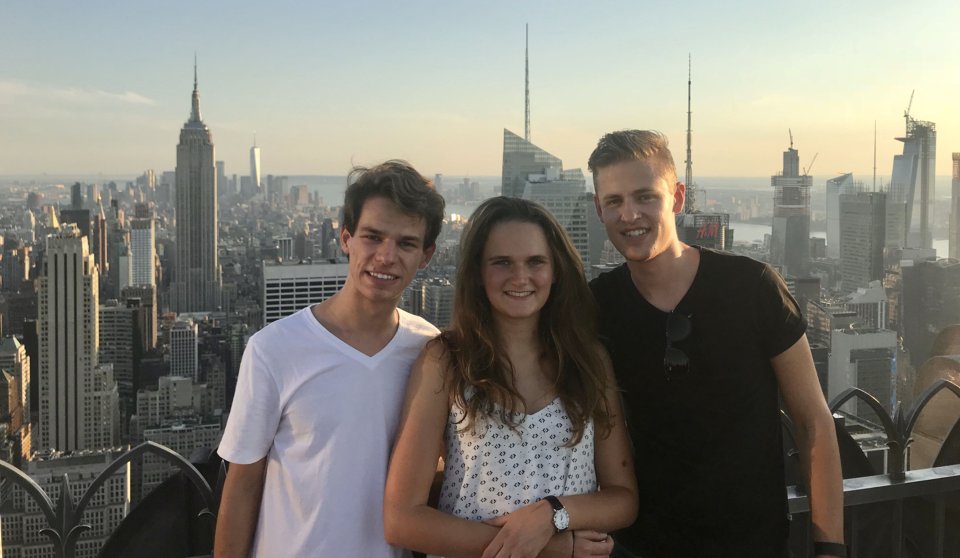 Project Hoboken 2018: An Introduction
New York - the city that never sleeps. A place where every day can bring something new, with a seemingly endless offer of entertainment and inspiration. Broadway musicals, beautiful green parks, sport events, outdoor cinemas, ferry rides, free concerts… - to put it short: life in and around New York is busy, thriving, and beautiful. And we, three students from the University of Twente, had the chance to enjoy and experience this vibrant, fast-paced (some might call it hectic) city for more than two months. We are here for Project Hoboken, a research and education program on urban resilience by the Stevens Institute of Technology and the University of Twente.
But what exactly is urban resilience? Let us explain this using the example of Hoboken, a town located on the Hudson, overlooking Manhattan, and the place we got to call home for the last 9 weeks. Situated right by the water, Hoboken offers one of the most beautiful views on the New York City and the buzz of activity on the Hudson river. But this proximity to the water, can also pose a threat to the City of Hoboken and its inhabitants. Hurricane Sandy in 2012 was one event that particularly raised the awareness of both the citizens and the authorities to the importance of disaster and flood resistance. The impact of this hurricane was immense in the whole greater New York area and eventually led to local and federal initiatives to fight future comparable disasters and events; and this is where the term "urban resilience" comes in. The goal of these initiatives was to make Hoboken more resilient to floods and hurricanes by improving the infrastructure, raising awareness and making sure that the impact of future natural disasters is reduced – to put it short: Hoboken should be a resilient city. Under the umbrella of the "Rebuild by Design" Program, the Hudson River project was initiated in the aftermath of Hurricane Sandy in 2013. This project, and its implementation process in particular is the focus of Niek´s research. To provide a brief introduction: Niek is the civil engineer among us, finishing his bachelor thesis in the context of project Hoboken.
Justus and I, Sonja, on the other hand are bachelor students of the study program "Public Governance across Borders" – and therefore social and political scientists by training. When we think of urban resilience we emphasize the relevance of a resilient society, another aspect of urban resilience. Influenced by previous research on urban resilience, our research grows out of the assumption, that a community defined by strong connections and ties among its inhabitants, is more capable of coping with the impact of a disaster. Together, we chose to investigate and measure social cohesion during and after disasters. After reading – a lot (!) – of academic literature on traditional social cohesion measures, we decided to investigate a more modern way of measuring social cohesion: using social media. Social media are no longer a medium solemnly used for entertainment but have proved to be very useful when it comes to disaster management in the response and recovery phase. Inspired by our joint project titled "measuring social cohesion during a disaster online", we are both finishing our bachelor theses in the context of project Hoboken. While I chose to focus on social media communication during disasters from a public policy perspective, Justus thesis concentrates on the role of social connectedness for fatalities during disasters and the mental health and recovery of the communities in the aftermath.
The multidisciplinary character of this research program highly influenced our work, eventually leading me to learn programming and choose computational methods, such as a Social Twitter Network Analysis to conduct my research or to Niek's decision to conduct qualitative research. Our daily exciting conversations – not only among us students but also with our colleagues and supervisors at Stevens - about urban resilience in general and our projects proved to be very helpful to broaden our horizon and advance our research.
Sonja Möbius