Tuesday 5 September 2023
Collaboration – within the University of Twente (UT), in the region of Twente region, and with both the government and businesses. How can we join forces even more powerfully to make an impact together for a better future? This theme took the centre stage during the official opening of UT's new academic year. Minister of Education, Culture and Science Robbert Dijkgraaf delivered the keynote speech and shared his vision for the future of education.
This year, the event, which was attended by hundreds of students, staff, and relations, was held at a unique venue: the Wilminktheater in the heart of Enschede. It had been ten years since the last time the opening of the academic year took place in the city centre. The theme was 'I'm part of our pact', emphasising a strong focus on collaboration. Frank Bouwmeester of Bartenders Reunion provided this year's musical accompaniment.
ROBBERT DIJKGRAAF: RESILIENCE, RESILIENCE, AND 'NOABERSCHAP'
Robbert Dijkgraaf took the audience on a journey of his vision on education and touched on topics such as the climate crisis, energy transition, and how new technologies like AI are radically changing our lives. He also spoke about developing resilience, strength, and, of course, Twente's sense of community or "noaberschap."
Dijkgraaf concluded his speech with praise for the region: "Twente proves that improvement is possible on three points that I mentioned," said the outgoing minister, "by strengthening the knowledge network in every way, by maximising the potential of every talent in the spectrum, and by continuously developing the skills of the future. The Netherlands in their entirety can gain strength in these aspects. This government has laid the foundation to do so. The seeds have been sown. The soil has been watered. I am proud that we have achieved this in a short period of time."
"The real art will be to let the seeds grow. I know that with you, they are in safe hands. It is up to the government to ensure that the necessary investments in the lives of young people are made and thus allow our future to flourish uninterruptedly. Only in this way the Netherlands can remain at the forefront of education, science, and innovation. If this does not happen, talent will go to places where it can thrive better and the fabric of our knowledge economy will unravel, depriving the next generation of their opportunities."
You can find the full speech by Robbert Dijkgraaf below (in Dutch).
Nederland staat sterk als ieder talent kan bloeien

Beste mensen,

We staan op de drempel van een nieuw academisch jaar, maar ook van een nieuwe tijd. Midden in een van de grootste omwentelingen. Alles, maar dan ook alles, wordt anders. De klimaatcrisis, de energietransitie en nieuwe technologieën als AI veranderen ons leven radicaal. Alles wat je ziet, zal op een andere manier geproduceerd, vervoerd, geteeld en bedacht worden. En het gaat allemaal ook nog eens razendsnel.

Dat alles maakt 2023 een opwindende tijd voor wie studeert, onderzoekt of bijleert. We zien vandaag glimpen van de wereld van morgen.

Maar, kan onze samenleving zulke snelle overgangen wel aan? Daar heb ik alle vertrouwen in. Enschede heeft in het verleden laten zien dat grootschalig veranderen niet alleen mogelijk is, maar ook een betere wereld kan brengen. De stad die dreef op de kurk van de textielindustrie, vond zichzelf opnieuw uit. Oude industrie sublimeerde in hightech. Van katoen en linnen naar kwantum en lasers. Kennis werd de nieuwe kurk.

Voor de veranderingen die we nu meemaken hebben we de beste denkers en doeners nodig. Vandaag heb ik ze ontmoet, tijdens een toer langs de hele waaier van het onderwijs. Het was nog fris toen ik vanochtend een nieuw ROC opende. Twee instellingen gaan samen verder als Firda. Een sterke spil voor Friesland en de Noordoostpolder.

Vanmiddag kwam ik aan in Enschede, waar ik verschillende hbo-studenten heb ontmoet. Tijdens hun allereerste les sprak ik met pabostudenten over de magie van het doorgeven van kennis aan de volgende generatie. Ook zag ik hoe studenten van hogeschool en universiteit samenwerken aan een snelle waterstofracewagen.

De laatste halte vandaag bent u. Dank u wel voor uw warme ontvangst, voor uw grote opkomst in dit theater en voor het mooie cortège van zojuist, dat heel symbolisch, langs kroeg, kerk en koopjeshal voorbijtrok. De Universiteit Twente staat midden in de samenleving.

Hartelijk dank zeg ik ook aan de voorzitter van het College van Bestuur, Vinod Subramaniam. Ook u staat midden in de samenleving. De afgelopen jaren heeft u zich er persoonlijk sterk voor gemaakt dat hoger onderwijs en onderzoek zich écht openstellen voor ál het talent, ongeacht afkomst, aard of kleur.

Ik zag vandaag een generatie jonge mensen die heel goed aanvoelt waar we naartoe gaan, die van nature de samenwerking zoekt en die de beloftes van nieuwe technologie omarmt. Zo'n beloftevolle blik op de toekomst gun ik iedereen. Een bruistablet tegen het chagrijn dat zich op zoveel plekken in onze maatschappij heeft genesteld.

In de minisamenleving van het klaslokaal en de collegezaal is de toekomst al zichtbaar. Sterker nog, het onderwijs maakt de toekomst. In een wereld waarin bijna alles de polarisatie en ongelijkheid lijkt te vergroten — van bankencrisis tot pandemie — is het onderwijs een zeldzame plek waar mensen elkaar leren begrijpen en de onderlinge verschillen verkleinen. Die positieve krachten moeten we koesteren.

Elke euro die de samenleving besteedt aan onderwijs en onderzoek is daarom een investering in haar eigen toekomst. Dit kabinet heeft miljarden beschikbaar gesteld in de volle lengte en breedte van het onderwijs. Voor een hogere kwaliteit, voor meer samenhang tussen de instellingen en de regio, en voor meer rust en ruimte voor studenten, docenten en onderzoekers. Er is een miljardenfonds voor onderzoek en wetenschap gerealiseerd.

Die investeringen renderen nu al. Kijk naar de jonge docenten die dit jaar met startersbeurzen de vrijheid krijgen hun onderzoek zelf vorm te geven. Vandaag werden ook mooie cijfers bekend over het stijgende aantal vaste contracten op universiteiten.

We liggen op koers om ons doel te halen van 1200 extra vaste banen.

Het meest zichtbare verschil is dat studenten vanaf dit studiejaar weer recht hebben op een basisbeurs. Die hebben ze massaal aangevraagd, en terecht. Het is een steun in de rug en een verlichting van hun zorgen, waardoor studenten zich beter kunnen concentreren op studie en waardevolle zelfontplooiing.

De investeringen van dit kabinet waren hard nodig. Langjarig achterstallig onderhoud had ons land op achterstand gezet. We zitten nog midden in de reparatiefase, maar kunnen ook weer vooruitkijken. Dat doen we terwijl ook de politiek aan de vooravond staat van een nieuw begin.

Dit is hét moment om te kijken hoe we de vitale organen van de samenleving, onderwijs én onderzoek én innovatie, gezond kunnen houden. Zodat we klaar zijn voor de veranderingen wanneer die over elkaar heen buitelen.

Vanmiddag wil ik met u op drie punten bekijken hoe we ons beter kunnen voorbereiden op die toekomst. Allereerst hoe we de samenwerking binnen Nederland kennisland kunnen versterken. Vervolgens hoe we ál het talent kunnen ontwikkelen en zijn bestemming laten vinden. Ten slotte welke duurzame vaardigheden ons hoop en optimisme bieden. 

1.

Allereerst dus de samenwerking binnen ons kennisland. Het uitgangspunt van Nederland is geweldig. We zijn een belangrijk kennisknooppunt in Europa en in de wereld. Compact en goed georganiseerd, met een cultuur die van nature gericht is op samenwerking, hebben we een strategische voorsprong op vele andere landen. Die positie heeft ons veel gebracht, een concurrerende kenniseconomie met bedrijven en universiteiten waar de hele wereld graag langskomt. Onze kennis verkoopt zichzelf ook.

Onze kracht zit in onze samenhang. Anderhalve eeuw geleden stonden in Enschede duizenden weefgetouwen. De schering waren de draden die in de lengte werden gespannen, de inslag de draden die daar met een schietspoel, van links naar rechts en weer terug, tussendoor werden geweven. Het weefsel ontleende zijn kracht aan de kwaliteit van elke draad afzonderlijk en van de verbinding tussen al die draden.

Zo is het ook met Nederland als kennisland. We kunnen het weefsel zowel in de lengte als in de breedte verstevigen. Met de lengte doel ik op de draden die de verschillende onderwijsvormen — mbo, hbo en wo — met elkaar en de bedrijven en maatschappelijke organisaties in de regio verbinden. 

De Twentse noaberschap brengt onderwijs, onderzoek en economische ontwikkeling dichter bij elkaar. Ik denk aan een mooi initiatief als EnschedeLAB, waar studenten van de UT, Saxion, ROC van Twente en ArtEZ/AKI samenwerken aan maatschappelijke vraagstukken. De grote winst is dat verschillende talenten samenkomen. Makers, denkers en verbinders verleggen samen hun grenzen.

Er liggen grote kansen om de schering nog sterker te maken. Tegen regio's zeg ik daarom: ga nog meer uit van je eigen karakter en profileer je daar ook mee. Elke regio heeft zijn eigen behoeften en zijn eigen sterktes. Geef elke onderwijsvorm in de waaier een duidelijke kleur. Geen grauwe mix, maar complementaire kleuren die elkaar laten stralen. Ja, een beetje als een kleurenwaaier uit de verfwinkel. Het mbo, midden in de samenleving en het bedrijfsleven. Het hbo dat opleidt tot een breder en dieper begrip van beroepen en die doorontwikkelt. En de universiteit die de grenzen van de kennis steeds verlegt.

Niet alleen in de lengte, ook in de breedte weten instellingen elkaar steeds beter te vinden in landelijke samenwerking binnen een onderwijsvorm. Een mooi voorbeeld van deze inslag zijn de sectorplannen, waarin dit kabinet fors heeft geïnvesteerd. In alle wetenschapsgebieden hebben universiteiten met elkaar scherpe afspraken gemaakt waar ze samenwerken en waar ze hun eigen rol pakken. Want wat in Twente gebeurt, hoeft niet per se ook in Delft te gebeuren. Hechte samenwerking geeft je juist de vrijheid om je eigen profiel te versterken. Elke universiteit kun je dan zien als een campus van een virtuele Universiteit van Nederland.

Ik ben geen grote fan van rankings, maar voor wat het waard is stond Nederland vorig jaar op de zevende plaats qua aantal toponderzoekers, ruim boven Frankrijk. En Duitsland had er maar 50 procent meer. Toegegeven, Harvard had er ongeveer evenveel als wij. Maar als je het zo bekijkt kan onze virtuele universiteit iedere topuniversiteit van de wereld aan.

Als we zowel de schering als de inslag van ons kennisland weten te versterken, zullen regio's daarvan profiteren. Met een eigen profiel in een landelijk spinsel. Het fantastische hightech ecosysteem in Twente kan bijvoorbeeld een knooppunt worden voor fotonische chips, veel sneller en zuiniger dan de elektronische versie. Overheid en bedrijfsleven investeren hier al fors in.

En laten we niet vergeten dat Nederland zelf ook een regio is, maar dan binnen Europa. De Nederlandse wetenschap heeft als geen ander belang bij vergaande Europese samenwerking. In het Horizon Europe programma behoren Nederlandse onderzoekers tot de succesvolste. Samen met hogescholen gaan we ervoor zorgen dat ook zij de weg naar Europese programma's beter kunnen vinden. Het succes van Europa in de mondiale kenniswedstrijd bestaat bij instellingen die nauw samenwerken, met een levendige uitwisseling van studenten, docenten en onderzoekers.

U hoort mij goed. In dit muziektheater van Enschede zing ik de lof van de internationalisering. Het is een groot compliment dat zoveel mensen in Nederland willen studeren en doceren. We zijn een academische topbestemming. Dat zegt veel over de kwaliteit van het Nederlandse onderwijs. We hebben dat internationale talent ook hard nodig, zeker voor onze strategische groeisectoren zoals de techniek.

So, a warm welcome to our international students. We are proud that you chose the Netherlands as your academic destination. We love you so much that we want to keep you here!

Tegelijk zien we ook op sommige plaatsen de schaduwkanten van dit succes: overvolle collegezalen, tekorten aan docenten en gebrek aan studentenkamers. We moeten dus op een slimme manier de toegankelijkheid en de hoge kwaliteit behouden en tegelijk de Nederlandse taal koesteren en bevorderen. En het internationale talent beter weten te behouden voor onze arbeidsmarkt. We hebben daarom naast een gaspedaal ook een rem én vooral een stuur nodig om internationalisering in balans te brengen. En niet elke instelling heeft dezelfde noden — het maakt uit als het buitenland op tien kilometer afstand ligt. Daarom hoop ik dat de Kamer het wetsontwerp dat nu in internetconsultatie is niet controversieel verklaart en dat we snel kunnen beginnen met de benodigde instrumenten en sturing. 

2.

Ik kom bij het volgende verbeterpunt. Hoe geven we elk uniek talent gelijke mogelijkheden om zichzelf te ontwikkelen? We hebben het niet altijd door, maar we denken, spreken en handelen nog te vaak in termen van hoog en laag. Terwijl álle verschillende vormen van kennis en scholing gelijke waardering en ondersteuning verdienen. U weet, ik spreek graag van de waaier. Net zoals de rijkdom aan talenten in onze samenleving zich steeds verder uitvouwt. Iedereen moet zich binnen die waaier maximaal kunnen ontwikkelen, waarbij het unieke persoonlijke talent de richting bepaalt. Want heeft niet iedereen het principiële recht de beste versie van zichzelf te worden?

De geschiedenis van het onderwijs kun je lezen als een permanente onderschatting van het potentieel in onze samenleving. Als een slordige omgang met mensen. 150 jaar terug had minder dan 1 procent van de Nederlandse bevolking een middelbareschooldiploma. Maar 1 promille volgde een wetenschappelijke opleiding. Was je vrouw, behoorde je niet tot de juiste sociale klasse of woonde je niet in de stad, dan waren je kansen op scholing ongeveer verkeken. De berm van de onderwijsgeschiedenis ligt vol lage verwachtingen en halve oplossingen. Het zou naïef zijn om te denken dat onze tijd daarop een uitzondering vormt. 

Daarom moeten we onze koudwatervrees overwinnen. Ons geloof in de kracht van het onderwijs radicaal durven doortrekken. Slordig met mensen omgaan is niet alleen een fundamenteel onrecht, we kunnen het ons ook niet langer veroorloven. Er zijn meer banen dan mensen. En de onbalans wordt alleen maar groter. We hebben ieder talent keihard nodig. Voor onze welvaart, voor de energietransitie, het onderwijs, de zorg en al die andere plekken die kampen met grote structurele tekorten.

Een verdere emancipatie van het beroepsonderwijs, zowel mbo als hbo, is daarvoor essentieel. Dat begint met het besef dat we deze vormen van onderwijs, en hun studenten en docenten, stelselmatig hebben ondergewaardeerd. In ons spreken in termen van lager en hoger. Maar ook in desinteresse vanuit de academie voor de unieke kracht van het beroepsonderwijs. Samenleven is een teamsport.

Gelukkig zien we dingen veranderen en hebben we al veel bereikt. De terugkeer van de basisbeurs is een eerste stap om studenten in de hele waaier gelijke condities te geven. In alle vormen van vervolgonderwijs is gericht geïnvesteerd om de kwaliteit te verbeteren. De landelijke Onderwijspremie is dit jaar voor het eerst ook opengesteld voor professionals op het mbo. En wat was het mooi de waaier aan vernieuwers samen op het podium te zien glunderen — waaronder trouwens ook een UT-team.

Onderschat ook niet wat het betekent voor mbo-studenten dat zij in steeds meer steden eindelijk mogen meedoen met het introductieprogramma voor eerstejaars. We zijn gestart met de  professional doctorate in het hbo om nog verdere verdieping mogelijk te maken. En ik wil hier ook graag de snelst groeiende onderwijsvorm noemen: de associate degree, als eigenstandige stap tussen mbo en hbo-bachelor in.

En toch zijn er nog veel verschillen die niet goed uit te leggen zijn. Die gaan bijvoorbeeld over studiefinanciering en schoolkosten. Of over kroegen en sportverenigingen waar niet iedereen welkom is.

Als we de waaier consequent willen doortrekken, is er nog veel te doen. In alle soorten vervolgonderwijs is er nog te veel uitval. Dreig je buiten de boot te vallen als student, of merk je dat je in het verkeerde bootje zit, dan moet er iemand zijn die je binnenboord trekt of naar een andere bestemming loodst. Veel jongeren voelen sociale druk om naar de universiteit te gaan, maar komen veel beter tot hun recht op het hbo of mbo. Een goede gids kan je helpen om nieuw perspectief voor jouw talent te zien.

Daarbij moeten we ook lastige keuzen maken. Individuele vrijheid om te kiezen wat je wilt studeren is een groot goed. Net als de vrijheid van het onderwijs en academische vrijheid. Maar we willen ook dat jongeren kansrijk onderwijs volgen. Waarmee ze een baan kunnen vinden met perspectief. Niemand wil een doodlopende weg in worden gestuurd.

De waaier kent principieel geen begin of einde. Vaak zie je bij jonge kinderen al of ze praktisch, creatief, sociaal, cognitief of juist ondernemend zijn ingesteld. Toch meten we succes vrijwel uitsluitend af aan cognitieve vaardigheden. Die hebben een hogere status en zijn gemakkelijker te meten en te toetsen. Dat is kwalijk. Geen talent mag negatief benaderd worden. Hoe mooi zou het zijn als ieder schooladvies positief beleefd wordt. Als niemand afvalt en ieders talent op zijn plaats valt.

De waaier eindigt ook niet na je opleiding. Want veel kennis en vaardigheden verouderen snel. Als je alles weet van een benzinemotor, hoelang kun je dan nog vooruit? Of wat als AI binnenkort je kantoorvaardigheden overneemt? Een studiepad hoeft niet aaneengesloten te zijn; het kan ook een stippellijn zijn. Iedereen heeft om de zoveel tijd een kennisupdate nodig. En nieuwe opties om je eigen weg te vinden. Daarin kunnen zeker het mbo en het hbo hun kracht tonen.

Laat ik nog een radicale suggestie doen. Waarom hebben mbo-studenten, anders dan hbo- en wo-studenten, na het behalen van hun diploma géén mogelijkheid om hun expertise verder te ontwikkelen binnen het mbo. Wat interessant dat in Noorwegen men praktisch onderwijs wat dit betreft wil gelijktrekken met theoretisch onderwijs. Jezelf na je reguliere diploma zover mogelijk in je vak bekwamen tot je een 'meestertitel' hebt behaald? Ik hoef in Enschede toch niet uit te leggen dat vakmanschap meesterschap kan zijn?

3.

Mijn derde verbeterpunt gaat over de grenzen in onszelf. Het zit bij de mens ingebakken om die op te zoeken en te verleggen. Dat zie je al bij een jong kind. Al doende leert het in het eerste levensjaar de elementaire wetten van de natuurkunde. Of zet maar eens een bordje verboden toegang bij een hek en kijk waar kinderen samenscholen. Het onbekende is onweerstaanbaar aantrekkelijk.

Ook iedere volwassene kan de eigen grenzen blijven opzoeken. Een timmerman net zo goed als een promovendus of een verpleegkundige. Hoe stimuleren we onszelf en elkaar om de stap over die grens te zetten en de ons aangeleerde veilige kaders te verlaten?

De menselijke geest heeft de unieke gave iets te kunnen bedenken wat er niet eerder is geweest. Iets uit niets maken, dat kan alleen creativiteit. Een superkracht waarover elke mens beschikt. Met creativiteit schilder je een aquarel, ontwerp je een computerchip, bedenk je een behandeling voor een patiënt of een nieuwe dienst voor je bedrijf.

Creativiteit gaat ook over omgaan met verandering. Je betreedt een nieuwe wereld in je eigen hoofd. Iedereen die ooit door een verandering is heengegaan, heeft geleerd om te gaan met de schok van het onbekende, met onverwachte tegenslag en succes. De kunst deze zigzagpaden te bewandelen gaat een leven lang mee.

Zulke positieve krachten moeten we nog veel meer stimuleren in het onderwijs. Creatief zijn, weerbaarheid en veerkracht ontwikkelen, omgaan met onzekerheid en stress, samenwerken met iedereen, hoe verschillend ook. Deze algemene vaardigheden zullen in de toekomst meer en meer waarde krijgen. Anders dan vakinhoudelijke kennis verouderen ze niet. En ze helpen je ook door de roetsjbaan van het leven.

Daar kan geen chatbot tegenop. De laatste versie van GTP heeft alles gelezen wat er ooit geschreven is, zo'n biljoen woorden. Een mens zou er 20.000 jaar over doen dit te lezen. De kracht van deze nieuwe machines verbaast iedereen. Onderzoekers spreken zelfs van de eerste sprankjes van algemene intelligentie. Maar een kind leert van een enkele ervaring, zonder een woord te hebben gelezen. De grote les van vele decennia AI-onderzoek geldt nog steeds: wat moeilijk is voor de mens, is makkelijk voor de computer. Maar ook omgekeerd, wat makkelijk is voor de mens is moeilijk voor de computer.

En dat dankzij de diep menselijke krachten van verbeelding en nieuwsgierigheid, van souplesse in denken en aanpassingsvermogen. Softe skills, die eigenlijk keihard zijn. Ze verdienen een stevige plaats in ons onderwijs, misschien wel in het vak burgerschap, want ze zijn de diepste bron van hoop en optimisme.

Ze laten ons over onze eigen grenzen springen naar het volgend niveau. Uiteindelijk bepalen ze, individueel en collectief, of we die rollercoaster van de toekomst aankunnen.

Beste mensen,

Twente bewijst dat verbetering mogelijk is op alle drie mijn punten. Door het kennisweefsel te versterken langs schering en inslag. Door elk talent in de waaier maximaal te ontplooien. En door de vaardigheden van de toekomst verder te ontwikkelen.

Heel Nederland kan op al die punten sterker worden. Daarvoor heeft dit kabinet de basis nu hersteld. De zaadjes zijn gezaaid. De potgrond is bewaterd. Ik ben er trots op dat we dit in korte tijd voor elkaar hebben gekregen.

Het is nu wel de kunst de kiemen te laten groeien. Ik weet, ze zijn bij u in goede handen. Het is aan Den Haag om de broodnodige investeringen in de levens van jonge mensen te waarborgen en daarmee onze toekomst ongestoord tot bloei te laten komen. Alleen zo kan Nederland in de voorhoede blijven van onderwijs, wetenschap en innovatie. Anders stroomt talent naar plekken waar het beter tot zijn recht komt. Dan ontrafelt het weefsel van ons kennisland en ontnemen we de volgende generatie haar kansen.

Ik zei al, Nederland is wereldkampioen samenwerken. Aan zoveel tafels vragen we van mensen dat ze er samen uitkomen. Daarom ben ik ook zo diep teleurgesteld dat dit binnen het kabinet niet is gelukt. Ook de val van het kabinet is slordig omgaan met jonge mensen. Als docent en als ouder weet ik heel goed dat het er niet om gaat wat je zegt, maar wat je doet. We hebben niet het goede voorbeeld gegeven.

Beste allen,

Aan het begin van dit nieuw academisch jaar is het goed te realiseren dat de rol van een minister beperkt is. De essayist Rudy Kousbroek schreef eens dat sommigen denken dat het geluid van het fluitje van de conducteur de kracht is die de trein in beweging brengt. De locomotief van de vooruitgang bent u gelukkig nog steeds zelf. De kracht wordt dagelijks opgewekt in de praktijk van onderwijs en onderzoek, in collegezalen en laboratoria, in werkplaatsen en studeerkamers. Gaat u vooral moedig verder.

Dank u wel en goede reis.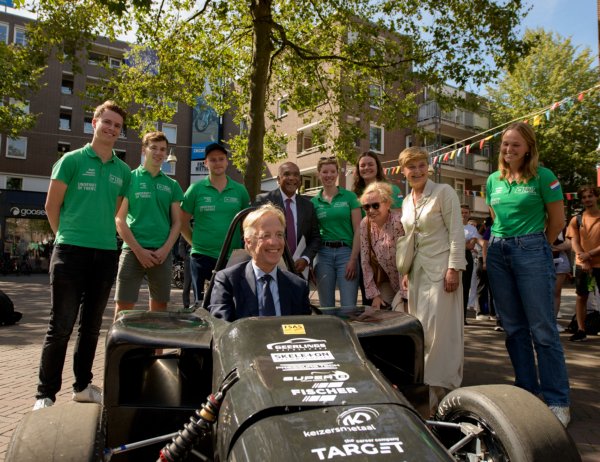 Robbert Dijkgraaf in Green Team Twente's hydrogen car
VINOD SUBRAMANIAM: COLLABORATION AND EXPERIMENTATION
UT's President Vinod Subramaniam spoke about the importance of internationalisation and mentioned notable examples of UT's many collaborations. He also called for creating space for experimenting and doing so in a healthy manner: "Acknowledge that local contexts differ. Acknowledge the strength and potential here in the region. Help us realis our dreams."
You can find the full speech by Vinod Subramaniam below.
Dear friends, colleagues, students and well-wishers of the UT, 
Welcome to the opening of the Academic Year 2023-2024.

At the opening of the academic year, it is tradition to take a moment to honor the memory of UT staff and students whom we have lost in the past year. Let us observe a moment of silence for our colleagues:

Peter Oukes      
Peter-Paul Bolscher   
And our students:
Jannick Pohlmann      
Tony Huzău       
Erkin Turan        
Taina Shaw         

-- 

Friends:

We last held the opening of the academic year in the centre of Enschede exactly ten years ago. It was a spectacle back then: the cortège walking through the city centre, past the pubs on the Oude Markt, to the Music Centre.  The image today was arguably even more spectacular, with the solemn procession of professors in toga enriched by the inclusion of many, particularly our students, who give colour and voice to the polyphonic UT community.

I'm therefore delighted to once again be celebrating the formal opening of our academic year here - in this Wilminktheater named after a Twente icon –  highlighting our commitment to, and connection with, the city and the region.

In these ten years, we have grown considerably – with some 30% more students and 30% more staff than back then. It's an important development that matches our conviction that we must make meaningful societal impact by educating our share of the technically-skilled talent needed to tackle the great transformations we are facing.

We have of course a special guest in our midst today, our minister for education, culture and science, Robbert Dijkgraaf. When we discussed your contribution to our opening of the academic year, the government had not yet fallen and we thought it would be a fantastic opportunity to showcase our innovations, our culture of collaboration, our impact and to send you back with some messages for the Hague. I hope now that you're able to philosophize with perhaps a little less restraint, and share with us your ideas, dreams, hopes and wishes for the future underpinned by your own vision and drive for science, and I hope inspired by what you have seen this afternoon.

That doesn't however mean that we don't have messages to give to you, and to the political leadership and parliament. On the contrary. In a drastically changed political landscape with uncertainty looming before us, it's imperative that we continue to ensure that we make responsible choices:

in the current debate on internationalisation
In continuing the additional resources that you have been instrumental in introducing
in continuing important impulse financing such as the national growth funds, and ensuring that we anchor the results structurally and sustainably
in striving to meet our commitment to Europe to invest 3% of our GDP in higher education
– after all the education of our young people – at all levels – is the one thing that has a guaranteed societal return on investment –
in finding the balance in reforms of the higher education system – in collaboration with all stakeholders.

And all of this so that we focus even more on educational quality, on making sure that students are enrolled in the right programs and institutions for them, and given our focus as a university, on stimulating broad science and engineering talent who, by contributing to a stronger cooperation between science, technology, and society, will have lasting impact on the great societal transformations we face.

Let's talk about internationalisation. Of course, this is an issue that affects me personally - I have been an international student in the US, and an international scientist and scholar in Germany, the UK and the Netherlands. But more importantly, the current discussion on internationalisation and language deeply affects the core of our community. Look at the slide behind me – these are the students we have welcomed in the cohort beginning today – they're a diverse, and very international, group. Like me, just around this time 38 years ago, they've travelled from all over the world, to learn from our community, and to strengthen our community. That is in keeping with our role as an international university, with a border a few kilometers from here, with an entire faculty, ITC, that focuses on capacity building and education internationally. We are an institution that is squarely engaged with our neighbours in Europe and indeed with the world. We are international.

To be honest, I toyed with the idea of giving one-third of my speech in English and two-thirds in Dutch – as has been proposed for our educational programs –, but given the fact that Dutch is my sixth language, and knowing that our minister will speak in Dutch, I took the chance that one-third of the total program in Dutch should be acceptable in this transition period. For our international guests who do not yet speak the language, we have a transcription synchronised with the speech, and hope in this way to connect both worlds as well as possible.

Anyway, for our international staff and students, the current discussion about internationalisation and working and teaching language sometimes feels like a blatant disregard or lack of appreciation of what they have to offer our community and society at large. To my international colleagues and students: I can only reiterate and emphasise how much we value your presence and contributions to our community in all respects. The great challenges we face are global problems, and neither these problems, nor the knowledge that contributes to solutions to these problems respect political or linguistic boundaries. And all our students and staff, be they Dutch or international, contribute intrinsically – with their diverse talents, abilities, backgrounds and lived experiences – to the quality of our education and research.

This doesn't mean that we're tone-deaf to the signals we're hearing from politics and society. They are loud and clear. We hear the signals about the downside of internationalization – for example, lack of accessibility to educational programs facing a capacity crunch, and lack of housing in some cities. Together with our deans, we as a board have been very clear in communicating to our community openly and transparently that things are very likely going to change. While we don't know what it is exactly going to look like in the future, we will do everything we can to build on what we have put together over all these years, while seeking the right balance. But I must say we also feel that we're being confronted by generic solutions to specific problems. That the problems that are playing out in the Randstad are affecting us in a way that does not match our daily reality and our location and character as a university.

We're acutely aware of the critical notes from society and are acutely aware of the fact that we're here to make an impact on society – that is after all the foundation of what we've set out to do – to create IMPACT. It's why we're here in the centre of the city again, it's why we engage with our local and regional partners and stakeholders, and why we strive to be open and accessible. And above all, to train technically-skilled talent;  students who have been exposed to working in interdisciplinary and diverse teams on meaningful challenges, to contribute to making a meaningful IMPACT on the wicked problems facing society.

And there is the dilemma.

Technical talent with a broad perspective is crucial for the future of the Netherlands, and for solutions to the transformations we face. The tech enterprises in the region here and further afield are screaming for talent. Infact the demand for technically-trained talent is such that it requires a giant jump in the scale of Science/Technology/Engineering & Mathematics (STEM) education. But the reality is that the number of students in our schools (havo and vwo) who choose an N-profile is declining. And so fewer students are choosing to continue in a technical programme in higher education. This needs attention for the coming years, from schools, universities and the Government.

So what do you do? As long as there is a mismatch between the demand for tech talent in the Netherlands and the interests of our youth, we've no other option than to look outside our borders. Our study programmes are highly regarded abroad, and Nuffic figures show that 40% of engineering graduates are still working in the Netherlands five years after graduating. And while we can absolutely work on getting this stay rate up higher, it's already a valuable contribution to the task we face together.

The problem of lack of technical talent is not only one of the university alone – it's a problem felt by my colleagues Anka Mulder and Trudy Vos, chairpersons of Saxion and the ROC van Twente respectively, and sitting right here today. I am proud of how we as a university have joined forces with ROC van Twente and Saxion when it comes to attracting and motivating talent to study engineering. It is a great example of how we work together on the region's challenges.

I started with speaking about the polyphonic UT community. This collaboration between the three institutions, each with a distinct voice and identity, also leads to a pleasing polyphony in the region.

A perfect example of this teamwork is the Solar Team Twente – comprised of talent from all three of our institutions, and on their way to Australia with their solar car Red X.

And we obviously also work together with many other parties in the region, such as the business community (alumnus Dennis Schipper from Demcon and many others are present here), the municipalities (welcome to the alderman for education and deputy mayor of Enschede Harmjan Vedder and the mayor of Hengelo Sander Schelberg), the province of Overijssel and the Twente Board. Together, we are constantly looking for how we can do better and how we can strengthen each other based on our individual strengths.

The growth we have experienced in recent years enables us to increase our societal added value. We do this not only here in Twente, but also further afield. In Twente, we work closely with many stakeholders, and in the context, and with the support, of the Twente Board. For example, in the ChipTech Twente program on realising specialised production facilities, using our expertise and knowledge in the field of chip design and photonics; and in advanced manufacturing, where we'll be officially opening the new facilities for the Fraunhofer Innovation Platform for Advanced Manufacturing and the industrial shopfloor, the Advanced Manufacturing Centre (AMC) on October 10.

Further afield, together with Saxion and a number of public and private parties, we participate in the Centre for Security and Digitalisation in Apeldoorn, where we're working on scalable solutions for Life Long Learning. In Zwolle, we're exploring, together with the municipality (the mayor Peter Snijders is here today), the economic board, and Windesheim University of Applied Sciences the possibilities to work on smart manufacturing and climate adaptation. In the field of Medical Technology, we have a long-standing partnership with the Radboud University Medical Centre which is intensifying.

And of course, we have an alliance with the Vrije Universiteit Amsterdam. As a matter of fact, we start today with our second educational program – Creative Technology – at the location of the VU Amsterdam, providing opportunities to technical talent around Amsterdam. The majority of the first cohort of our first program Mechanical Engineering, is now continuing their study at the UT in the Master phase, showing how this is a win-win situation also for the region.

And finally, situated as we are on the border with Germany, it is natural for us to have cross-border cooperation. The University of Münster is a strategic partner, with whom we're setting up a Battery Competence Centre, again together with the Twente Board and its counterpart in Muenster.

These developments strengthen Twente and the eastern Netherlands into an important technological ecosystem. In the context of the Twente Board, we are thereby working together with Brainport to achieve a national technological ecosystem on a European scale. The national borders with Germany and Belgium should not be an obstacle to its further development.

Your excellency, as a university, it is our ambition, together with our collaborators in the region and elsewhere, to create the necessary preconditions, in terms of talent, innovation and cooperation, to address the transformations in climate, healthcare, agriculture and digitalisation that are national priorities that keep you and your political colleagues busy. These ambitions are how we contribute to the foresight exercise – the Toekomstverkenning – launched by your Ministry.

But, your excellency, small steps are not enough, this requires a giant leap across the Eastern Netherlands that we are keen to make – as a team, together with our partners – for mankind. And as with the Apollo missions it also requires explicit support and commitment from politics and society.

And that's where you and your colleagues come in, Excellency. Give us the room to experiment and the boundary conditions to make it happen. Recognize that local contexts differ. Recognize the strength and potential here in the region. Help make our dreams fly. 

Your Excellency, may I now invite you to come up to the podium and share your vision and dreams with us.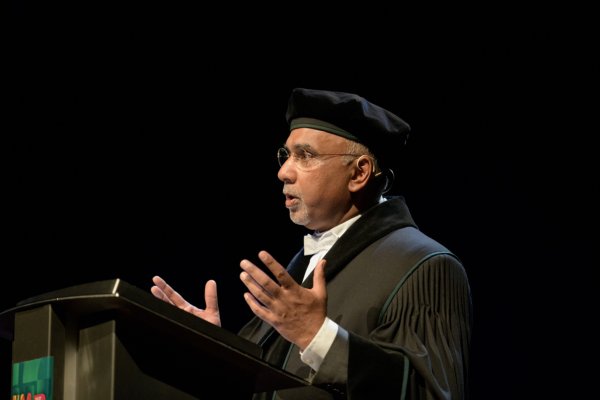 LOOKING BACK
You can look back at the Opening of the Academic Year (at both text and images) through the aftermovie (see below), the report by U-Today and this photo album.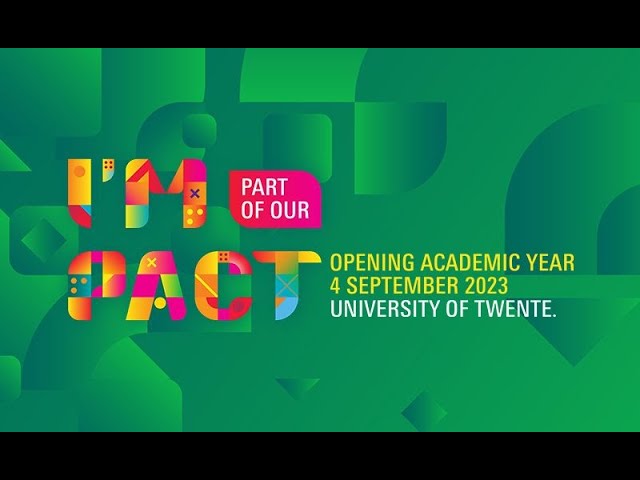 AWARDS
Traditionally, the Opening of the Academic Year featured the presentation of several awards.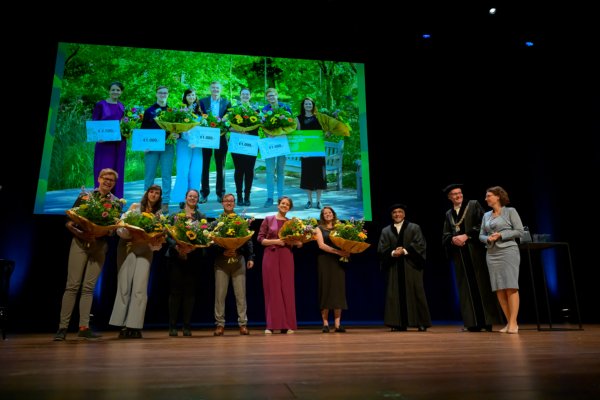 Van den Kroonenberg Award 2023: Merel Boers
This award goes to entrepreneurs with a UT affiliation who have successfully established a start-up. The award is presented annually by the Twente University Fund. This year, the honour of winning this award fell to young entrepreneur Merel Boers, who is CEO and founder of NicoLab. The award is named after former UT rector magnificus Prof. Dr ir H.H. van den Kroonenberg, the founder of the entrepreneurial University. Merel received a cash prize of €4,500 and an award crafted by Mohana van den Kroonenberg.
Read more about the presentation of the Van den Kroonenberg Award 2023 and winner Merel Boers here.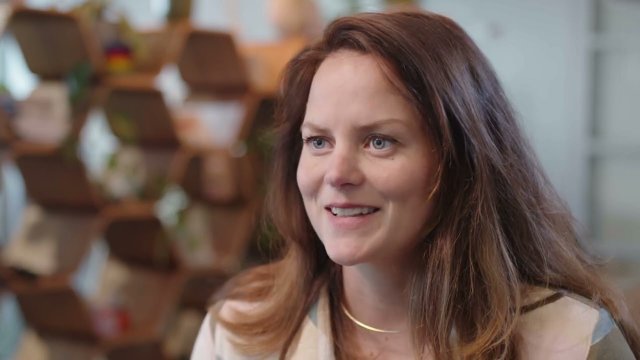 Graduation Awards
During the opening of the academic year, five master students – one from each Faculty – received a Graduation Award. The prize, a certificate and a €1,000 check, is a recognition of their outstanding performance in the final phase of their studies at UT. The winners were: Wisse van der Meulen (Faculty of BMS), Edian Annink (Faculty of EEMCS), Lara Monteagudo Tubau (Faculty of ET), Sahara Sedhain (Faculty of ITC), and Esli Diepenbroek (Faculty of S&T).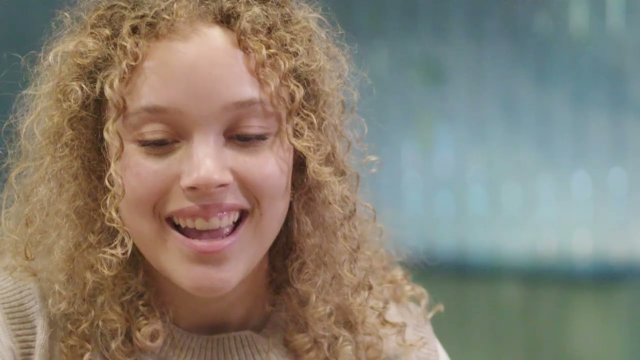 TGS Award: Jana Lim
This year, the TGS Award went to Jana Lim. This prize is intended for talented and ambitious UT master students who wish to pursue a PhD. She received a €2,500 check that can be used for education or a study exchange during her research. The prize also includes a full 4-year PhD position.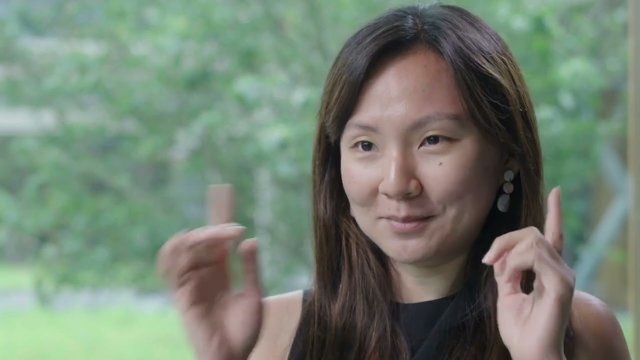 UT Education Award: Heidi Toivonen
With the UTEA prize for education, both students and the University emphasis the importance of the quality of education and encourage teachers to teach at the highest level possible. This year, Heidi Toivonen received the award. She received a certificate and a €2,500 check from UTEA Chairman Rick Ruitenbeek.