Tuesday 10 May 2022
The SURF Research Support Champions 2022 are Sarah Coombs (Saxion), Serkan Girgin (University of Twente) and Michèle Huijberts (UMC Leiden). The winners were announced during SURF Research Week. SURF Research Support Champions support research in the field of research data management and ICT. For example, with the storage, management, archiving, and sharing of research data, but also with software development and advice on research applications. 
"All the research assistants who were nominated this year are in fact winners," says jury chairman Ron Augustus. "It is great to see that the colleagues who nominated these research assistants are so incredibly appreciative of them." The jury unanimously selected 3 winners.
About Serkan Girgin and CRIB
Serkan Girgin (assistant professor and head of CRIB at the Faculty ITC) built a data analysis platform that provides easy access to many open-source geographic analysis tools. He has been nominated by several people: colleagues at the University of Twente, but also researchers abroad. The nominations show that Serkan has made a real impact in his field and he has a broad network. He is very active when it comes to promoting open and reproducible research in the broader scientific community, and also looks beyond national boundaries. One highlight from the nomination form states: "Serkan has worked with utter devotion to create a centre with a cloud computing infrastructure that now many staff and students are using on a daily basis for all their computing jobs with geospatial data that do not fit on their laptop."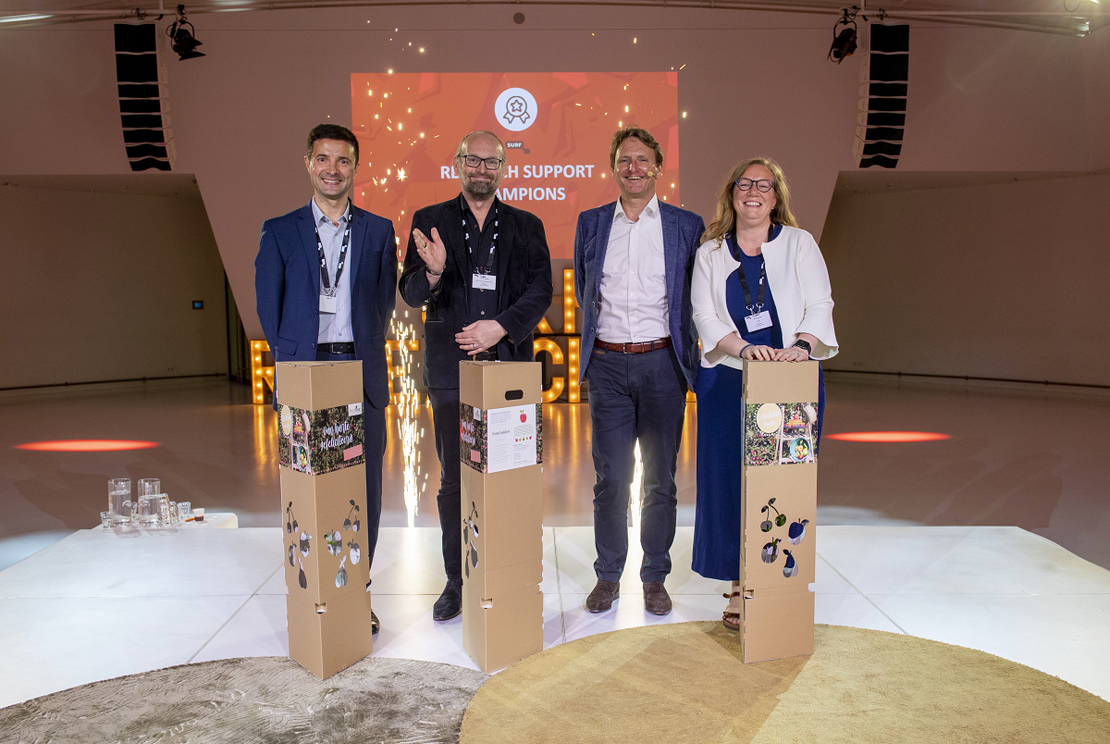 About Sarah Coombs and Michèle Huijberts
Sarah Coombs (Research Support Advisor at Saxion) not only supports researchers at her own institution but is also very active nationally and internationally. She is a true expert and has played an important role in the professionalization of data stewardship. Among other things, she has ensured that twenty universities of applied sciences have joined forces in a Digital Competence Center (DCC) to work together on research support at a national level. Sarah's strength is that she truly understands the work of the researcher.
Michèle Huijberts (information architect at the Radiology Department of UMC Leiden) developed an infrastructure that automatically anonymizes and stores images from MRI scanners. This will allow patients to be scanned in less than ten minutes instead of the current 30-60 minutes. Connections between the hospital's storage system, the hardware of the MRI scanner, the system for electronic patient information, and a server for anonymization to comply with privacy regulations were necessary for this. Michèle's data infrastructure also makes it possible to collaborate with other institutes.
About the SURF Research Support Champions
With this prize, SURF aims to highlight the important work of research support staff, such as data stewards, ICT librarians, and research assistants, and to inspire others. The candidates have been nominated by their colleagues. In assessing the entries, the following were considered: the quality of the support, the way in which the nominees connect the needs of researchers with research support, and the impact of their work. The submissions the jury received were diverse, varied, comprehensive, and enthusiastically supported. The jury of the SURF Research Support Champions 2022 consisted of: chief innovation officer SURF and Chairman of the Jury Ron Augustus, Director of the Netherlands eScience Center Joris van Eijnatten, Senior Policy Advisor NFU Petra Drankier, board member Promovendi Netwerk Nederland Lisa Oskam, project manager DCC PO/Saxion Hans Vossensteyn and co-chairman DCC implementatienetwerk Jeroen Rombouts. More about SURF Research Week: https://www.surf.nl/en/researchweek