Thursday 15 July 2021
The bridge printed by Amsterdam scale-up MX3D has been opened today by Her Majesty Queen Máxima using a robot. The first 3D printed steel bridge in the world has been placed on the Oudezijds Achterburgwal in Amsterdam. This pedestrian bridge with smart sensors (thanks to a.o. University of Twente) will replace the old bridge, which is under external restoration, for the next two years. The bridge, an award-winning design by Joris Laarman Lab, is the result of a unique collaboration between MX3D, software company Autodesk, chief engineer Arup, steel giant ArcelorMittal, the City of Amsterdam and University of Twente, among others.
MX3D-CEO Gijs van der Velden: "With this project we have set a new standard for 3D printing with steel and developed this technique further. We have shown that it is possible to print large sizes in metal. With this new technology we can produce metal structures, without wasting material and flexible in shape and style. In the future, we will be able to produce with less material and in a completely new design language. It's also great to see how the city of Amsterdam was able to play a decisive role in this, showing its innovative power."
3D-printing robots
Laarman's futuristic design is 12.2 metres long, 6.3 metres wide and weighs 6,000 kilos. MX3D made this design possible, with Arup as chief engineer, by turning welding robots with intelligent software into industrial 3D printers. Layer by layer, they created the organic shapes. The bridge, which remains the property of MX3D, was extensively tested by Imperial College London, with the help of the University of Twente, before being installed.
Large metal objects
With MX3D's new 3D printing techniques, you can apply metal in an innovative way and also finally 3D print large objects such as bridges. CEO Gijs van der Velden: "It was a huge challenge for all parties and we are proud that people will soon be able to really use this. The new form of 3D printing is already being used by MX3D in many different metal industries such as mechanical engineering and the maritime industry."
Innovative safety research
To ensure the safe construction of the bridge, Imperial College London conducted innovative research into its strength and structure. Arup, in the person of Stijn Joosten, senior engineer, played an important role in this: "Printed steel behaves very differently from ordinary steel. This required new fundamental material research and different calculation rules. We have built this up from scratch. It's great to have been able to turn this into reality with so many parties."
The 3D printed bridge is a 'Living Laboratory' with smart sensors
Besides the design, the monitoring of the bridge is also innovative. The bridge is equipped with smart sensors to collect data for maintenance. Software company Autodesk and The Alan Turing Institute have created a so-called Digital Twin of the bridge. This allows the safety status to be monitored in real time, including the simulation with different conditions and loads. With the data, the municipality can also measure traffic flows across the bridge and the level of congestion in the area.
In addition, Amsterdam Institute for Advanced Metropolitan Solutions (AMS Institute), in cooperation with TU Delft, University of Twente and the municipality of Amsterdam, among others, is conducting research into the ethical consequences and regulation of smart infrastructure in the city. Questions such as: What do we as citizens actually want to be measured?' and 'Who owns the collected data?' and 'Do we really want a city full of sensors? The bridge will become a true 'Living Lab'.
The bridge has received a permit for two years. After that, the old bridge will return.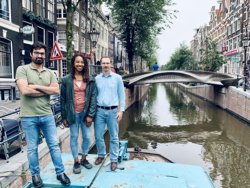 Farid Vahdati: Assistant Professor in Construction Management (Faculty ET)
Sage Cammers Goodwin: PhD student BRIDE (BRIdging Data in the built Environment) (Faculty BMS)
Roland Kromanis: Assistant Professor in Construction Management (Faculty ET)
PROJECT PARTNERS
The MX3D project was made possible thanks to the close cooperation with partners: Autodesk, Heijmans, Joris Laarman Lab and ArcelorMittal and the support of Lead Structural Engineer Arup, The Alan Turing Institute Data Centric Engineering Programme, Lloyd's Register Foundation, Air Liquide, ABB Robotics and Lenovo. Major contributors included: Force Technologies, HBM, Oerlikon, Faro Technologies, STV, Oerlikon Welding, MousBV and Plymovent. Public partners: Delft University of Technology, Imperial College London, University of Twente, Amsterdam Institute for Advanced Metropolitan Solutions (AMS Institute) and the municipality of Amsterdam.