Friday 25 June 2021
The University of Twente (UT) will be the first university in the Netherlands to realise an Esportslounge; a dedicated space as the centre for all students with a passion for gaming and esports. A large room in the UT building The Bastille will be renovated and equipped with high-end gaming setups, professional broadcast equipment and various facilities to enable the lounge to function as a hub for gamers.
Blueshell Esports, one of the largest student esports associations in the Netherlands, Esports Team Twente and the umbrella organisation Student Union are working together to maintain the position of the UT as the esports university of the Netherlands.
Booming
Gaming is very popular. More than one in four students regularly plays a videogame. Blueshell, the student esports association of the UT, has grown to one of the largest in the Netherlands in just a few years. Last year marked the next step to make Twente the place to be for gamers with the founding of Esports Team Twente. This innovative student team participates in various competitions, but also performs professional research and data analysis, and also works together with several big names in the esports sector.
The University of Twente recognizes the opportunities and attraction of esports. As first university in the Netherlands, the UT therefore offers her students professional esports facilities to socialize, train and participate on a competitive level. An exploration of the Student Union concluded that the Stek (an old café on the UT) is the perfect location to establish an Esportslounge. According to the Student Union, this is not just a great development, but a necessity if you wish to take esports seriously as a university.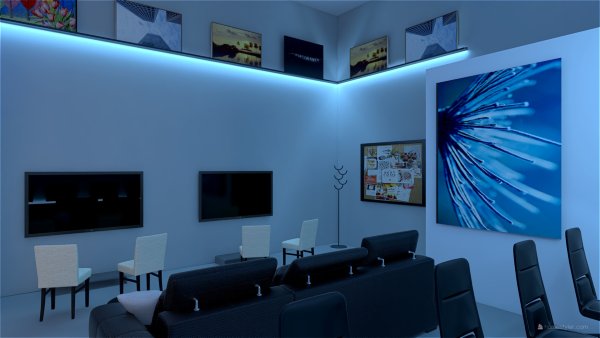 Artist impression Esportslounge
The brand new Esportslounge functions as the centre for esports and gaming at the UT. High-end gaming setups offer students the possibility to train and participate in esports competitions, and broadcast facilities enable students to obtain professional experience and start their career with esports broadcasts and so-called streams on channels such as Twitch or Youtube. Finally, the space will be the place to meet up and socialize for gaming students, both after lectures and during the activities which will be organized in the lounge.
At this moment, the Student Union, Blueshell, Esports Team Twente and the University of Twente are in the process with design and further planning of the project. The Esportslounge is expected to be realised in the second half of 2021, and marks yet another step of the University of Twente to remain the esports university of the Netherlands.
More info: Thijs Lieverse, team manager Esports Team Twente, j.m.lieverse@student.utwente.nl or +31 6 30102123.