Tuesday 30 November 2021
Last week, the Enschede city council, the University of Twente, and housing corporations De Veste and Domijn signed a cooperation agreement to develop new housing at Kennispark Twente. The parties have joined forces with the aim of attracting more local and international talent to the region. Living, working, and recreational spaces will be created on the UT campus and the Business & Science Park of Kennispark, where students, enterprising researchers and innovative entrepreneurs can all feel at home. The aforementioned parties also signed an agreement with the construction company Trebbe today to install affordable flex-units for students on the university campus in the near future. These two initiatives are a major boost for the Kennispark housing project.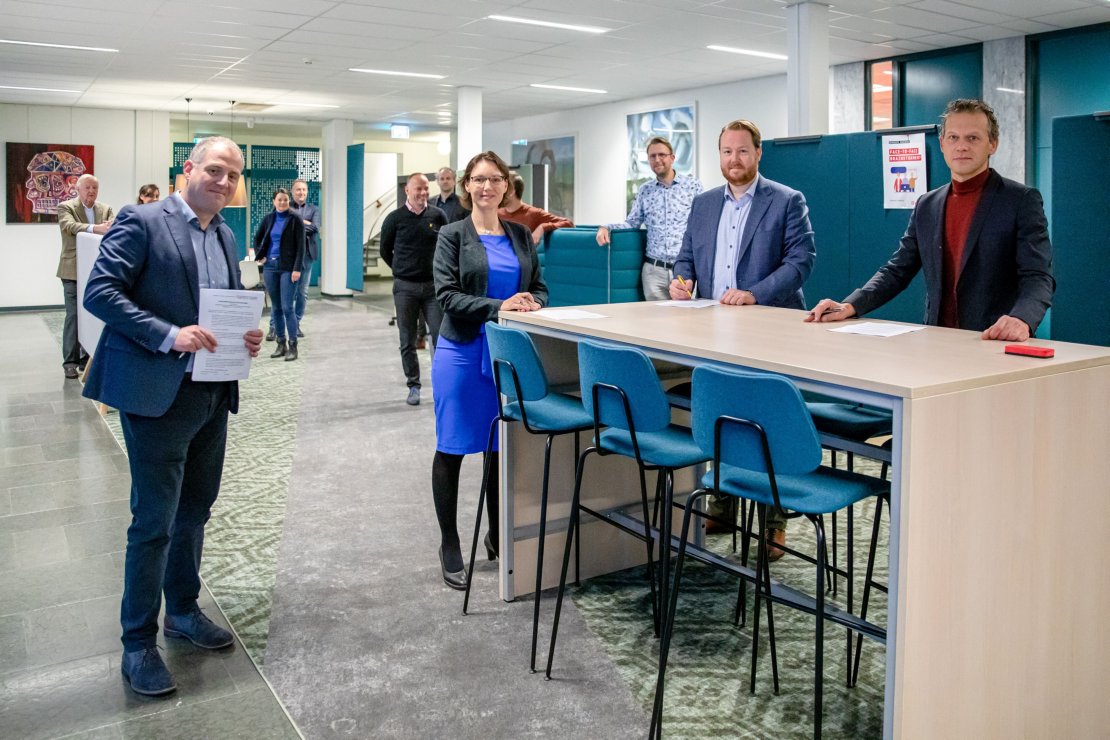 Initiative 1: Temporary housing to relieve the acute student housing shortage
Due to the tight housing market, it is currently difficult for students to find affordable and suitable accommodation. The housing corporation De Veste, the Enschede city council, the University of Twente, and the construction company Trebbe are cooperating on the development of 230 housing units on the campus. The first students will be able to move into their flexible units by mid-February 2022, after all the procedures have been taken care of and the housing units have been installed. "I am proud that this cooperative project – which the Twente Board helped to forge and which the Ministry of the Interior supported – has allowed us to solve an acute housing problem for a large group of students in a relatively short time," says alderman Jeroen Diepemaat. "I believe this is the first time this has ever been done in the Netherlands, and of course, I hope that it will help us keep these talents in our region." Trebbe joined the project after the housing shortage in Enschede was given a lot of airtime in the media. "This project proves that if there really is a will, and if we join forces, then we can quickly find a solution," says Hein Trebbe Sr., director at Trebbe. "I'm really proud we've achieved this."
The units have a surface area of 28m2, and each has its own shower, WC, kitchen and front door. Students can apply for a rent subsidy, and both national and international students are eligible for the temporary flex-units. Students with urgent housing needs are given priority. The units will be installed on Witbreuksweg; the foundations are currently being poured. The units will be used for student accommodation for at least the next seven years.
Initiative 2: Permanent housing for broader target group at Kennispark Twente
Housing will also be built at Kennispark Twente for a broader target group: students, young professionals, PhD candidates and employees of Kennispark companies. The housing concepts help meet the ambition to attract more talent to the region and keep it here, and are intended to become attractive places to live, work and play; places where talent can meet, find inspiration and generate new opportunities, with high-tech companies and university research facilities near at hand. The result will be an international top location for innovation which will draw new talent to the region.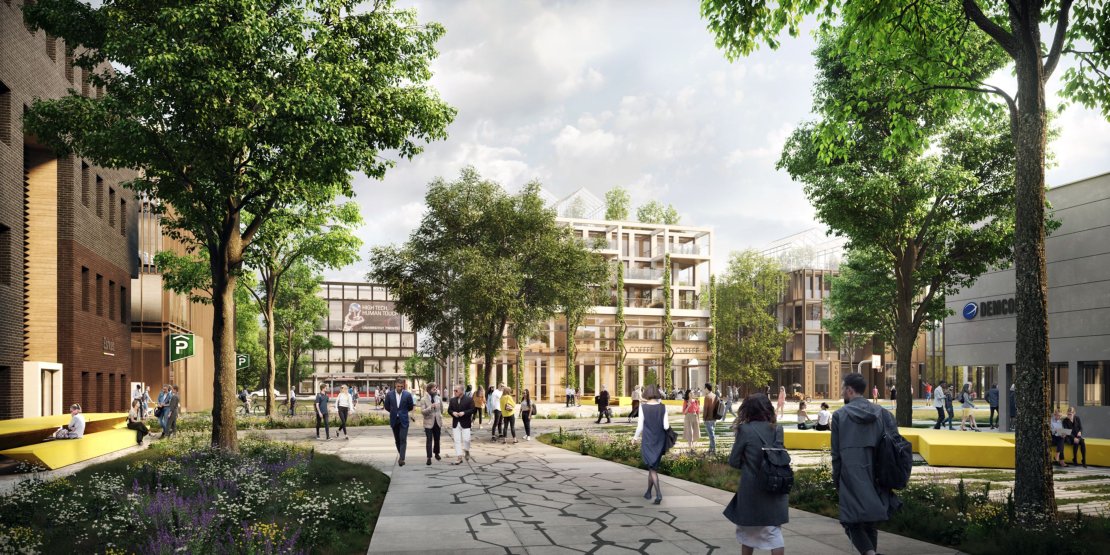 A dynamic environment for top talent
Anne-Wil Lucas, Area Manager of Kennispark, is pleased with this agreement to create permanent housing at Kennispark. "This transformation will result in a dynamic top location where talent will feel right at home. Mixed functions, such as combinations of cafes and restaurants, meeting places and housing, will contribute to the dynamism of the area. The research institutes, start-ups and high-tech companies of the University of Twente and Kennispark Twente together contribute all the ingredients for a knowledge region with national and international impact. Kennispark occupies a leading position in the Netherlands, and we must ensure that we retain this position. This is why it is important to ensure we develop this into a dynamic environment that will attract and retain top talent – talent that will make Enschede their place of work and their home."
"We all have our own responsibilities and face different challenges when it comes to recruiting talent to our university and finding accommodation for them, while at the same time we see that the most successful solutions are achieved in synergy," adds Machteld Roos, Vice-President of the Executive Board of the University of Twente. "That is why we are joining forces for both initiatives, creating a unique opportunity to jointly offer sufficient and affordable housing that really meets the needs of the different target groups. Together we are creating an inspiring, knowledge-intensive and entrepreneurial location close to the high-tech companies and research facilities."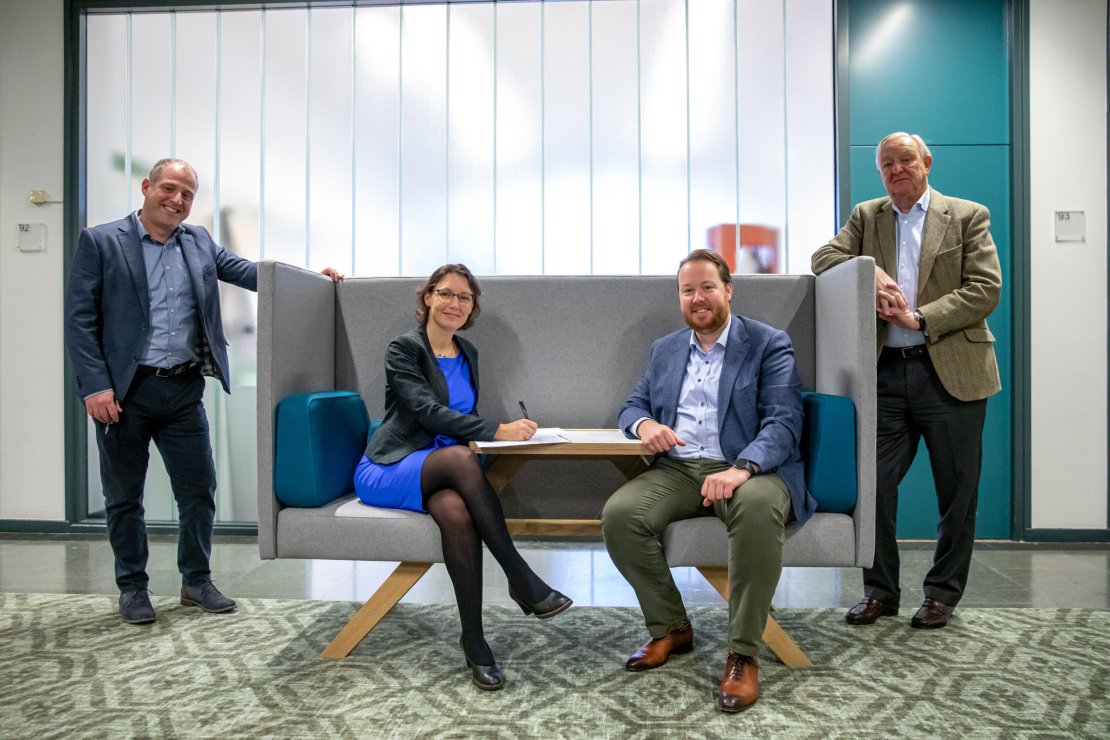 Connecting Kennispark Twente to the neighbourhood and the city
In the cooperation agreement, the parties are aiming to create more and better housing for both Dutch and international students on campus and a place for young professionals to live, work and meet at Kennispark. They also want to forge stronger connections between Kennispark – both the Business & Science Park and the university campus – and the adjacent neighbourhoods and the city.
"We are committed to creating a space where talent will be eager to live," says John Slot, Real Estate Manager at Domijn. "Of course, it will also have to be affordable, which is always a priority for us as a housing corporation. Even while for us, this cooperation agreement really involves a completely new product, in addition to the social housing already in our portfolio."
"It is inspiring to see how people are joining forces to bind more talent to Enschede by creating an inspiring and uniting place to work and live," adds Martijn Rink, Managing Director of De Veste. "It's fantastic that we at De Veste and Domijn can contribute to this goal!" 
First residential buildings for permanent housing
Two projects are already taking concrete shape as part of the permanent housing initiative. The first is the development of additional student residences on the university campus, with some 90 units are being considered on the Boulevard or at other campus locations. Construction is expected to start in 2022, and the units will be completed in 2023. De Veste will offer these units to students who live on their own and want to be part of the student community that makes the campus so unique.
In addition, Domijn and De Veste are developing a housing concept in the Business & Science Park of Kennispark on Hengelosestraat, where these corporations will offer accommodation to young professionals, PhD candidates and employees of Kennispark companies. This will be a living and working area of approximately 200 homes where the synergy between residents, businesses and the university will be a matter of course. This project is expected to start in 2024.