Thursday 13 December 2018
Governments at every level can reduce the likelihood of disasters by making greater use of geo-information when planning urban areas. This data is essential for future scenarios and 3D simulation models, according to Professor Richard Sliuzas of the University of Twente. His chair of Urban and Regional Planning for Disaster Risk Reduction has been helping with the Climate Action Plan in the Ugandan capital, Kampala.
Cities in Africa and Asia are growing at a rapid pace. Kampala, which currently has a population of around 5 million, is one such example. It is expected that this will double within the next 20 years. The city is already affected by floods on a regular basis. The fast rate of urbanization will further increase the risk of new natural disasters.
Data and scenarios
The University of Twente Faculty of Geo-Information Science and Earth Observation has been carrying out research in Uganda for several years now, together with the government there, researchers from the Makerere University and city residents. Researchers have collected a large amount of historic and other data about Kampala, including satellite images, land ownership and socio-economic information. They have used the data to create various future scenarios. Particular attention was paid to the consequences in terms of the drainage of surface water and the likelihood of flooding. Research was also conducted into the perceptions of the inhabitants, including those in the slum districts, with regard to their future living situation.  
The research results are to be used for the Climate Action Plan, through which the Ugandan government is seeking to reduce the risk of natural disasters caused by climate change and urbanization. The new policy will factor in nature as much as possible when applying infrastructure solutions. For example, the government has made half a million trees available for Kampala to help combat rapid drainage, thereby reducing the likelihood of flooding. "This project shows how integrated urban planning based on data and scenarios works in practice," says Richard Sliuzas, who recently delivered his inaugural lecture at the University of Twente on this subject.
Risk transformation
One possible consequence of the new spatial planning policy is that the inhabitants of districts in vulnerable areas, such as those near the river, will have to relocate. Sliuzas believes this could create a new risk. "Are people able to build up a similar existence for themselves at a different location, as entrepreneurs, for example? You are reducing their risk of exposure to a natural disaster, but at the same time you may be increasing their chances of poverty. This 'risk transformation' is set to be a growing problem in the next few years, especially in Africa and Asia."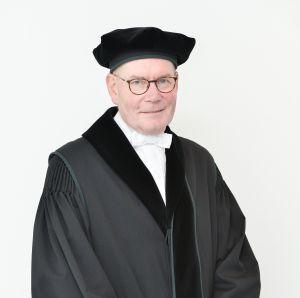 Sliuzas also advocates closer collaboration between different disciplines in order to create an integrated approach. After all, the soil situation affects activities on the surface, and vice versa. "Urban designers and planners, geologists, hydrologists, soil contamination experts – each of these disciplines has to communicate with each other more effectively. I am totally committed to this. There is so much room for improvement in this regard, and that applies to the Netherlands, too."
The inaugural lecture by Professor Richard Sliuzas – 'Grappling with the city-disaster nexus' – is available via this link (in pdf).