Monday 15 October 2018
On Saturday and Sunday, the campus of the University of Twente will host the Dutch edition of the NASA Space Apps Challenge. All over the globe, bright minds will shine their light on challenges related to space. Space Society Twente organizes the Dutch edition in Drienerburght. We asked Sebastiaan den Boer of Space Society Twente to reflect on the event.
The name suggests you will be building mobile apps for 48 hours?
Sebastiaan: "NASA's Space Apps Challenge was founded on the idea that anyone can contribute to finding solutions to challenges currently faced in the space industry regardless of their background or technical skills. So, it is absolutely not the case that exclusively apps are built during this event.
On the contrary, we find it much more important to design a creative and appropriate solution to a problem. Of course, we expect that many teams will start building an application, but ultimately the business plan, scientific contribution and feasibility also contribute to the jury's judgment. We therefore invite everyone with an interest in NASA's activities to participate in this event."
What is the focus of the challenge?
"The theme of Space Apps Challenge 2018 is "Earth and Space". Although this theme does not necessarily set a specific focus for the event, it provides teams with more space to design their products. After all, the range of challenges is broader than usual.
However, we do see that NASA Open Data can be leveraged to create suitable solutions for a number of the offered challenges. We therefore expect that a substantial part of the participating teams will want to make use of this. On the other hand, we also hope that teams will surprise us with serious games, robots and other innovative techniques that may be applied in the space industry."
What will happen with the outcomes of the challenge?
"Participating teams will be invited to present their solution to a jury of experts in the fields of business development, mobile application development and earth observation. Two winning teams will be selected by the jury, after which those teams will advance to the next (international) round of the Space Apps Challenge.
These teams will then be asked to record a short video describing their ideas, after which these videos are assessed by NASA. The first prize for the international challenge winner is a fully catered trip to Kennedy Space Center in the United States. In addition, local awards are also to be won in Enschede.
In addition, we are currently in talks with Novel-T to find how we can support teams wanting to transform their Space Apps project into a product or business."
NASA IS A BIG NAME, HOW BIG IS THIS EVENT?
"The event is hosted simultaneously in more than 200 locations worldwide. In the Netherlands, Enschede is the only Space Apps location this year with a capacity of 50 people. As organization, however, we care more about the quality of the presented solutions than the number of participants, considering that offers the most value for the participating teams."
Why is it fun to be part of the NASA Space Apps Challenge?
"Whether you enjoy hanging out with friends, wanting to challenge yourself intellectually or professionally, Space Apps Challenge suits everyone with an interest in making an impact. Whether your solution proposes a revolutionary interplanetary transportation system or finds a better method for dealing with space debris, your solution might very well be the first step in solving the problem.
Moreover, some of the mentors and jury members present during Space Apps Enschede have started their careers in the space industry after participating in similar competitions. As such, if you are looking to kickstart your career in the space industry, it is highly recommended to participate in Space Apps Enschede or to become a member of Space Society Twente."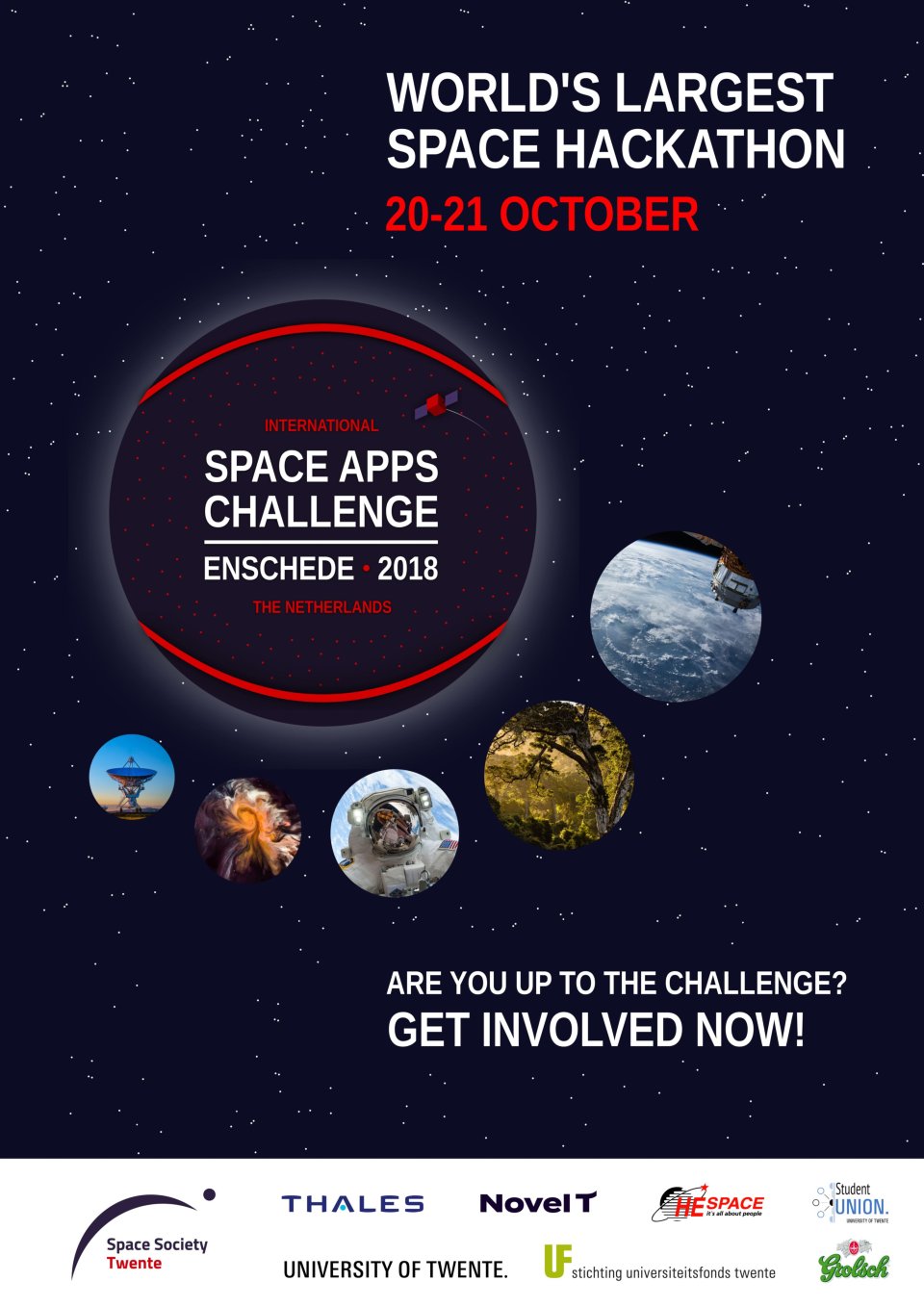 Header photo: The International Space Station continues its orbit around the Earth as Expedition 50 astronauts captured this night image of sparkling cities and a sliver of daylight framing the northern hemisphere, 2017. Credits to NASA.