Monday 17 July 2017
Solar Boat Twente marked their international debut in a solar race with a great performance.
The Twente team finished in third place in the Monaco Solar & Electric Boat Challenge, the unofficial World Cup for solar boats.
Solid performance
Solar Boat Twente had a promising start on Friday. They came in fourth in the endurance race, an event stage in which boats have to sail 50 laps. Boats were ranked on their position after the first boat reached the finish line. The Twente Team finished 23 laps by that time.
On Saturday, the solid start was followed by a second place in slalom and a neat third place in the sprint stage. For the general classification, these results were enough to secure a spot on the podium. 
Excellent preparations
Solar Team Twente travelled to Monaco a few days in advance, to get fully prepared for the race. Before the Monaco trip, they had not tested their boat in the salty sea water. The solar boat came through the inspection round without any major irregularities. Only a small adjustment to the battery had to be made.
Solar Team Twente has been working hard all year to achieve the goal: a spot on the podium in the Open Category, the most challenging category in which teams have to design and build the boat all the way from scratch. The ultimate test at the Monaco yacht harbor showed the team could withstand participants that have been working on their project for a substantial longer period of time. Today (Monday), the team will arrive back in Enschede.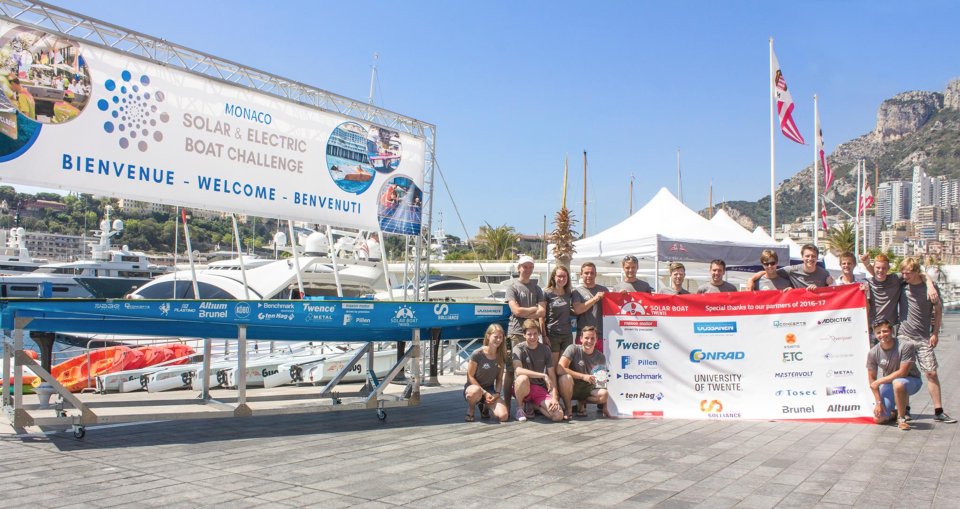 Find out more in photo, video and blogs on the Facebook page and website of the team.