Wednesday 14 March 2018
The University of Twente and the Korea Institute of Science and Technology (KIST) signed a Memorandum of Understanding on 9 March, in which they agree on the exchange of students and staff members and on collaborative research. The KIST delegation was in Twente for two joint PhD defence ceremonies of KIST and UT, by Marc Pichel and Tijmen Hageman.
KIST has a European branch at the Saarland University in Saarbrücken, Germany. There, the institute consists of three research groups: Biosensor and Materials, Environmental Safety and Smart Convergence. Former UT scientist Prof. Leon Abelmann currently works at KIST Europe, he is specialized in nanotechnology and magnetism for the life sciences. Every month, he spends one week at the UT campus for connecting research programs of UT and KIST. Together with Prof Gijs Krijnen (UT), on 9 march he is the promotor of both Marc Pichel and Tijmen Hageman. They did their PhD work partly in Saarbrücken and partly in Twente.
Founded in 1966, KIST has its headquarters in Seoul, with labs in Gangneung and Jeonbuk. Around 2000 scientists work on brain research, biomedical science and convergence research (which includes ICT and Nanotechnology). Apart from that, KIST has a leading role in Korea's national research agenda for sustainable energy. It has, for example, an institute on advanced composite materials.
The newly signed Memorandum of Understanding is about the exchange of students, about five each year, and researchers – for guest lectures, conferences or joint research projects. KIST and UT will explore further options for collaborative research, not only at KIST Europe but also in Korea. A delegation of 25 KIST scientists visited the University of Twente campus on 8 and 9 March and was impressed by UT's research and facilities.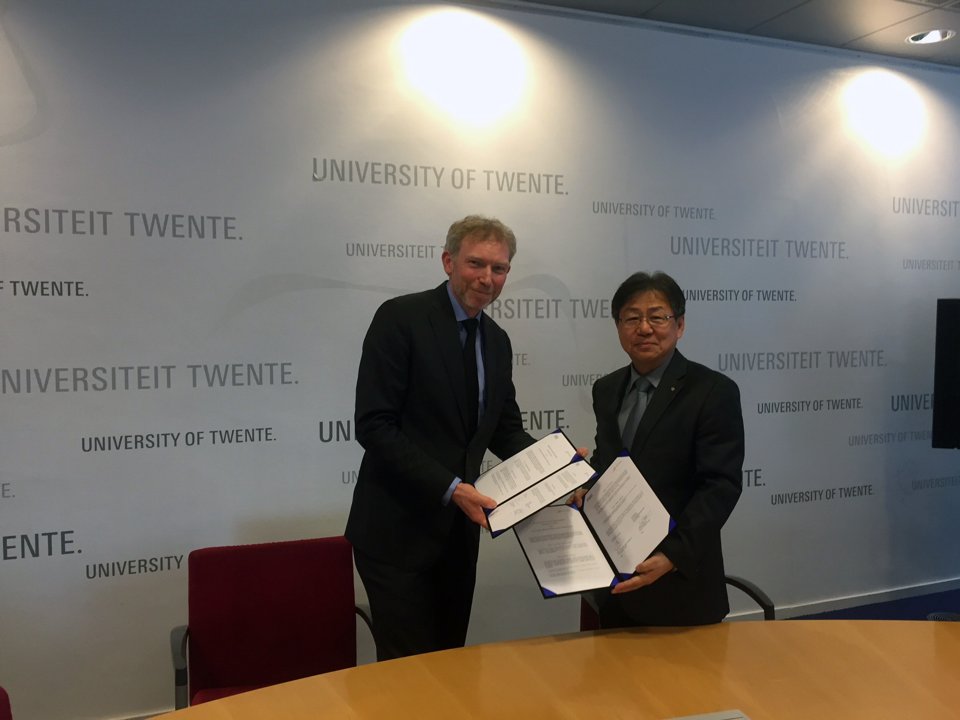 The Memorandum of Understanding was signed by Jungkyung Kim (r), Institute Director of KIST Europe – representing KIST President Byung Gwon Lee -, and UT President Victor van der Chijs.
More info on KIST Europe: http://www.kist-europe.de and on KIST in general: https://eng.kist.re.kr/