Wednesday 5 June 2019
Did you know that Wombats poop cubes, the roads of Melbourne might not be the best place for a bike tour and if you find yourself in Singapore, Sam Sam has the best Murtabak? These are just some of the things ATLAS students learn during their semester abroad. Oh… and they follow academic courses too, of course.
To give a better impression of what the planning of a semester abroad involves and what awaits someone once they have flown the UT's nest in their third year, students that went to Austalia and Singapore in 2017, 2018 and will be heading there during the summer of 2019, have taken the time to offer some valuable insights. How do UCT students choose the destination for their semester abroad? Based on academics or culture? Credits or experiences? Can it be both? Does it have to be both?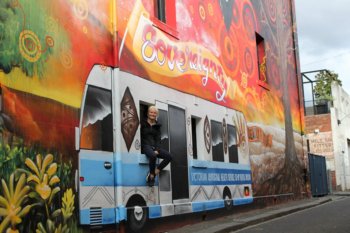 Think about what is most important to you; studying at a prestigious university in your field; experiencing a completely new culture; an early start of the semester; great weather? They're all valid reasons. Make a list of possibilities and start rating them for each criterion.
But to be honest, you can't go wrong! You might discover something new you never knew you valued.
~Demi (Class of 2018, RMIT - Australia)
Think very well about why you want to go somewhere, and what you want to learn there, and pick your destination accordingly (or live your life there accordingly). As long as you go all-in, don't hesitate or regret your decision, every destination will be awesome, you will meet awesome people and have an awesome time. 
~Rob (Class of 2018, SUTD - Singapore)
It is fair to say it seems either approach leads to incredible experiences, also in unexpected ways. But it is offered as part of the academic programme for a reason. ATLAS allows students to build their academic profile by making their own course selections. Sometimes they outgrow the University of Twente's offers in a certain field, which is a great example of when it makes sense to find a university abroad that provides opportunities in a specific, focused direction. 
Gyan (Class of 2019) followed Rob to Singapore a year later to concentrate on computer science at Singapore's University of Technology and Design (SUTD). This year, Peter (Class of 2020) will follow in Gyan's footsteps and is looking forward to attending SUTD, to advance his skills in programming at a university leading in this field.
An eight-hour flight away Channah (Class of 2020) is planning on continuing the UCT's interdisciplinary approach by combining disciplines such as urban planning and environmental management at the University of Melbourne in Australia. Two years before her Demi also chose Melbourne (RMIT), to expand on the earth science perspective of climate change she had covered at the UT by taking courses focused on the social component and 'human-environment interaction'.
There are many different options to choose from, but being able to ask students from older years who have already travelled to different destinations and may have attended the potential university of choice can answer a lot of questions, ease concerns or possibly even change your mind. As the summer and thus the next semester gets ever closer some may be getting nervous to leave Enschede and the College Community behind. But to those Isabel (Class of 2019, RMIT) has some words of wisdom after coming back from Australia in February herself.
Arrange as much as possible in advance, but also learn to let go and enjoy. Academics are important, but you learn a lot regarding independence and the culture you found so interesting.
On behalf of Class of 2021, we wish those traveling to distant lands an unforgettable time and assure them we will be eagerly awaiting their return, which is sure to be accompanied by a suitcase full of stories and new advice.
If you chose to join the University College Twente and travel abroad in your fifth semester, we hope you find "a place that makes you tremble with excitment" (Isabel)! 
Curious to learn more about studying abroad? Click here! 
University College Twente offers a unique bachelor's programme, Technology, Liberal, Arts and Sciences, to top students. Visit the University College Twente website for more information about the college and Technology, Liberal, Arts and Sciences website for more information about the bachelor program. Or visit us during the open day, a student-for-a-day or an insight-day.