We would like to keep our beautiful UT campus tidy and prevent every furnishing on the grounds, from lantern posts to rubbish bins, being covered with posters and stickers. 
We, therefore, have an active policy in place in respect of unauthorised flyposting:
There are 20 poster pillars distributed across the campus (see the map).
Flyposting anywhere else on campus is strictly forbidden.
All associations and organisations that are part of, or affiliated with the UT are free to display their announcements on these poster pillars.
All poster pillars are thoroughly spray cleaned in the first week of each term.
Do not paste posters over events that have not yet taken place, unless there are multiple posters, in which case 1 poster on every pillar must remain unobscured.
Do not cover the entire pillar with 1 kind of poster, unless all events have already taken place, or the poster pillar is empty.
Do not remove the posters of others from pillars unless events have already taken place.
Use wallpaper paste or another type of glue, do not use sticky tape to put up posters.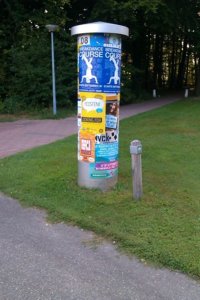 Compliance
Please adhere to the abovementioned rules (code of conduct). If it becomes apparent that the rules (code of conduct) are/is being breached, the relevant party will be contacted.
In addition: posters or stickers not displayed in designated spaces will be removed by a cleaning contractor as soon as possible. Cleaning costs will be charged to the organiser shown on the poster, sticker, etc.
Tips
Do not forget the numerous notice boards in the corridors of UT buildings. An excellent medium for highlighting your events and other messages. You can find more information about producing posters and stickers on the visual identity page (MC). You can see which communication tools are suited to which target group. See the item communication channels by target group (MC).