Large robot-technical companies created the robotics platform Holland RoboNed in association with different Dutch educational and research institutions in 2010. RoboNed workshops show that there is a need for highly qualified employees, who have been in contact with the state-of-art of robotics. The market requires for high qualified designers who know modern robot-technological issues. But above all, they need employees who know how to work properly in a multidisciplinary design team who are dealing with solving complex issues.
EngD Robotics
The EngD programme in Robotics focuses on creating technical solutions for the industrial sector (i.e. automatic welding robots), for maintenance and inspection (i.e. sewer inspection) and medical use (like rehabilitation or surgical robotics). The track is based on functional and market-based requirements and focuses on quality, environment, safety and sustainability. During the programme, you transfer results into technological innovation in industry and society. A methodological approach, which tackles the always-present uncertainties, always comes first.
Employers of graduates of this EngD programme are often the organizations where the trainees do their design assignments. The branches of these organizations vary from large multinationals to smaller companies in the industrial, maintenance and medical sector.
Courses
The two years lasting EngD programme in Robotics combines academic research in a professional context with education in a range of related subjects. It consists of three blocks: a block of professional development, a block with in-depth and broadening courses and a technological design project. These blocks with a total of 120 EC can run parallel to each other.
The block with in-depth and broadening courses can partly be tailored to the technological design project. Gained skills in professional development and gained knowledge from in-depth and broadening courses are employed in the design project. During the design project, you transfer results into technological innovation in industry or society.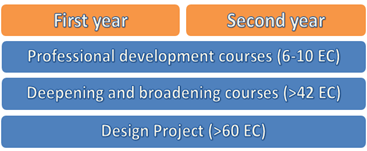 PROFESSIONAL DEVELOPMENT COURSES
The professional development courses are intended to improve professional skills and advance career opportunities. Therefore, the course in Professional Effectiveness and the TGS Introductory Workshop is compulsory. Other courses are elective and can be chosen in consultation with your supervisors. The total study load of the professional development courses is 6-10 EC. See www.utwente.nl/ctd for an overview of professional development courses.
IN-DEPTH AND BROADENING COURSES
The In-Depth and Broadening block carries a total study load of at least 42 EC and comprises a compulsory block and an elective block.
Compulsory courses (depending on your specialisation domain)
The compulsory block includes three compulsory courses:
Besides, one course can be chosen from a set of 3 courses:
The compulsory courses will always be at a post-master level (master courses need to be upgraded to post-master courses).
Elective Courses
The elective block of at least 15 EC allows you to extend your competencies in a specific direction as further preparation for the design project. For the composition of this elective block, together with your (daily) supervisors, you can select courses which are of interest for the technological design project. Elective courses can either be master courses or post-master courses at the University of Twente, national research schools, Capita Selecta courses, conference visits (incl. paper and/or poster), summer schools, in-company courses, or courses at another 4TU location.  
DESIGN PROJECT
The design project will be defined in close consultation with the organisation or institution which you will be working for. The project can arise from a design question from the organisation/institution or from the valorisation of PhD research where the industry/government has an inquiry. The programme ensures that the design project is innovative and complex, contains sufficient design aspects and is sufficiently multidisciplinary. The design project is individual in the sense that you have your project. Because of the complex and multidisciplinary character of the project, in most projects, you will work together with colleagues. The University of Twente ensures that there is a clear part of the design, for which you are responsible and for which you will be judged.
Target groups
The EngD-programme in Robotics focuses on these target groups:
Talented graduates of a Master of Science in the field of robotics, or a related discipline (national and international), with a special interest in design cases;
Graduates of a Master of Science in robotics, or related discipline, with several years of experience within the field. Besides, these graduates must have the ambition and talent to accelerate in finding solutions / creating designs for complex robotic issues with a multidisciplinary character.
Graduates of a Master of Science in Robotics working at your organization, who have the ambition to get out the most of their career.
The EngD programme focuses on talented graduates with an interest in designing solutions for complex robot technical problems. This means that not everyone will be allowed and that the selection for this track will be strict.
Selection criteria
Candidates will be tested based on these selection criteria:
CV candidate, with special attention to results MSc; other diplomas, courses; and years and types of work experience (if applicable)
Motivation candidate, with a special focus on demonstrable affinity with design and multidisciplinary assignments
Professional skills, such as English language skills, communication and interpersonal skills, teamwork, initiative and self-reflection
Letter(s) of recommendation to senior / graduate professor
Candidates with a non-Dutch qualification and who have not had secondary and tertiary education in English can only be admitted with an IELTS test showing a total band score of at least 6.5, internet TOEFL test (TOEFL-iBT) showing a score of at least 90, or a Cambridge CAE-C (CPE).
The selection will be done by the EngD-selection committee.
Experiences
Interested?
If you are interested in this EngD track Robotics, read more about how to apply.
Contact
If you have any further questions about the EngD programme in Robotics, please contact: