As a UT author, you can publish open access (OA) in many high-quality journals at no cost to you. To help you, the University Library has made the flowchart 'Publishing articles open access as a UT author'. Are you planning to publish an article? Follow the steps in the flowchart and you will easily see all your options. Moreover, you will no longer miss opportunities to publish OA at a 100% discount.
Flowchart open access publishing
The flowchart guides you along all your options as a UT author. It is based on the UT Journal Browser that presents almost 40.000 scholarly journals. It lets you search for journals in your field and select journals in which you can publish OA at no cost as a submitting UT author.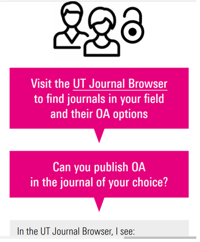 Publishing OA at no cost to you 
Journals usually charge costs for OA publishing in the form of an Article Processing Charge (APC), but UT authors can publish OA immediately with a license for re-use and at no cost:
in almost 10.000 high-quality journals that let submitting UT authors publish OA at a 100% discount, thanks to agreements between the Universities of The Netherlands (UNL) and publishers, and
in almost 12.000 high-quality OA journals in the Directory of Open Access Journals (DOAJ) that don't charge costs for OA publishing.
All the above mentioned 22.000 peer-reviewed journals are of high quality.
Request OA funding from your funder 
Do you want to publish in an OA journal that charges APCs? Then you may be able to cover the cost from your research funder (e.g., NWO or EU). Make sure to ask for this OA funding beforehand in your research proposal. 
 BMS authors: Request funding from the BMS Open Access Fund
The faculty BMS offers its authors reimbursement from the BMS Open Access Fund. If your article meets the requirements of this fund, then you can receive up to 1500 euros.
Rights retention 
Lastly, if your research is funded by NWO, you can make the accepted version of your closed publication immediately available with a licence for re-use, based on the Rights Retention Strategy. 
Quality check: Use the checklist 'Think. Check. Submit' 
Have you found a journal that looks interesting, but you don't really know the publisher and/or the journal? Then use the checklist on Think.Check.Submit. to check the quality and trustworthiness of the journal or publisher. Of course, the information specialist of your faculty will gladly help you determine the integrity of a journal or publisher as well. 
For more information on determining a journal's or publisher's quality, visit this page on the national website on open access.
More about open-access publishing for UT authors 
Want to know more about OA publishing as a UT author? Visit www.utwente.nl/openaccess