Recently we have installed a state-of-the-art DIY studio in the Spiegel building. Based on a survey we held in 2020 under lectures and content creators it turned out there is a demand for such systems on the campus.  The one-button approach makes recording a microlecture or set up a live presentation via MS-Teams or Zoom accessible for everybody.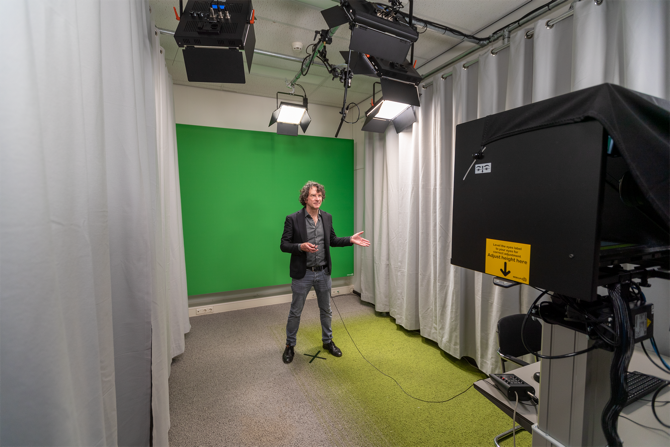 Photo: Prof, Dr. Ir. Peter-Paul Verbeek using the DIY studio 
one button
Recordings are created without crew and no editing is needed. The system is mainly operated by PowerPoint presentations. An easy-to-use system allows for the creation of professional-level 'templates' – including all the transitions, animations, titles, and animated elements. The teleprompter offers AI-driven voice recognition functionality and automatically scrolls through the script in accordance with your pace of speech. Recorded clips can be reviewed immediately and redone with just a click on a button, if necessary.  
For more advanced recordings, there is an option for using a top camera, for filming physical objects on the desk in your presentation. Or by adding a tablet (via HDMI) as an input source into your recording. 
Getting curious? 
The Video- and TELT team will be pleased to help you get started. We are able to support you with your first-time usage and get you going. For recording, the default templates can be used or we can help you out with creating your own customized template if needed. In the future, the DIY studio will also be able to support live lecturing via Zoom or MS Teams. 
The usage of the system is free of charge, however, booking is essential.  
For more information on the DIY and Studio 200, please visit our website: 
https://www.utwente.nl/en/service-portal/communication/video-services/recording-and-diy-solutions#creating-video-s 
READY TO TRY?
For booking the studio, please use our planning tool: 
https://studio.planner.utwente.nl/